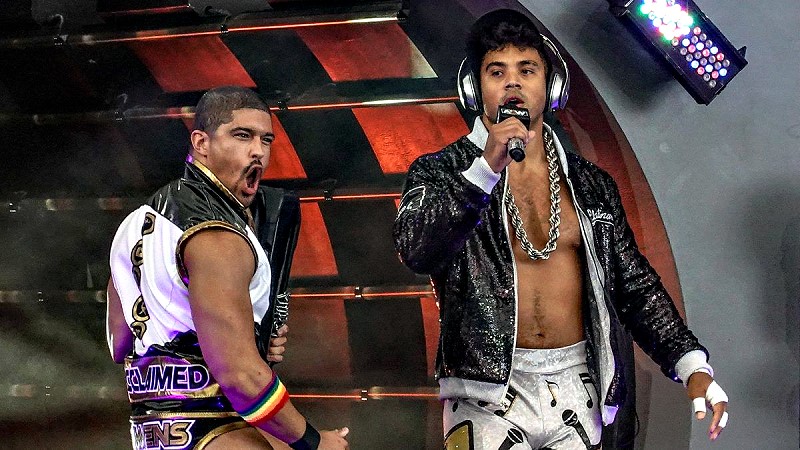 Scissoring has become a worldwide phenomenon and Max Caster is damn proud of it.
The AEW star and current reigning tag champion appeared on The AJ Awesome Show to discuss a wide range of topics, including how popular The Acclaimed's catchphrase has become across the world. Check out Caster's full thoughts on the subject in the highlights below.
Says a security guard told him his cousin got suspended from school for Scissoring:
It's great. One of the security guards at one of the arenas we were at pull me and Anthony aside. He goes, 'Hey, I just want you guys to know that my cousin just got suspended from school because he was doing the scissoring.' We got, 'That's exactly what we wanted.' Kids are gonna get in trouble, but if they're gonna get in trouble, we want it to be from scissoring.
How Scissoring brings people together:
A lot of people think the scissoring is taking over what 'Suck it' was back in the 90s and 2000s. I really love the scissoring because it brings people together. It's more inviting. 'Suck it' is kind of an insult to people. Scissor is like, 'Come here, put her there.' It's a sign of friendship. It brings people together. Even today, this kid was at my table, and another fan just randomly gives him a poster for me to siren. 'Here you go, man. Merry Christmas.' Then they scissored. But it's that scissor that brought them together in that moment. They could have just said thanks, they could have shook hands, whatever. They scissored, and that's making a difference in the world through wrestling, through scissoring. Imagine that. Isn't it crazy?