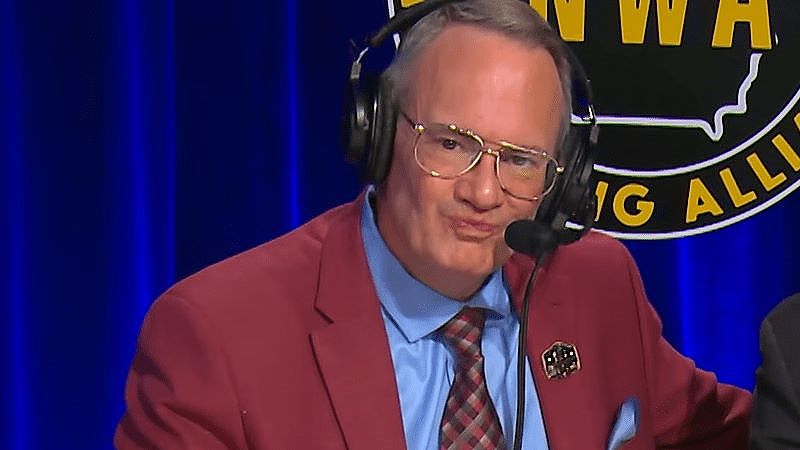 Jim Cornette Talks Problem With Smaller Pro Wrestlers – Jim Cornette discussed smaller pro wrestlers during the latest episode of The Jim Cornette Experience. He provided the following thoughts:
"There's no rule of thumb. Jim Landos was 5'8 and he was even the biggest box office attraction in the history of wrestling but he had the big chest. Also, a hundred years ago, people were a little shorter, you didn't see a lot of fucking seven-foot people walking around 100 years ago. But it's the package. It's the appearance. It's the height and the weight and the way it's put together. Bulldog Brower, what was he, 5'9, 5'10? But he was 270 pounds with that fucking huge chest. If you've got shorter guys but they're bigger or you got bigger guys but they're shorter, I mean, Connor McGregor is not either tall or heavy, but he has a look. The Dynamite Kid, before he got on steroids to go to the WWF, he was sure 5'10, but he was also 180-190 pounds, but he looked like he was goddamn ripped and built in a laboratory. There are so many now small guys that look young because they are young.
"They either can't figure out, grow a beard, get something to make you older, I don't drink or do drugs, age yourself, I don't fucking know. But everybody that wants to get into the wrestling business looks like a small child, both in terms of size, in terms of face, in terms of voice. And, yes, they can kick the shit out of some people, but that's not what this is about. It's not about, can this 5'7, 175 pound guy that's trained in Judo or MMA kick the shit out of the guy working at the Exxon station, it's whether or not on television this guy looks like he can kick the shit out of Roman Reigns or Brock Lesnar of fucking John Cena or goddamn in AEW, do they have any tough looking motherfuckers? Well, you know what I'm saying. That's the problem. There's more money in MMA now and it looks like all the fucking guys that look like men and look like badasses, whether it be the Jim Duggans or The Doctor Death's or The Road Warriors or whatever the fuck either don't exist anymore or want to be UFC fighters and not pro wrestlers because pro wrestlers end up, especially in AEW because of the EVP's, a bunch of fucking kids that grew up in the backyard training themselves on their trampolines.
"And that does not convince the average American citizen or the average global citizen if this guy is a star and an ass kicker and a badass and a fucking a wrestling champion. So, again, it's not just about the size, it's about the whole package, but we can't be ridiculous and have a roster full of guys that are 220, 230, 240, 250 and then here comes a 160 pound guy with a fucking page boy haircut like Pip Sabian (Kip Sabian) and he's going to be competitive. Darby Allin has a weird charisma, so maybe he's the Mike Pappas of today because his shit at least looks good, even though he's a mental case. His shit looks good and he looks like he's trying and he's taken it seriously, so maybe he's the Mike Pappas, today. He's the guy if you're going to have one, have one that has charisma, that people want to see as a personality and that his work looks good. And then don't have any others because then they'll just detract from that guy."
Jim Cornette Talks Problem With Smaller Pro Wrestlers