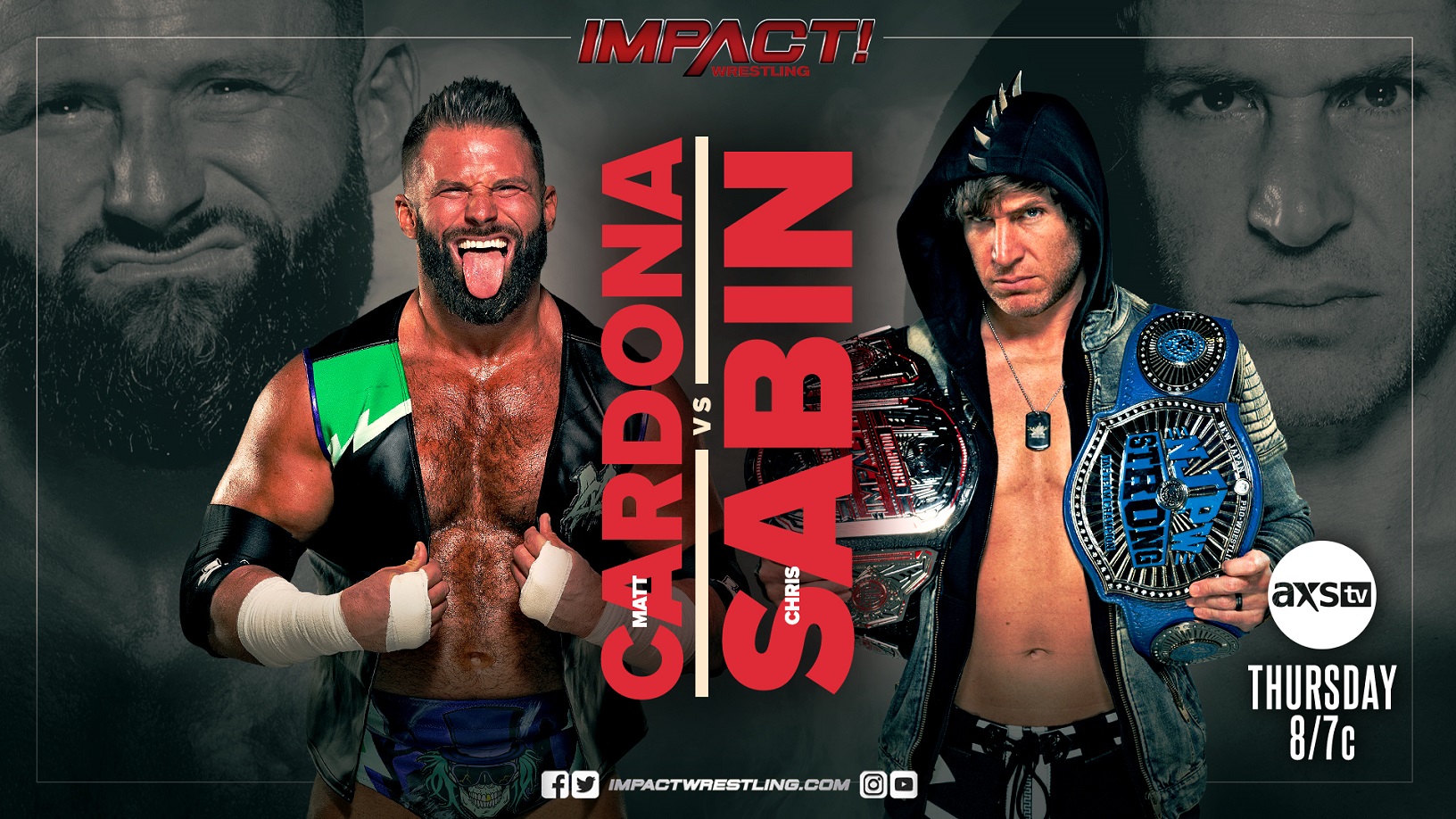 IMPACT! On AXS TV Results (1/5) – On the BTI Preshow, George Iceman announced that KUSHIDA was making his return to Impact at the Hard to Kill PPV before they went to the match between Gisele Shaw & KiLynn King.
Gisele Shaw (w/ Jai Vidal) defeated KiLynn King
Shaw showed a lot of disrespect to King in the opening of the match, pausing to be fanned by Vidal. King went after Shaw at this point, but Shaw finally started to take it seriously once hit. Shaw hit hard forearms, but King hit a stun gun on the ropes for a 2-count. Shaw shoved King off the top rope to the floor before slamming King's face into the apron.
Shaw hit a series of European uppercuts, ending with a flying one for a 2-count. Shaw bridged King across the middle ropes in the corner before hitting double knees to the stomach for a two count. King hit a hard chop and fired up a bit before hitting a powerbomb for a 2-count. King missed a frog splash and Shaw hit a full nelson backbreaker into a blade runner for a 2-count. Shaw then hit a running knee for the pinfall.
Main Card
Impact opened with a very nice graphic for Don West. Deonna Purrazzo joined the commentary table for this match.
Taylor Wilde defeated Masha Slamovich
One loss isn't really going to hurt Slamovich here, but it is notable that at the #1 contender match at Hard to Kill will not have any DQs since it is a multi-person match. Wilde is still a bit rough around the edges, but Slamovich was fantastic in this match.
Slamovich dominated Wilde in the early portion of the match, out wrestling her and putting the veteran through the test. Slamovich hit a PK to the back of Wilde before hitting a headbutt. Wilde drove Slamovich's head into the turnbuckle. Wilde drove Slamovich face first into the apron and hit a sunset flip for a 2-count. Purrazzo pointed out that Hannifan was only talking about all the upcoming matches and not the match in the ring, before shaming into calling the match. That was quite funny.
Wilde hit a Northern lights suplex for a 2-count. Slamovich stood up and hit a kick and 2 snap suplexes, and a 3rd one into the corner. Wilde fought back with a few forearms and then hit a code breaker for a 2-count. Wilde charged Slamovich, who was on the apron, but Slamovich hit a kick. Slamovich then spit at Purrazzo at the announce table, but as she came back in the ring, Wilde cradled Slamovich and pinned her for the win.
Slamovich threatened the ring announcer and beat on security before leaving the area.
–Sami Callihan cut a promo talking about how he kept getting beaten down by The Design, so he was going to get his answer tonight one way or another if the wanted him with them. I think the beating they gave you last week, Sami, was a strong indicator they didn't want you.
–Rich Swann challenged Steve Maclin to a Falls Count Anywhere match since their last match went to count out and he wanted to settle the match.
Black Taurus (w/ Crazzy Steve) defeated Anthony Greene
Good, quick match. Taurus looked like a total monster in this, which is what he needed going into the title match against Trey Miguel at Hard to Kill.
Taurus threw Greene all over the ring in this, hitting some hard chops as well. Greene responded with some chops of his own before sending Taurus to the floor when Taurus went for a monkey flip. Someone claimed in the live chat for this match that it was going to get ultra extreme. It did not. It was good though.
Greene hit a crossbody after walking across the ropes for a 2-count, but Taurus was back on his feet quickly. Taurus hit two sling blades and a pop up Samoan drop. Taurus hit a torture rack backbreaker and then destination hellhole for the win. That finish was brutal, and fantastic.
Trey Miguel attacked Anthony Greene on the apron and tagged him, while Taurus looked on.
–Kenny King went into Mike Bailey's dojo and beat up all his students. This segment was wacky.
–Mike Bailey cut a decent promo here challenging Kenny King to a fight pit match with knockout or submission being the only way to win at Hard to Kill.
Jonathan Gresham defeated Ernest R. Anthony
Gresham tore the leg up of Anthony throughout this short match, tying him in knots, twisting the ankle while trapping the arms with his leg. Gresham pulled the leg so far back that it pinned the shoulders of Anthony to the mat.
–Tasha Steelz & Savanah Evans were talking backstage about how they lost to the Death Dollz previously, and Gisele Shaw walked towards them like a model and offered to join them. Steelz protested but Evans listened, but Steelz was sure Shaw was a problem.
–The Design cut a promo with Deaner saying that Callihan's journey to become one of the Designed starts next week when they shave the hairs off his head. However, if it is a trap, they plan on making him pay for it dearly.
–A fantastic hype video aired for Josh Alexander and how he was now the longest reigning Impact champion of all time, and it succeeded in making him seem like one of the greatest champions in the history of Impact.
–Moose entered the ring to cut a promo on Joe Hendry. Moose said he was going to do bad things to Joe Hendry as about 10 people in the crowd chanted "What?" in 2023. Moose said that Hendry was only positive because he has never faced adversity, but he was going to bring that to him because he would do anything to be #1 in Impact Wrestling.
Moose said that he was going to have a good time beating on Hendry because he was a scumbag. Moose then said he couldn't wait for Hard to Kill, so he was going to say his name so he would appear. Joe Hendry appeared, and said the real Moose was not a scumbag, so Hendry wanted to let the Moose loose so the real one could be seen.
Hendry wrote a song for Moose, saying it was new entrance music. I am so glad Hendry is doing the parody song gimmick here in Impact, because it's always fun. The song was called "Dancing Moose" and it was quite funny. The fans chanted "Dancing Moose" to the parody song, and this furthers my belief in Joe Hendry.
Moose said he believed, but he believed at Hard to Kill he was going to end Joe Hendry. Moose then demanded they play his music, but they played "Dancing Moose" instead. This was perfect.
–A promo video aired of Mickie James recapping the start of her wrestling career in ROH and Impact, and her journey to WWE. She did mention she was put in a storyline with Trish Stratus, which is a bit weird for a promo about her career rather then a documentary. She recapped all of it until he return to TNA, and how she was going to change her image with Hardcore Country.
James talked about how she met Nick Aldis for the first time, which seems like they might be bringing him in with the timing of this. James talked about coming back to WWE and wrestling Asuka at NXT Takeover: Toronto, and how it led to her returning to the ring full time and how she wanted to end her career the right way in Impact. She talked about how important it was for her to provide a better life for her family, and how wrestling has done that for her. This was absolutely fantastic.
–Gail Kim and others talked about Don West and how wonderful he was. Several people from Impact's history added comments, from Chris Harris to Moose. This was so nice, and I teared up watching it.
Chris Sabin (w/ Alex Shelley) defeated Matt Cardona (w/ Brian Myers)
Excellent match from Sabin and Cardona here. Chris Sabin continues to rule in 2023, and Matt Cardona was no slouch in this one. Cardona really learned how to work well outside of WWE, which is a bit ironic that he might be returning. Though, maybe he dodged a bullet with Vince McMahon trying to return to the company today.
Sabin hit an arm drag early on, leaving Cardona grabbing his bicep that he tore last year. It wasn't long before the action spilled to the floor and Cardona tried to powerbomb Sabin on the apron, but Sabin back dropped him instead. When they came back from break, Sabin was getting beat on by Cardona.
Cardona whipped Sabin into the corner and choked him with his knee. As soon as Sabin tried to make a comeback, Cardona raked the eyes but Sabin sent him to the floor when he went for the reboot. Sabin countered a pin attempt with a crucifix pin, and then hit a series of dropkicks before hitting the cradle shock to Cardona for the pinfall.
–As the announcers were trying to run down the card to Hard to Kill, Bully Ray showed up when he was supposed to be at home. Ray yelled at Tom Hannifan, saying he would wrap a chair around his head if he made eye contact.
Bully Ray called out Josh Alexander, but Scott D'Amore came down to the ring instead. Something was weird with the mic for D'Amore, as it sounded like his audio was somewhat muted for the live audience until halfway through. D'Amore said he brought Ray back because Ray called him and said he was a changed man, so he wanted to give him another chance.
D'Amore said he was wrong, and that D'von didn't even want to be in the same room as him unless someone gave him a ton of money. D'Amore said Ray alienated everyone that had faith in him, and that Josh Alexander was going to give him the beating he really deserved. D'Amore pointed out that Josh Alexander gets to go home to his family, no matter what, and lives a happy life, but Bully Ray will go back to the hotel with only his thoughts to accompany him. This was a great promo from D'Amore.
Ray said that it didn't leave him sad or pathetic. It meant he would be Impact World Champion. D'Amore took more insults from Ray before punching him in the face and spitting on him. Jason Hotch and John Skylar ran down and grabbed D'Amore, letting Bully Ray beat on him with a big boot and then a piledriver. Hotch & Skylar pulled a table out from under the ring and Bully Ray powerbombed D'Amore through it. Ray claimed he was the next champion as the show went off the air.
IMPACT! On AXS TV Results (1/5)