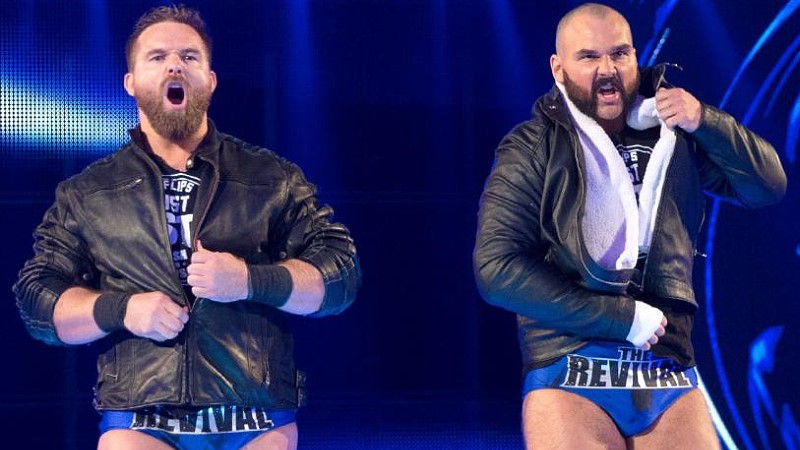 FTR Has Been Granted The Next Few Months Off AEW TV – Speaking on his FTR with Dax Harwood podcast, the 38-year-old noted that he and Cash Wheeler have asked AEW for and been granted the next few months off of television. The time off could potentially extend up until their contracts with the promotion expire in April. 
Harwood said: 
We have asked and been granted the next few months off of television so we can sit back, reflect, decide, let our bodies heal, and figure out what we are going to do for the next few years because whatever we decide to do next will be the absolute last thing we do, period, as far as wrestling.
I don't see myself in five years going on the independents and wrestling independents. I don't see myself working in five years a Japan tour or a Mexico tour or traveling around the world and wrestling all over places. That's why these next few months are the most important few months for us.
By April, at least, at most, we will have an answer. But now again, I have to take in my health, I have to take in my family, I have to take in my creativity, and I have to take my personal life all into consideration about what we are going to do next. I know what I want to do but whatever we do, I just want to be respected. We, I feel, have done something so special in 2022 and most of that is in part to the fans. I think we deserve to continue to build on our legacy for ourselves but also we owe it to the fans to build on that legacy because they made us this past year. So, that's my news, is we are going to be away for a little while. I'm not sure exactly how long we'll be away. It may be all the way up until the end of our contract.
He would then confirm that FTR's contracts with AEW expire in April.
Perhaps in reference to Vince McMahon's return to WWE, Harwood was then asked if "recent news" will have an impact on what wrestling promotion FTR signs with later this year.
Harwood responded:
I would be lying to you if I said no it doesn't at all, but, of course, it does.
But if I feel like we aren't being respected the way I think we should – and that's going to come off arrogant and egotistical – I mean as entities as far as characters and what we've done and what we've accomplished and who we are, but also as human beings. I will not hesitate to explore other options. Whether those options are taking a year off and doing things we love, that could be it, or whether those options are being presented to me in other forms, there's a lot of things I have to weigh.
He also said that he and Wheeler are looking at locations for a possible wrestling school, real estate ventures, and potentially opening a coffee shop.
Earlier in the show, Harwood was asked about the reaction to comments he made on a previous podcast regarding CM Punk and The Elite. He had suggested that Punk and The Elite work out their differences for the betterment of AEW and this led to reports that some people in AEW were not happy with what he said.
Harwood responded:
I can give you 100% god's honest truth, [Punk] has never told me to say anything. He's never expressed to me that he wants me to paint a certain narrative about him. I can also tell you, god's honest truth, that he told me, he said, 'I haven't even listened to your podcast.'
Guys, he's a beautiful human being. The Young Bucks are beautiful human beings, okay? All of them are. All I was trying to do was make things right, that's all. That's the only thing I was trying to do. Maybe I went too far or maybe it's not for me to make right but in the moment as a human being who has a heart, who loves wrestling, I tried to make things right and that was all.
If I was wrong for that, and if I upset those guys or even if I upset Punk, I sincerely apologize. If I upset my office, I sincerely apologize. If I upset anybody else who let Dave Meltzer know that the locker room is upset with me, if I upset that person, I sincerely apologize, that was not my goal. My goal was to make AEW better, that's all.
FTR Has Been Granted The Next Few Months Off AEW TV