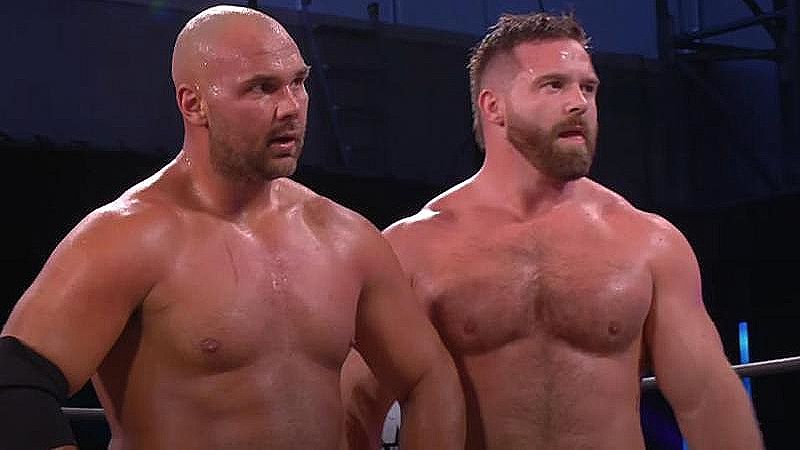 Dax Harwood says Vince McMahon's return to WWE "makes things a little questionable" for him.
Speaking on an episode of FTR with Dax Harwood, the 38-year-old reflected on a negative interaction with McMahon from Clash of the Champions 2019 and how it could impact what he decides to do in the future.
Harwood said:
He goes to New Day and says, 'Hey, great job, guys, thank you, I appreciate that.' They walk off, he leaves me and Cash there and that's when he says, 'Everyone tells me that you guys are the next great tag team, everyone tells me you're the next Arn and Tully. Well, that's your problem, you are the next Arn and Tully, you're just great wrestlers, that's all.' And he walks off and like, this son of a b***h thinks that he just hurt my feelings by saying that but he didn't, he made my dreams come true by telling me that we're the next Arn and Tully, that we're just a great tag team, we're just great wrestlers.
He just didn't like us, he wasn't enamored with us.
On a previous podcast episode, Harwood revealed that his AEW contract expires in April.
He would continue to speak about what McMahon being back "at the helm" in WWE means for his future.
We were so proud of that moment and he decided to take a s**t on us in that moment. That's the kind of thing, as a human being, I will never forget how you try to make people feel.
The fans were with us so, obviously, we didn't hurt your business. We went out there, put our life on the line for you, for your company and coming to the back with as much enorphins running through our body and you decide to say that to us?
That's one of the things I can't ever forget and we talk about what I'm going to do in the future and now that I think about that and with him back at the helm makes things a little questionable for me.
Earlier in the show, Harwood also addressed how much money he was earning during his time on WWE's main roster.
If you look back in 2019, I was number one, [Wade] Barrett and Cash [Wheeler] were tied for number two as far as most matches in 2019 for WWE. So, we were on the road every single week.
So when you think I've signed this million-dollar contract or whatever, it's not that lucrative. Our contracts were the very bottom dollar. I'll tell you mine, I don't know about Cash's but our first contract for the main roster was 125, 150, 175 across the three years and that was it.
Harwood would continue to say it was possible to earn more than that, however, through merchandise sales, pay-per-view bonuses, and house shows.
If I'm on the road five days a week and I'm spending breakfast, lunch, and dinner all five days a week, let's not even talk about snacks or whatever, breakfast, lunch, and dinner five days a week on the road while my wife is at home cooking and paying for groceries for her and my daughter and then I'm paying for rental cars and then I'm paying for hotels, I'm not making as much money as you think.