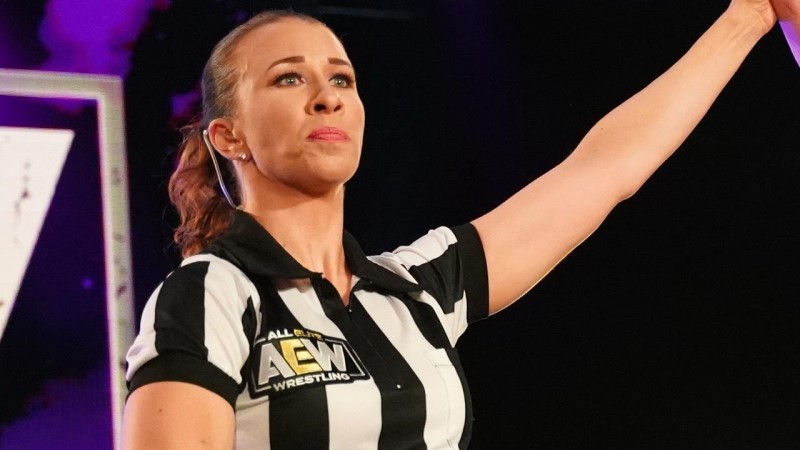 Aubrey Edwards Talks Refereeing Chris Jericho's Matches – Aubrey Edwards is ready to referee one of the biggest matches of Ricky Starks' career in her hometown of Seattle on tonight's AEW Dynamite.
Edwards recently sat down with Shawn Garrett of KIRO 7 News to discuss a wide variety of subjects. When asked about how she got started in the world of professional wrestling, Edwards revealed she learned how to referee at a gym in Seattle that's no longer open due to the pandemic.
"I learned how to ref at the gym – it's no longer open, they shut it down during the pandemic – that was called Evolve Fitness over in South Lake Union," Aubrey Edwards revealed. "It was the first time I stepped into the ring."
Seattle has hosted some big moments in the history of professional wrestling, including the night Daniel Bryan (AEW's Bryan Danielson) retired on an episode of WWE RAW before returning to the ring years later. This was a moment that Aubrey Edwards witnessed firsthand in the live crowd at ringside.
"I saw Bryan Danielson retire at KeyArena," she described. "There's a .gif of me in the front row crying at his retirement, so it's come full circle. This is insane. I have many friends who have never been to a live wrestling show that are going this week and I was just hoping I had a really awesome match to do."
Aubrey Edwards is scheduled to referee the match between Ricky Starks and Chris Jericho on AEW Dynamite. Aubrey has refereed a majority of Jericho's matches in All Elite Wrestling. It's something that, according to Edwards, comes down to a connection and trust they have with one another.
"Since then we just clicked," Edwards said. "I know what specific questions he's going to have based on what story he's telling in the match. I know when he asks for things in the ring, like when he's going to ask for time cues. How I can best help him tell his story, so we just connect really well. He knows he can trust me."
Aubrey Edwards Talks Refereeing Chris Jericho's Matches