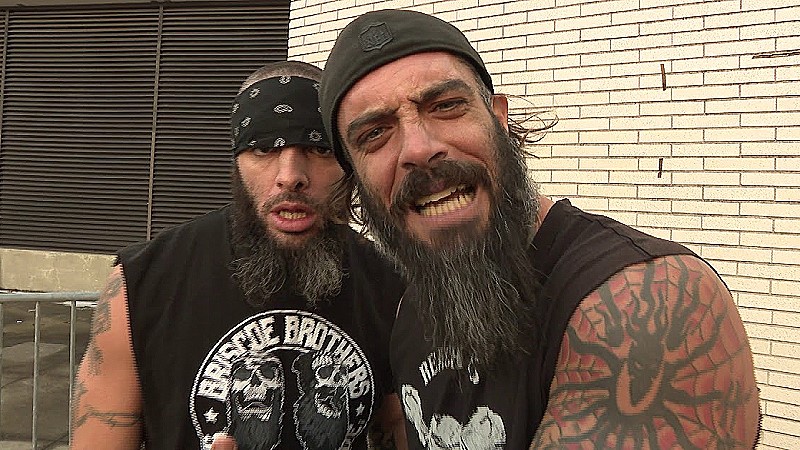 The wrestling world continues to remember Jay Briscoe following the news that he had passed away following a car accident.
The police have confirmed that Briscoe and the driver of the other car involved were the two fatalities in the incident. His two daughters were in the car with him at the time of the accident. Briscoe's wife confirmed on Facebook their 12-year-old daughter had undergone surgery as a result of her injuries.
Wednesday's episode of AEW Dynamite featured a graphic at the start of the show while many stars wore black armbands for their matches. However, it was not a tribute show like they did for Brodie Lee.
While speaking on Wrestling Observer Radio, Dave Meltzer noted AEW wasn't allowed by Warner Bros. Discovery to do a tribute show to Jay, and it all goes back to the homophobic tweets Jay sent out a decade ago. He apologized for the tweets over the years. This is the reason why The Briscoes were never signed by AEW nor used on AEW programming for ROH storylines because Warner Bros. Discovery didn't want him used by All Elite Wrestling.
"If you watched tonight's show and you were expecting something, I know a lot of people were. Something like the Brodie Lee show, and obviously that didn't happen. There was basically a graphic at the start of the show and at the very end of the show, there was a mention by Excalibur. A lot of the guys had armbands, a lot of them, but there was not any kind of big tribute because they were not allowed by WarnerMedia (Warner Bros. Discovery) to do one. They filmed a one-hour show in Fresno tonight that will be on HonorClub. They will be doing another tribute show. When they finally do the Ring of Honor television show, the first show will feature a lot of Jay matches and the tribute show will as well when it's all put together. At Supercard of Honor (in late March on WrestleMania weekend) there will also be kind of a memorial to Jay or something to honor Jay," Meltzer stated.
You can check out the spoilers from the Jay Briscoe tribute show that was taped after Dynamite that will air on HonorClub at a later date.