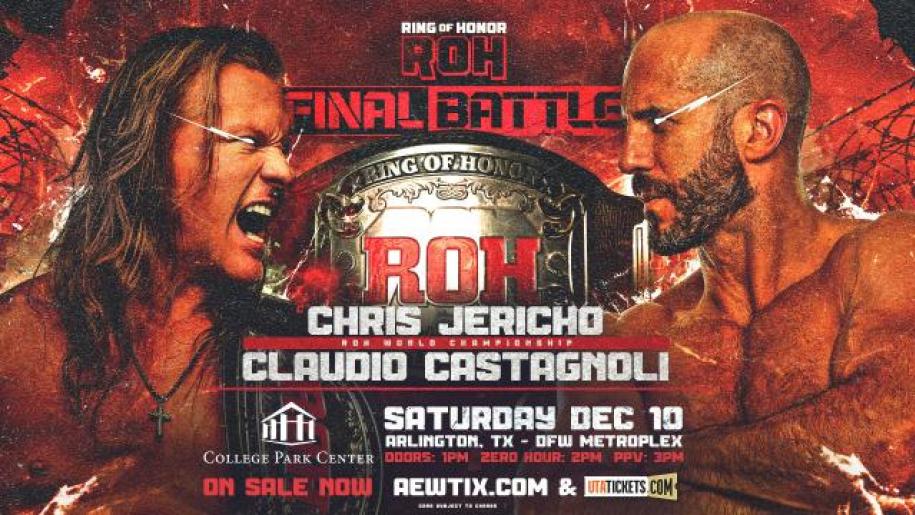 ROH Final Battle 2022 Results – We are live from the College Park Center in Arlington, Texas, as Ian Riccaboni and Caprice Coleman welcome us to the show in front of a darn good size crowd. We're not waiting around, so let's get to the graps.
Mascara Dorada vs. Jeff Cobb
Mascara Dorado starts off trying to take down his bigger opponent with a shoulder tackle but it doesn't work, and then Jeff Cobb shows some speed by diving over his opponent. While he then catches the former WWE Superstar, Dorado runs up the ropes and connects with a hip toss. However, as he tries to dive out to the floor Dorada gets caught and then launched into the ring post and slammed down onto the ring apron for good measure. 
Back inside the ring, Cobb drops Dorado with a huge chop and he then surfs on him. While the masked man tries to connect with a few forearms, Cobb instantly drops him with just one. There is too much showboating after though which allows Dorado to trip Cobb into the turnbuckles as he follows up by diving out of the ring to wipe out the bigger man.
Dorado comes back into the ring with a springboard senton, which gets him a near fall, but the tide turns again when Cobb slams him to the mat as he almost gets the job done with the following moonsault. Dorado counters the Tour Of The Islands but the pinfall attempt comes up short and he then eats several forearms as he looks to dive back into the ring. Cobb then tries to deadlift suplex him back into the ring but Dorado reverses and then hits a bulldog from the second rope.
Cobb misses with a right but he then pops up Dorado and plants him back down with Aloha Means Goodbye for the victory.
Winner: Jeff Cobb
Shinobi Shadow Squad vs. Angelo Parker & Matt Menard
Angelo Parker and Eli Isom shake hands to start, with 2.0 mocking them, and Isom almost catches him immediately with a roll-up. Matt Menard comes in and goes for an over-the-top handshake as well, and he swaps back for Parker as Cheeseburger then tags in. The two teams continue the handshakes with the Jericho Appreciation Society stars pushing to comedy of it by doing it to each other as well.
Cheeseburger eats an elbow after mocking the handshake, but 2.0 work together well with a backbreaker-knee strike combination. Menard then hammers down with punches in the corner as Parker comes back in again with a snap suplex as the JAS stars continue to take control of the match.
2.0 continue to make frequent tags to remain in control, isolating Cheeseburger, with Parker running up the back of his partner to connect with a back elbow. Cheeseburger then looks for a tag but he is tackled down, yet he crawls under both men to make the tag.
Isom comes in hot with a huge spear into the corner to hit both men, following with a pop-up neck breaker as Cheeseburger comes in with a stomp. However, Cheeseburger is then sent to the outside as he tries to continue his attack and that allows Menard to hit a suplex. They then connect with the double DDT for a win, with Cheeseburger isolated on the outside unable to help his partner.
Winners: Matt Menard & Angelo Parker
Willow Nightingale vs. Trish Adora
The two women lock up to start things off with a lock-up as they head down to the mat as Trish Adora looks for a series of pinfall attempts but she is unable to get the job done this early. Adora then connects with several more strikes, but Willow Nightingale's power proves to be too much as she charges in with a shoulder tackle and then a running low-crossbody. 
Nightingale takes the fight to the corner with a series of lariats, but Adora matches the power battle with a Northern Lights Suplex, which gets a near fall. She follows up with a couple of strikes. They then make their way to their feet and Nightingale nails several huge lariats and chops and then attacks in the corner. She heads to the top rope and nails a shotgun dropkick, but Adora is able to kick out of the pinfall attempt.
Nightingale attempts the powerbomb but it gets blocked several times, and instead, she lifts her up and plants Adora on her knee. Adora continues to fight back though with another suplex, and then a huge chop of her own. Despite that, Nightingale hits a pounce, launching her opponent across the ring, following it with the powerbomb, and this time she is able to connect, securing an impressive victory.
Winner: Willow Nightingale
The Kingdom vs. Top Flight
The match starts with both teams showcasing respect with handshakes, but The Kingdom immediately starts on top with Mike Bennett hitting a big forearm as Matt Taven responds with a dropkick. Bennett returns with several chops, but Dante Martin can tag in, only for Taven to nail both brothers with a couple of big kicks to this opponent.  However, as he goes for a big boot it gets avoided and Taven hits Bennett. 
Top Flight speed things up after that as Dante flips into the ring to land on Taven and then springboards to dropkick Bennett as well. Dante isolates Taven in the corner, hitting a big boot, but he gets distracted by Bennett which allows Taven to send him out of the ring as Bennett then bounces off the ropes to hit a clothesline. Dante avoids a double team as The Kingdom collides, and Darius leaps in with a huge crossbody and a kick to the face to Bennett.
Maria Kanellis gets on the ring apron with a distraction which helps The Kingdom and Bennett's forearm leads Darius into a powerbomb from Taven. Bennett then hammers in strikes n the corner, following up with a suplex. Taven then springboards off the middle rope as he then looks for a knee strike but misses, allowing Darius to hit a jawbreaker, however, Bennett tags in and launches Darius into a strike from Taven, who then drops down onto him as he leans on Bennett's knees.
Bennett takes too long on the Piledriver which allows for a reversal, but Bennett quickly grabs him back and puts in a Kimura Lock. He breaks out and the two men then go back and forth with slaps, and Darius wins out but then gets poked in the eye. Bennett looks to keep the momentum but Darius reverses with the Spanish Fly and in comes Dante who takes out Taven with several strikes and a standing moonsault.
Darius makes a tag and a series of strikes is followed by a cutter, but that only leads to a near fall. Top Flight avoids another move as Darius runs up his brother to hit a DDT, but Bennett pushes Dante to break the pinfall. Taven gets back with a splash and then a huge knee strike but Darius can kick out. Bennett pulls Dante off the ring apron, and Taven then flies over the top rope to hit Darius, but Dante gets them back with an aerial move of his own.
Maria then looks for the distraction, but she ends up being sent to the back, yet The Kingdom aims for a double team which doesn't work, and Top Flight then hit one of their own as Darius holds up Bennett as Dante hits a Nose Dive for the win.
Winners: Top Flight
La Facción Ingobernable vs. AR Fox & Blake Christian
Dralistico immediately looks to attack his opponents straight away, firing up the babyfaces. Black Christian starts it out with him as he goes for a few shoulder tackles but can't move the masked man who fires back with one of his own. RUSH and AR Fox then come in and go back and forth with a series of punches and strikes, but RUSH comes out on top with a rolling elbow.
He then takes his aggression outside the ring, launching Christian into every corner barricade, and then uses the cords to whip him and choke Christian outside the ring. Meanwhile, Dralistico is just as aggressive, hitting Fox with a powerbomb onto the stairs. The masked men then bully Christian inside the ring and isolate him as they both stay in the ring to dominate.
Fox gets to tag in, but he is still having to fight two men until he sends Dralistico out of the ring and then hits a shotgun dropkick to RUSH. He follows it by leaping over the rope twice to take out each man. Back inside the ring, he hits a senton, but Dralistico kicks out. Fox gets sent to the floor though, and as Christian tries to leap around the ring post he gets caught and dumped as well, with Dralistico diving off the top turnbuckle to wipe them both out.
Christian sends Dralistico into the corner back in the ring as Fox plants Dralistico after and then connects with a 450 to get the victory. This is controversial though as Dralistico appears to kick out, leading to some confusion.
Winner: AR Fox & Blake Christian 
After the match the masked men jump the opponents, nailing Christian with a chair shot to the head.
Mercedes Martinez (c) vs. Athena (ROH Women's World Championship Match)
Mercedes Martinez immediately slaps Athena and starts unloading chops and strikes on her in the corner, proving her physicality. Athena comes back with some stiff strikes of her own and they go back and forth with them as Athena drops the champion and hammers down onto her. The challenger fires in with a lariat in the corner and then a big boot to follow as she then backflips across the ring, stopping just before Martinez to connect with a backhand. 
Martinez responds with a spine buster which gets a near fall and she follows it up with an STF, but Athena breaks out and drives the champion down with double knees. Athena heads to the top turnbuckle but she gets hit with a big boot as Martinez then hits several strikes to the back as she looks for a suplex, but Athena blocks and fights back with kicks of her own as she then slides down to hit a powerbomb.
Athena launches the champion across the ring and hits a running superkick for good measure, but Martinez kicks out. She then rocks Athena with a huge forearm and a half and half suplex, following it with a huge brainbuster, but Athena kicks out. Martinez then looks for a submission but Athena reverses and sends her opponent into the ropes, which is followed up by driving the champion onto the ring apron.
She looks for a running dropkick, but Martinez avoids it and the challenger crashes into the guard rail, and that leads to the Anarchy Suplex being hit on the outside. Back in the ring, Martinez nails a lariat as she takes complete control. The champion then looks for the Brass City Sleeper, but Athena bites the arm to block it, and she then catches her with the knees but Martinez grabs the ropes to keep the match alive.
Athena then rips off the top turnbuckle and throws it at Martinez, but the champion hits a pop-up powerbomb to fight back into this one. Athena fights back with a shotgun dropkick in the corner, and then the O-Face to become the new champion!
Winner (and new ROH Women's World Champion): Athena 
Swerve In Our Glory vs. Shane Taylor Promotions
Keith Lee looks for a fist bump from his partner, but Swerve Strickland avoids it. The latter starts things off, but he gets caught immediately in a submission by JD Griffey, and Lee then comes in and his strength works out as he shoves Griffey across the ring. This leads to Shane Taylor coming in, but before they can square off Strickland tags himself in as he sends Taylor into the corner with a head-scissor takeover. 
He then chops down the bigger man with kicks and a dive to the back, but Taylor then drops Strickland with a lariat. Griffey then holds Strickland on the apron as Taylor drops down with a leg drop, but he comes back in and hits Griffy with a superkick before tagging in his partner. Lee and Taylor face off again, and this time they get to throw hands as they go back and forth with forearm strikes.
Lee comes out on top but as he charges to the corner he eats a boot and Taylor then looks to dive on him from the second rope but Lee manages to catch him! Taylor fights down and he wants a lariat, but Strickland pulls down the ropes for him to go out of the ring. Lee then sets up Griffy on his shoulders, but he avoids the double stomp as Lee then gets sent out of the ring.
Griffey continues to have their number, catching Strickland with a knee strike, but his dive sees him getting caught, and while Lee puts him down, Strickland nails Griffey with a kick to the head. Taylor takes advantage of that, pulling Strickland in for a cutter from the top rope but Strickland manages to kick out! Griffey tags in and attacks the knee of Strickland, but he tags out and is then set into the Triangle Choke, and Taylor pulls Lee from the turnbuckle to deny the tag.
However, they continue fighting as Lee sends Taylor into the barricade, and he then comes into the ring with a moonsault from the second rope, landing on Griffey to end the submission. Both teams then end up inside the ring throwing hands and it is Swerve In Our Glory that come out on top, but Lee then accidentally nails his partner with an elbow strike after Taylor avoids it. He then plants Lee down to the mat, yet the big man kicks out, and he does it again after Griffey nails the Killshot.
Strickland then walks away from the match, leaving his partner alone as Shane Taylor Promotions beat up Lee, but he dodges a kick from Griffey as he knows out his partner and Lee connects with Big Bang Catastrophe for the win.
Winners: Swerve In Our Glory 
Dalton Castle & The Boys (c) vs. The Embassy (ROH World Trios Championship Match)
Dalton Castle kicks things off with Bishop Kaun and he takes control until Brian Cage tags in. However, one of The Boys tags in and goes for a crossbody but he is caught, only for the other to go behind him as Castle pushes him as he trips. The Boys then work fast until Toa Liona takes them both down. He and Cage hold a Boy up in the air each on the outside and plant them both down while Kaun attacks Castle. 
Cage then uses one of them like they're wiehgts before throwing him back, and while he tags into the other Boy, Cage nails him with a clothesline. Liona drops onto one of them while they're on the ring apron, and Cage follows that with a superplex as The Embassy takes complete control. However, Castle gets to tag in and he starts attacking all three men with a boot to Cage and a suplex to Bishop, and then a German suplex to Liona as all three of them end up outside the ring.
Castle launches his Boys out to take out each man, but when The Boys tag back in, The Embassy regains control and Liona ends up with both on his shoulder to hit a double Samoan backdrop. He plants them on top of each other, but they're able to kick out. Kaun nails a big boot to the face, but a tag is made and Brent fights back as Cage and Kaun run into each other, but an Alabama Slam takes him out until Castle comes in and plants him. Liona then slams Castle down with a belly to belly as Brandon dives in with a shotgun dropkick. However, this leads to Cage taking him out as Castle then drops the Machine with a running bulldog.
He wants to dive out of the ring but Prince Nana throws one of The Boys at him which works as a distraction, and Liona charges into them both and The Embassy throws him into Cage who hits a powerbomb to earn the titles.
Winners (and new ROH World Trios Champions): The Embassy
After the match Top Flight and 2.0 are shown arguing and they then start brawling, which takes them to the ringside area as Dante Martin dives from the stage to take them out as Top Flight get taken to the back. Angelo Parker gets on the microphone and asks why ROH died in the first place if it was so great. It's because it's full of garbage flippy-floppy wrestlers. He says Jericho is the man to redirect it. Daddy Magic then pulls out the purple hat and says Claudio Castagnoli will team with Jake Hager and they will become the Hatrick. Wheeler Yuta comes out and forces them to go to the back.
Daniel Garcia (c) vs. Wheeler Yuta (ROH Pure Championship Match)
The two rivals immediately start out throwing forearm strikes at each other, but Daniel Garcia then uses a closed fist to the face, and Wheeler Yuta responds straight away with one, which is the one each man gets. Things spill to the outside straight away as Garcia launches Yuta into the steel stairs and then drives Yuta's head into the steel section of the turnbuckle. 
The Blackpool Combat Star fights back though and does the same only for Garcia to send his opponent off the apron as Yuta hits his throat on the way down. Trent Seven is shown watching on from the crowd as Garcia remains in control back inside the ring, forcing Yuta to use a rope break. Garcia then locks in the surfboard inside the ropes, and that forces Yuta to use another rope break as Garcia then plants him with a cutter.
Garcia continues to attack the throat of Yuta, and he then transitions and stomps him down face-first into the mat. The champion continues to push to the neck and that leads to the Dragon Slayer being hit as Yuta has to go to the ropes, as he uses up all of his rope breaks. Yuta attempts to fight back, but Garcia can reverse everything and that leads to a Sharpshooter being locked in but Yuta grabs his head and transitions into the Crossface.
They then exchange slaps to the face as Yuta hits a big boot and a dropkick, and while Garcia tries to regain control he is dropped with a brainbuster. Both men end up on their knees as they exchange slaps, and Garcia then tries to throw him out of the ring several times but Yuta slingshots back in using the bottom rope and he then plants the champion, only getting a near fall.
Yuta then goes high risk, but he gets caught as Garcia puts his knees up and then spikes him to the mat, but Yuta then kicks out. Garcia sets in the Sharpshooter, and while Yuta grabs the ropes he is out of breaks and he crawls out of the ring as they both fall to the floor. The two rivals exchange blows on the apron, and Yuta comes out on top, dumping Garcia with a back body drop.
Back inside the ring, Yuta nails a Piledriver but Garcia kicks out, which leads to Yuta moving straight into the hammer and anvil elbow strikes, and Garcia is knocked out.
Winner (and NEW ROH Pure Wrestling Champion): Wheeler Yuta
After the match, Garcia kicks away the title from Yuta, but he then picks it up and hands him it as a sign of respect.
FTR (c) vs. The Briscoes (ROH World Tag Team Championship Double Dog Collar Match)
Straight away the teams waste no time brawling as Cash Wheeler fights Mark Briscoe as the FTR hits him in the midsection with the chain while Jay Briscoe launches Dax Harwood into the stairs. Harwood fights back straight away though, launching a chair into the face of Jay as they then brawl through the fans while Mark is already busted open at ringside. Wheeler launches Mark up the stairs to the top of the ramp while Harwood dismantles some of the set around the fans, hitting his rival with metal poles. 
Mark then launches himself off the ramp, wiping Wheeler out as the other two men fight their way back to ringside. The brawls continue as Harwood loses a tooth according to the commentators, and The Briscoes finally start working together as they isolate Harwood, with Jay using the chain to drive it into the head of Harwood, meanwhile Mark continues attacking Wheeler, whipping him with the chain.
Jay sets a chair between the two top ropes as Harwood is then busted open, but he blocks the attempted charge into the steel and he launched Jay into it instead. FTR then works together, whipping Mark with the steel, while jay is busted open massively. FTR hit Mark with the Doomsday Device, with a chain but he can kick out, but he joins the rest by bleeding. Wheeler makes it even worse with a Gory Bomb submission while adding in the chain.
Wheeler then yanks Mark with the rope as he lands it from the top rope, but Jay sends Harwood into the steel which breaks them up. The Briscoes then regain control as Wheeler is planted to the mat and Mark dives from the top with an Elbow Drop, yet Wheeler kicks out. Outside the ring, their fight continues with Mark pulling out chairs and revealing a table.
Jay and Dax brawl to the top turnbuckle and Harwood come out on top, hitting a Diving Headbutt with the chain wrapped around his head. He then nails several punches with the chain in his hand, and he pushes the official back when he tries to check on Ja, and as Harwood goes for another, Jay pulls the official in his way and he busts him open with a punch to the head.
Jay then fires in a lot of quickfire jabs and then the focus goes to Wheeler and Mark who begin brawling on the ring apron as Wheeler drops him to the apron and then sets him on a table outside the ring. He manages to get back up and hammer in several huge elbow and forearm strikes and he then dropkicks him off the apron onto a pile of chairs. Wheeler then gets set on the table, but he gets up and Wheeler pulls him from the top turnbuckle and he lands on the pile of chairs!
Jay uses a chair to attack Harwood, hammering down on his back as blood pours into his face, but Harwood fights back with a Piledriver onto a chair, yet somehow Jay kicks out! Wheeler then launches tons of chairs into the ring as Harwood and Jay head to the top turnbuckle, but Jay slips under and yanks the chain up into his privates as he then blasts Wheeler off the apron and he then nails a superplex onto all the chairs.
Mark stops Wheeler from getting into the ring as Harwood somehow kicks out. Jay then yanks the chain into his mouth as Wheeler tries to get back into the ring, but Jay stops him as The Briscoes win via submission.
Winners (and new ROH World Tag Team Champions): The Briscoes
After the match, The Gunns hit the ring and star attacking FTR as they then claim FTR's legacy is dying, and they will be the ones who kill it. The Briscoes then make their way back and force the AEW team to retreat. Harwood then says their mission is to beat their asses.
Samoa Joe (c) vs. Juice Robinson (ROH Television Championship Match)
Samoa Joe immediately starts working the arm of Juice Robinson, and when he gets out of the hold the champion just drops him with a huge right hand. Robinson looks for several of his own but Joe comes back with more jabs until Robinson pokes his eye, which allows the NJPW star to then drop him to the mat and hammer down more punches. 
The fight spills to the outside as they begin trading huge chops until Joe decides to remove the padding to expose the concrete, but as he locks in a submission Robinson pushes back from the apron and slams Joe head-first into the guardrail. Back in the ring Robinson just gets sat down with the uranage in the corner, and he then launches himself out of the ring with a tope suicida which sends Robinson flying.
Joe places the challenger on a chair in the corner and he then runs in with a big boot to take him down. Joe then slows the pace down but quickly fires back with a chop, a headbutt, and then a big boot to the head. The champion continues throwing hands but the challenger fights back with jabs of his own, but Joe turns things around with an Atomic Drop, boot, and senton combination, but Robinson gets his foot on the ropes.
He fights back with the spine buster and then it's Robinson's time to deliver some punishment as he charges in with the cannonball. Joe then manages to lock in Robinson into an STF, locking him in the middle of the ring, but Robinson gets his hand on the ropes. He then looks for a Muscle Buster but Robinson reverses it and looks for a pinfall that doesn't come off, but he does hit a thrust kick.
Robinson heads to the top turnbuckle, but Joe knocks him off and he ends up landing on the top rope as Joe then nails a Muscle Buster.
Winner (and still ROH Television Champion): Samoa Joe
Chris Jericho (c) vs. Claudio Castagnoli (ROH World Championship Match)
Chris Jericho attacks Claudio Castagnoli immediately, and then he goes after the ROH commentators until Castagnoli makes the save and beats him around the ringside area, hitting him onto the guard rail and steel stairs. Back inside the ring the challenger fires in the hammer and anvil elbows and they then head to the middle turnbuckle as Claudio uses his strength to plant him down to the mat.
He then powers up Jericho and hangs him up on the ropes, following it up with a big boot. However, as he tries to follow up with a cannonball from the apron the champion avoids it and Castagnoli lands hard. Back inside the ring, Jericho connects with several chops and then knee strikes until he gets popped up into a European uppercut. Despite that, Jericho regains control in the corner, nailing another chop as they head to the top turnbuckle, but as he goes for the hurricanrana Castagnoli counters with his strength to get some shots in, but his powerbomb attempt is then reversed and Jericho sends him across the ring.
Castagnoli hits more uppercuts, but he then gets clotheslined over the top rope as Jericho then goes for a springboard dropkick only to eat an uppercut in mid-air. Jericho continues to fight back, hitting a suplex from the apron to the floor, leading to both men going down. Back inside the ring Jericho connects with several forearms and then eats a big boot which fires Jericho up, hit nails Castagnoli and that fires up, and then they both hit the mat after a double clothesline.
Once they get back up they go back and forth with chops and uppercuts, and Jericho pokes the eye only to be put into the Giant Swing. However, the champion shows his experience, picking the ankle on the first rotation to then set in the Walls Of Jericho, but Castagnoli gets to the ropes. Castagnoli hits the uppercut, but then 2.0 arrive and while Parker distracts the official, Jericho gets his bat handed to him and he nails Castagnoli in the face with it, but the challenger kicks out and 2.0 get sent to the back.
Jericho then misses with the Judas Effect as Claudio sets in the Giant Swing and this time he sends the champion spinning, and he does it so much that Jericho submits!
Winner (and new ROH World Champion): Claudio Castagnoli
---
Since 2001, WrestlingAttitude is your number one source for WWE wrestling news, rumors and results. Make sure to follow us on social media to get the latest news in real time! We are facebook, Twitter, Pinterest and Instagram at the following links:
WA on Facebook – https://www.facebook.com/wrestlingattitude/
WA on Facebook (Women's Wrestling) – https://www.facebook.com/WrestlingDivas/
WA on Twitter – https://twitter.com/wa_wrestling
WA on Instagram (Women's Wrestling) – https://www.instagram.com/wa_wrestlingattitude/
WA on Pinterest – http://www.pinterest.com/realbadrose/wrestling/
---
ROH Final Battle 2022 Results