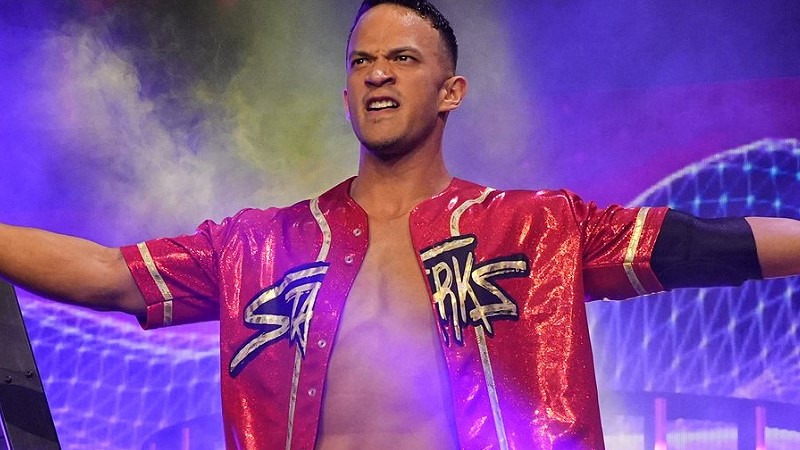 Ricky Starks Wins Dynamite Diamond Battle Royal – The legendary three year streak set by MJF was officially broken on tonight's AEW Dynamite, as Ricky Starks won the Dynamite Diamond Battle Royal. Starks won the prestigious Battle Royal by eliminating Ethan Page in the final moments of the match.
MJF won the match in 2019, 2020, and 2021. The current AEW World Champion is still the holder of the Dynamite Diamond Ring. As a result of winning Wednesday's Battle Royal, Starks will challenge MJF for the ring and the AEW World Championship on the December 14 edition of Dynamite.
Starks was confronted by MJF after the conclusion of the match. The two would go on to exchange verbal jabs, with MJF calling Starks a dollar store version of Dwayne 'The Rock' Johnson. Starks responded by excusing MJF of consistently using low hanging fruit jokes.
Here is a recap of the promo from our live coverage:
MJF heads out immediately as he thinks he knows why Bryan Danielson doesn't want to turn up tonight, which is because he's terrified of him. MJF says after what he did to William Regal he'd be scared too, as he claims to be a bad man, which is why he will be a four-time Diamond Ring holder and he will keep his title, Triple B. He notes that people like Ricky Starks, and he does say that he's talented. However, the truth is that Starks is the absolute drizzling sh*ts, as he then calls him a candy ass by claiming he has stolen everything from The Rock and that he is a dollar store, Dwayne.
MJF says he's going to start calling Starks The Pebble. He claims next week he will put him in his pocket, he will drive him to the nearest water and he will skip his ass back to NWA to wrestle on YouTube where he belongs. MJF doesn't care that he is absolute, because he's a generation talent and his reign of terror has just begun. Starks then shoulder barges him to get his microphone.
Starks calls him Maxi Pad and says he should've expected a fifth-rate Roddy Piper wannabee to come out, as he says the low-hanging fruit is running dry. He mocks MJF's tan, his terrible haircut, and his shirt, and he tells MJF to give him a break if he thinks he's better than him. Starks says everything about MJF screams cheap, and he has a responsibility as champion that he knows nothing about. 
Starks believes he gave people a reason to keep going, but when fans believed in MJF he let them down as he did to Regal, yet he delivers on time every week. He has been here busting his ass and says MJF avoids pressure and responsibility, as Starks turns up to meet and greets while MJF blows it off. Stark says h was grinding when he lived in his car, and he says next week he will shut him up. He's busted his ass on YouTube, and he doesn't need a name, and next week he will slap the mole off MJF's neck. He is going to take the responsibility off his plate next week, but as they staredown, MJF kicks him with a low blow. MJF then tries to use the ring but he misses and eats a Spear as Starks holds up the title.
Ricky Starks Wins Dynamite Diamond Battle Royal