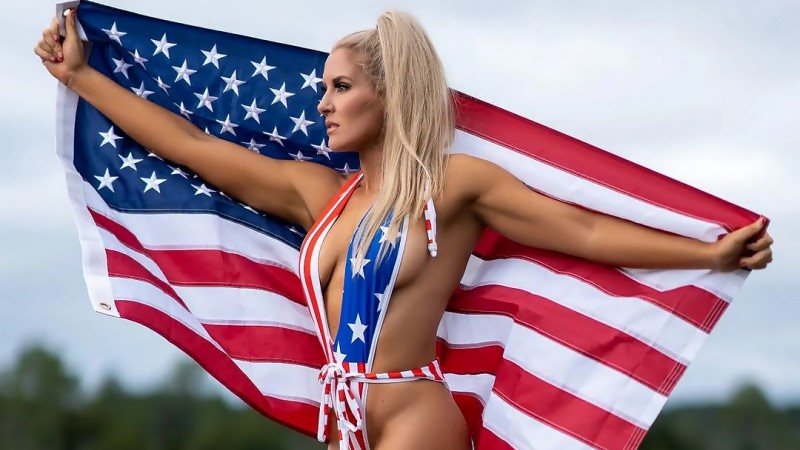 Lacey Evans Gets Into The Patriotic Spirit With Stars And Stripes Bikini Photo – As noted last week, Lacey Evans is getting repackaged again and this time it seems WWE have finally landed on the right gimmick for her.
In a video that aired last Friday on SmackDown, we saw Evans clad in military gear running through drills as a voiceover talked about how she's a product of elite training from the US Marine Corps, but has been lost in the crowd "with the whiners and the weak."
The voiceover then says something had to change and a Marine goes back to basics.
To get into the patriotic spirit, Lacey Evans took to her Instagram to show a jaw-dropping stars and stripes bikini. And according to the hashtag #2023LimitlessLadyCalander, it looks like this photo is a possible sneak peek at an imminent calendar.
Evans was previously repackaged in a series of vignettes earlier this year that teased a babyface return, but she quickly returned to her heel ways.
As good as she was drawing heat as a "Sassy Southern Belle" (there was always debate about whether it was of the "go away" variety, but it got a reaction), it never really fit her actual backstory as a member of the United States Marine Corps. This seems to blend the arrogance of her best known character with a legitimate reason for Lacey to believe she's better than her rivals.
It also recognizes that Evans' on-screen history will make a face run a tough sell, regardless of how moving her actual story might be. Referring to the rest of the women's roster as "the whiners, and the weak" is pretty clearly a line you put in a villain's video package.
Unless they change their minds again as Lacey's "Back To Basics" rollout continues…

CLICK TO ENLARGE / DOWNLOAD

Lacey Evans Gets Into The Patriotic Spirit With Stars And Stripes Bikini Photo