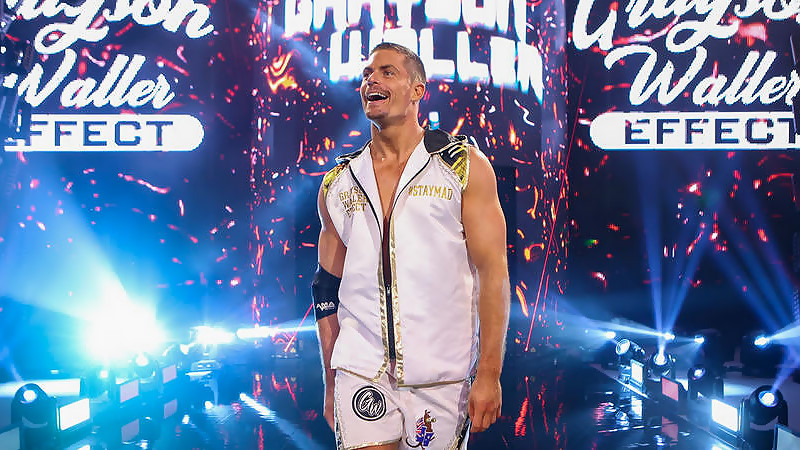 Grayson Waller won the inaugural Men's Iron Survivor Challenge match at tonight's WWE NXT Deadline Premium Live Event.
Deadline was headlined by the Iron Survivor Match, which saw Waller get the win to become the new #1 contender to NXT Champion Bron Breakker. There's no word yet on when the title match will take place.
Waller entered the match at #4. The bout also included JD McDonagh at #1, Axiom at #2, Carmelo Hayes at #3, and Joe Gacy at #5. Waller won with 3 points, while Hayes, Axiom and Gacy each had 2 points, and McDonagh had 0 points.
After the main event between Brock Breakker and Apollo Crews which saw Breakker retain, Waller hits Breakker with the rolling cutter. Waller then picks up the title belt and poses.
Payback in the Penalty Box! #NXTDeadline #IronSurvivor @Axiom_WWE @jd_mcdonagh pic.twitter.com/XSwgkcsvqw

— WWE (@WWE) December 11, 2022
A SHOEY! 👟@GraysonWWE

(via @WWENXT)pic.twitter.com/cxulhHKyoE

— WWE on BT Sport (@btsportwwe) December 11, 2022
.@jd_mcdonagh & @Axiom_WWE are starting things off.#NXTDeadline #WWE #WWENXT pic.twitter.com/kqSNxXpT0g

— Sportskeeda Wrestling (@SKWrestling_) December 11, 2022
.@Carmelo_WWE scores the first fall!
The boy is COOKING! #NXTDeadline #WWE #WWENXT pic.twitter.com/UojntpPKJl

— Sportskeeda Wrestling (@SKWrestling_) December 11, 2022
.@GraysonWWE with 2 quick falls! SHEEEESH. #NXTDeadline #WWE #WWENXT pic.twitter.com/urWqbONbgz

— Sportskeeda Wrestling (@SKWrestling_) December 11, 2022
.@Axiom_WWE legit said: "I'm not locked in here with you, you're locked in here with me!" 😂#NXTDeadline #WWE #WWENXT pic.twitter.com/EAtOrF6HO4

— Sportskeeda Wrestling (@SKWrestling_) December 11, 2022
2 points for @Axiom_WWE! #NXTDeadline #WWE #WWENXT pic.twitter.com/ReFDOm0VYP

— Sportskeeda Wrestling (@SKWrestling_) December 11, 2022
"Who's in your Top 5 now, b*tch?"@GraysonWWE is a MENACE! #NXTDeadline #WWE #WWENXT pic.twitter.com/frlavU2wd1

— Sportskeeda Wrestling (@SKWrestling_) December 11, 2022
.@JoeGacy scores a fall!
This match is moving fast.#NXTDeadline #WWE #WWENXT pic.twitter.com/LUwObSK1o7

— Sportskeeda Wrestling (@SKWrestling_) December 11, 2022
2 falls for @JoeGacy! #NXTDeadline #WWE #WWENXT pic.twitter.com/u10q5QTt5A

— Sportskeeda Wrestling (@SKWrestling_) December 11, 2022
This match slaps! #NXTDeadline #WWE #WWENXT pic.twitter.com/7fjSWKR8bH

— Sportskeeda Wrestling (@SKWrestling_) December 11, 2022
Melo catches up!
It's a four-way tie.#NXTDeadline #WWE #WWENXT pic.twitter.com/qmpMY1UL6t

— Sportskeeda Wrestling (@SKWrestling_) December 11, 2022
We are NXT! #NXTDeadline #WWE #WWENXT pic.twitter.com/aAkYMed6Gg

— Sportskeeda Wrestling (@SKWrestling_) December 11, 2022
They're not letting JD score a fall. 😩#NXTDeadline #WWE #WWENXT pic.twitter.com/EwRNQamjtc

— Sportskeeda Wrestling (@SKWrestling_) December 11, 2022
Thoughts on the 1st ever Men's Iron Survivor Challenge? #NXTDeadline #WWE #WWENXT pic.twitter.com/4hcgDTdClG

— Sportskeeda Wrestling (@SKWrestling_) December 11, 2022
The @GraysonWWE effect is REAL! #NXTDeadline #WWE #WWENXT pic.twitter.com/kL7n2YdMii

— Sportskeeda Wrestling (@SKWrestling_) December 11, 2022
Drinking the tears of his haters! #NXTDeadline #WWE #WWENXT pic.twitter.com/5WMvYoBFP3

— Sportskeeda Wrestling (@SKWrestling_) December 11, 2022
.@GraysonWWE picked his spots, saw the opportunity & seized it! Brilliant use of the match stipulation. #NXTDeadline #WWE #WWENXT pic.twitter.com/A6EGZoIPwM

— Sportskeeda Wrestling (@SKWrestling_) December 11, 2022
Grayson Waller Wins Men's Iron Survivor Challenge at NXT Deadline