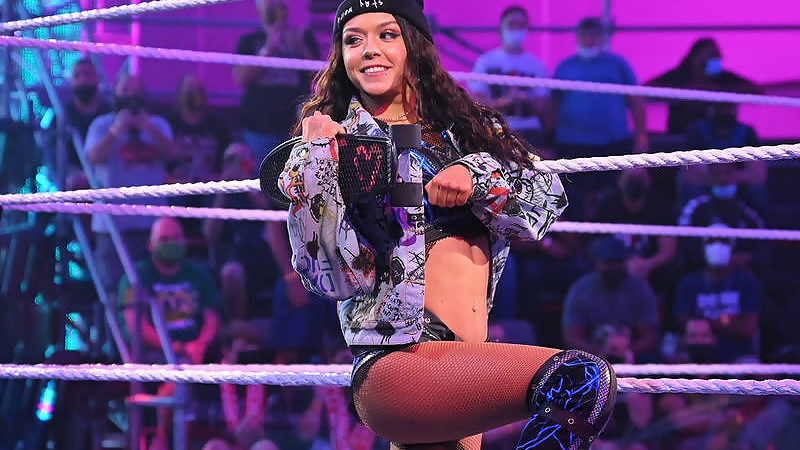 Cora Jade On Trashing NXT Women's Tag Team Title – Cora Jade won the NXT Women's Tag Team Titles alongside Roxanne Perez at NXT Great American Bash on July 5.
One week later, Jade turned on Perez and cost her the NXT Women's Championship. The following week, Jade proceeded to dump her half of NXT Women's Tag Team Titles into the trash can in a callback moment to Alundra Blayza (Madusa) trashing the WWF Women's Championship on WCW Nitro in 1995.
Appearing on the Mark Moses Show, Jade reflected on trashing the title.
"That was crazy, especially because I grew up seeing the famous clip of Alundra Blayze throwing the title in the trash. I feel like anybody who grew up a wrestling fan knows that clip. To do that and kind of have my own moment similar to that was crazy. To be able to do that was everything I wanted and more. Something I'll look back in my career and remember forever," she said.
When asked about the reaction to the moment, Jade replied, "Everyone was like, 'that was crazy.' My mom called me and she knows the clip of Alundra Blayze and was like, 'that was so cool.' I'm glad that they trust me with that type of position and to be able to do that and deliver it the best that I could. It was great. I looked at my Twitter and was like, 'I'm going to close it.' As soon as I opened it, closed it. They [The fans] were pretty mad at me that day."
Blayze would make a cameo appearance on the July 26 episode of NXT to pull the title out of the trash.
Jade most recently competed in the women's Iron Survivor Challenger bout at NXT Deadline. The match was won by Perez, who went on to win the NXT Women's Championship on Tuesday's NXT.
Cora Jade On Trashing NXT Women's Tag Team Title