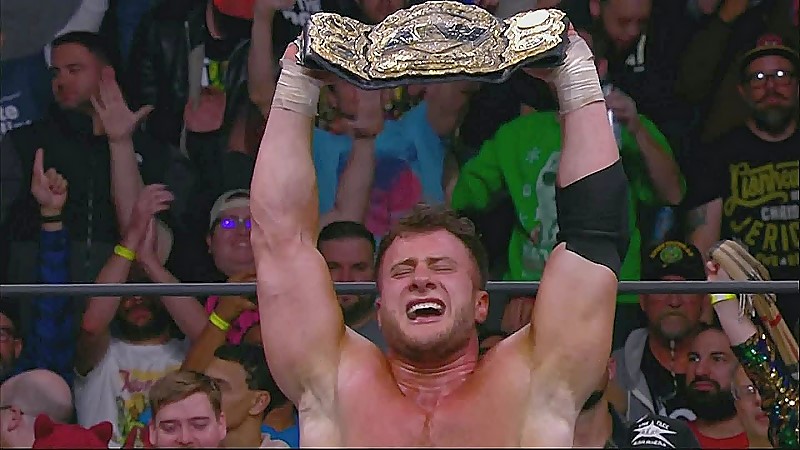 William Regal Turns On Jon Moxley, MJF Wins World Title – In the main event of AEW Full Gear, MJF challenged Jon Moxley for the AEW World Championship.
Mox immediately punched MJF in the face as the match got started. MJF slapped Mox but then Mox hit several chops to the chest. MJF recovered and did a Jarrett/Flair/Fargo/Rogers strut to taunt Moxley.
Later in the match, MJF began selling his knee after he hit Mox with a tombstone on the ring apron. Excalibur said that MJF's knee pad slid off and that's why he was hurting. MJF tried the move again but Mox countered and piledrove MJF through a table that was set up outside of the ring.
MJF worked over Mox's knee with the figure four and then he followed up with the heatseeker move. There were "fu** you Moxley" and boos from the crowd during this match. Fans booed when Mox hit MJF with an avalanche paradigm shit off the top rope and they cheered when MJF broke the count with a rope break.
Mox seemed bothered by the fans turning on him. MJF pulled the ref in front of Mox and that allowed MJF to pull out his diamond ring. William Regal went to ringside to warn MJF not to use the ring. MJF tossed the ring and Moxley applied the sleeper. MJF countered into a pinfall move and a second referee was taken out as the original began to recover. Mox had the bulldog choke and MJF tapped but there was no referee to call it. Regal slid brass knucks to MJF. MJF knocked out Moxley with the knucks and MJF made the cover to win the title.
MJF Wins World Title