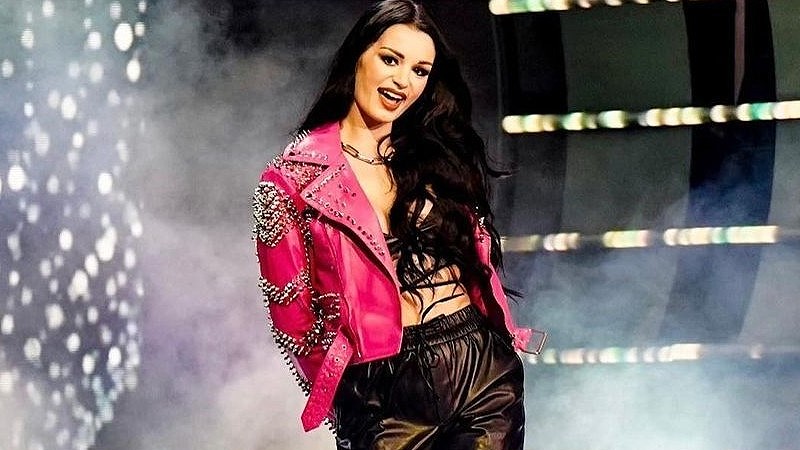 Saraya Says She Is 100% Cleared – During tonight's AEW Dynamite episode, Saraya confronted Britt Baker and officially announced that she is 100% cleared to compete.
Here is a recap of the segment from our live coverage, which you can also watch in the embedded videos below:
Tony Schiavone is then shown inside the ring as he welcomes Saraya and Dr. Britt Baker to the ring for their face-off. Saraya says she knows fans will be wondering if she can wrestle or not and a few weeks ago she took scans and tests and unfortunately…for Britt, she is 100% cleared! Saraya then gets emotional in the ring as the fans give the news a standing ovation as Saraya says AEW is her house.
Baker then questions if there's anyone more fickle than an AEW fan. She asks if Saraya even knows how to do this anymore, and she questions why she has been going after her. Baker says she built AEW from the ground up until it became a fortress, so that superstars like her wanted move in and she is proud of that. But, Baker says the pride turns into resentment quickly when Saraya skips in and calls it her house, because Baker doesn't recall her laying a single brick.
Baker says she is everything Saraya wishes she could have been, and she reminds Saraya that she left her house and walked into hers, and they don't take walk ins, so she needs to make an appointment.
Saraya sys it is cute that she puts herself on a pedostal as she was given the spot by Tony Khan and got fed QT's trainees, and she says Baker doesn't know what it takes to be a star. She traveled around the UK and Europe for free because she loves this business, she was hit by a car and wrestled the same day because she loves this business. Saraya says she was starting revolutions before they were a trend or wrestling was a twinkle in Baker's eye. She has done MSG, the O2, Tokyo Dome, and now she's in front of an ungrateful b**ch.
She has been humiliated in front of people, she dealt with drug issues publicly, and gave her neck for this business, yet Baker doesn't know what it takes to make it. Saraya says this is her comeback story and the biggest match of Baker's career as she announces they will wrestle at Full Gear. Baker then goes to attack her, but Saraya reverses it and drops the dentist face-first onto the mat.
Saraya made her AEW debut back at Grand Slam, she came to the aid of AEW Interim Women's World Champion Toni Storm, and chased off Britt Baker.
Ever since, Britt and Saraya have gone back and forth on promos, with the official status of Saraya's injury not being revealed.
That led to the segment between Saraya and Britt on tonight's (November 9) episode of Dynamite, where Saraya officially announced that she was cleared to compete.
Saraya then announced that she would return to the ring at AEW Full Gear, her first match in over four years, in a match with Britt Baker.
Saraya Says She Is 100% Cleared