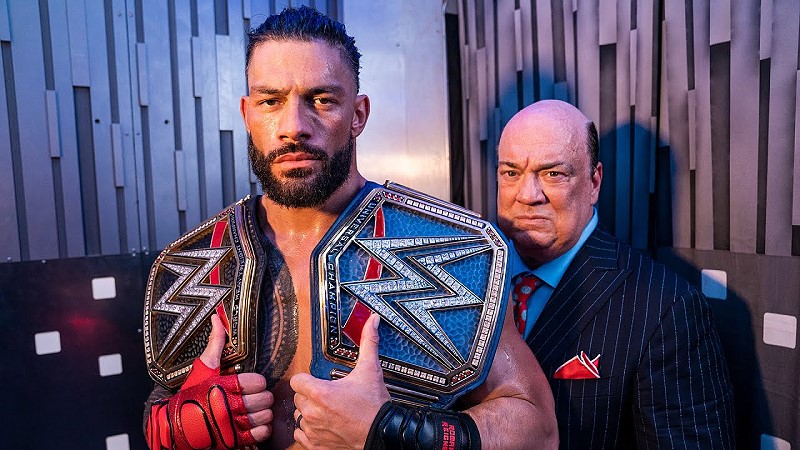 Roman Reigns Hits 800 Days As WWE Universal Champion – For 800 days now, WWE has been Roman Reigns' island of relevancy.
At WWE Payback 2020, Roman Reigns defeated Braun Strowman and Bray Wyatt in a Triple Threat Match to become the WWE Universal Champion. Reigns won the match by pinning Strowman after making a late arrival.
Since then, he has defeated the likes of Big E, Edge, Daniel Bryan, John Cena, Cesaro, Kevin Owens, Brock Lesnar several times over, and most recently, Logan Paul in order to establish himself as the most dominant champion in modern WWE history.
At WrestleMania 38, Reigns beat Lesnar to unify the WWE Universal Championship with the WWE World Championship in order to become the WWE Undisputed Universal Champion. Following this victory, Reigns has held the WWE Championship for over 200 days as he has continued to add to his extensive legacy as Reigns is the longest-reigning WWE Universal Champion of all time.
On Friday, November 11, Roman Reigns' cousins, Jimmy and Jey Uso will look to become the longest-reigning WWE Tag Team Champions of all time if they can manage to defeat their greatest rivals, The New Day (Kofi Kingston and Xavier Woods). However, Jimmy and Jey Uso are already the longest-reigning WWE SmackDown Tag Team Championship.
As for what's next for Roman Reigns, he smashed Logan Paul at WWE Crown Jewel in a match where Logan would end up suffering a knee injury. Moving forward, Reigns now looks ahead to WWE Survivor Series.
Many fans feel like Roman Reigns is slated for an eventual match with The Rock at some point during this historic reign. Paul Heyman, Roman Reigns' personal wise man, has referred to a match with The Rock as mental masturbation until Dwayne Johnson puts pen to paper.
Roman Reigns Hits 800 Days As WWE Universal Champion