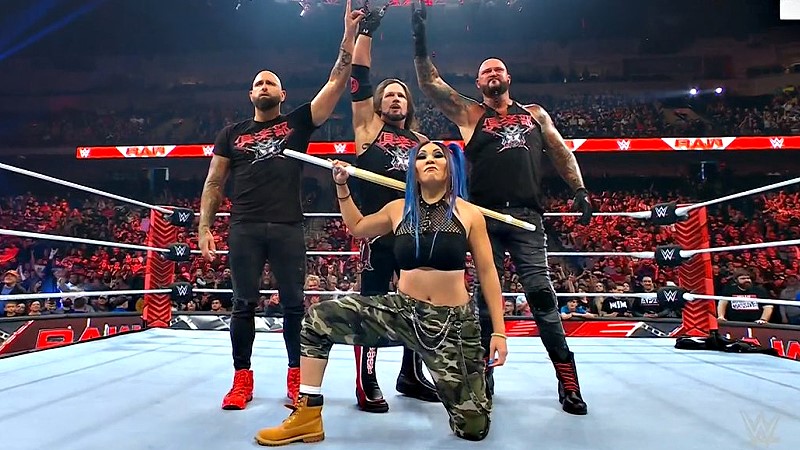 Mia Yim Returns To WWE – Joins The OC – Mia Yim has just made a huge return on tonight's WWE RAW to stand tall alongside a new faction.
After Judgment Day answered Seth Rollins' United States Championship Open Challenge and revealed that Finn Balor intended to be the opponent, their fight was interrupted.
With The OC appearing, AJ Styles informed Judgment Day that they hadn't ever been fighting a fair fight.
Referencing Rhea Ripley's continual interferences, AJ Styles then informed the quad that they couldn't find an equalizer but one had found them.
It was then that a mystery figure appeared, attacked Rhea Ripley and revealed themselves to be a returning Mia Yim!
Mia Yim, again with her signature blue hair and name is back and ready to dominate in The OC!
Yim originally worked for WWE in the 2017 and 2018 Mae Young Classic tournaments, but her performance in the 2018 competition led to WWE signing her to a contract in September of that year. She worked WWE NXT until the summer of 2020 when she was called to the main roster, working as Reckoning of RETRIBUTION. After being released from her WWE contract on November 4, 2021, Yim returned to Impact Wrestling on May 7 of this year at the Under Siege event. She finished up with Impact in mid-October with a loss to Mickie James at Bound For Glory, and it was immediately reported that WWE had interest in bringing her back.
Yim's return was first reported last week. The belief was that she was on her way back after finishing up with Impact Wrestling.
Mia Yim Returns To WWE