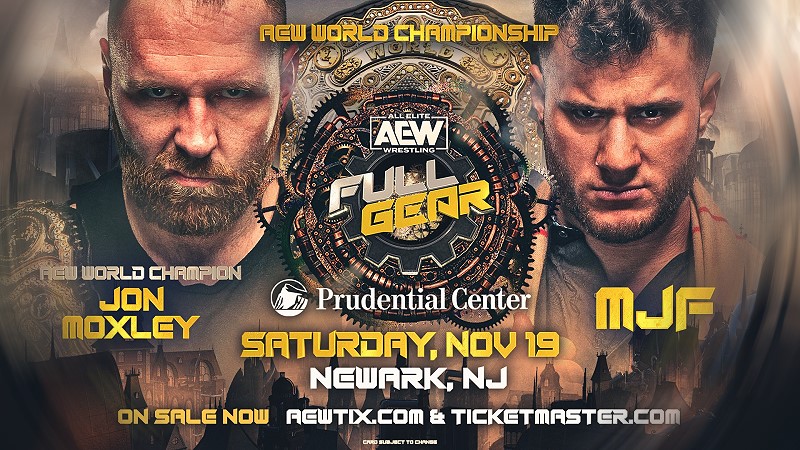 Jon Moxley Tells MJF To Prove His Worth At Full Gear – In a pair of promos on tonight's Full Gear go-home edition of AEW Dynamite, both Jon Moxley and MJF set out to prove who they are.
First out, was Jon Moxley to answer the question: "Who exactly is Jon Moxley?"
According to Moxley, the answer is relatively simply: He is the best professional wrestler on planet earth.
He went on to note that last week he questioned who exactly is Maxwell Jacob Friedman and he did his research.
Mox learned that MJF is "actually a really good singer" in addition to the fact he has only one win in the last six months.
He went on to describe MJF as having taken a "summer vacation" after doing some embarrassing Brian Pillman stuff, coming "back in a Halloween mask," where he was "handed"a victory in the worst ending to a ladder match Mox has ever seen.
Moxley said he sees MJF as "dripping with insecurity, a kid playing wrestler, a man full of fear that maybe he won't live up to the hype."
Mox went on to say that MJF isn't challenging him, he's challenging MJF to show him something!
It was then that Moxley was rushed by The Firm, who were all in the ring at one point assaulting both Moxley and William Regal.
MJF came out and swiftly laid waste to both Ass Boys, next Moriarty then the bigger and tougher W.Morrissey and Ethan Page via low blows and eye pokes.
MJF then got on the mic to address a laid out Moxley and Regal who remained unscathed.
He said he didn't save him because he likes him, he just didn't want "your piss ant mark fan club," to complain after he beats him on Saturday.
Going on to say that he needs the AEW title more than food, water and oxygen, is is his time.
While MJF was midway through delivering a catch phrase, Moxley snatched the mic to let him know that he plans on seeing heart from MJF.
Whether or not he has to reach inside him and pull it out remains to be seen but that at AEW Full Gear, "the training wheels are off."
Jon Moxley Tells MJF To Prove His Worth At Full Gear