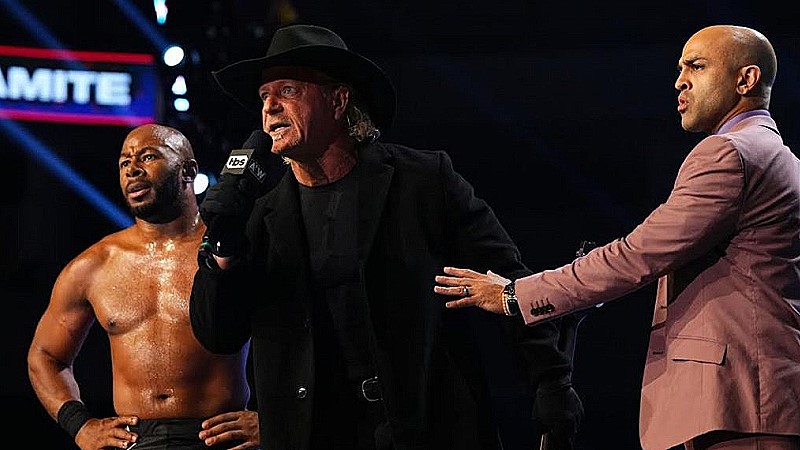 Jeff Jarrett Takes Shots At Triple H And Braun Strowman – After debuting for AEW last week, siding with Jay Lethal, Sonjay Dutt and Satnam Singh, the legendary Jeff Jarrett delivered his first promo on last night's AEW Dynamite.
As seen below, Jarrett talked about how he came to AEW because a friend, Dutt, called him for help. He showed up and they put together a plan. He then talked about how he signed Lethal to his first contract in TNA, and praised Dutt for his IQ, saying they've taken over wrestling promotions around the globe. Jarrett then praised Singh, and took shots at WWE Chief Content Officer Triple H and his crew, as well as WWE Superstar Braun Strowman.
"This is a legit 7-foot-5 giant," Jarrett said of Singh. "Camera man, start at this man's feet and pan up, slow pan. This isn't no make believe monster who wears red skinny jeans and is produced by the Banana Nose Circus, no, this guy is one in a billion. Why is he one in a billion? That's the name of his Netflix special. He's the only player in the history of the NB, in the history of the National Basketball Association, to be born and bred in India. So, Sting, Darby Allin, you here? I'm calling you out. Darby, we put you in a body bag last week, Sting, we're gonna put you in a body bag. We'll take you on."
Jarret then lashed out at the AEW stage manager, before issuing a challenge to Sting and Darby Allin. He ended the promo by chasing the stage manager away with his guitar.
Jarrett will make his AEW in-ring debut at Full Gear later this month as he and Lethal go up against Allin and Sting.
Jarret was inducted into the WWE Hall of Fame in 2018. He was hired to work as a WWE Producer in January 2019, and appeared as a surprise Royal Rumble entrant. He went on to make a few appearances before being promoted to the creative team in the spring of 2019. He left the company in the summer of 2021, but returned in January of this year, appearing on SmackDown and SummerSlam, and serving as the Senior Vice President of Live Events. Jarrett once again departed the company in August.
Jeff Jarrett Takes Shots At Triple H And Braun Strowman