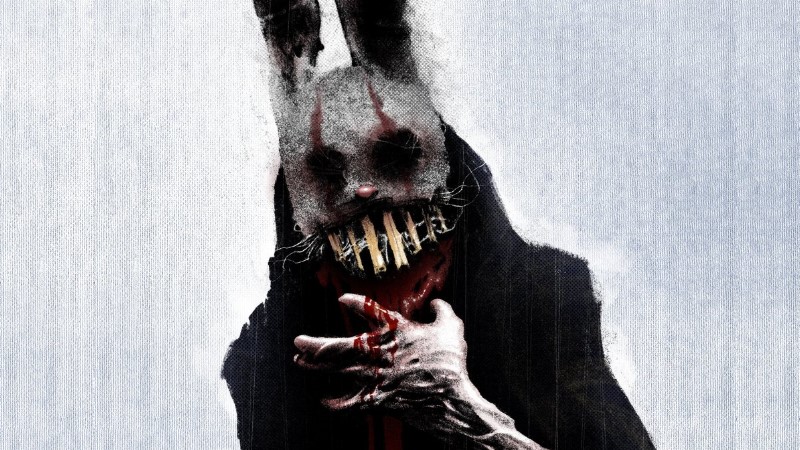 More White Rabbit Clues Dropped On 10/3 WWE RAW – As has become customary on WWE television, fans are going to get a White Rabbit QR code and fan sign to send them into a tizzy for the evening.
A fan sign reading WYYT RABAT in the now signature spooky font with the White Rabbit logos appeared walking through the shot.
Of course, if you unscramble these you do get BRAY WYATT so the clues keep coming but the reveal seems to be pointing in one direction!
As noted, a sign that said "Revel In What You Are" was shown directly behind Michael Cole and Corey Graves on Friday's SmackDown.
Also according to fans on Twitter, there is someone dressed as The Fiend in the crowd as well however it is unclear if that is intentional on WWE's part or not.
As for the QR code, this time the code flashed on the screen after a period of grey haze over the screen as Candice LeRae walked up to Bianca Belair, Asuka and Alexa Bliss.
The QR code was accompanied by the sound from the earlier White Rabbit game as a reminder to fans to clue in!
When fans follow the QR code, they were taken to this link: wwe.com/01000111_01000001_01000011_01011001 which features a classic piece of art (Samson and Delilah) similar to another depicting the same Biblical scene posted by Windham Rotunda himself back in April 2021 after he was betrayed at WrestleMania 37 by Alexa Bliss.
There is also the text 399012N 751720W as well as a lower red bar which appears to be a cipher and then another cryptic blue Magic Eye image.
According to WWE analyst Ryan Satin on Twitter, if you put the Magic Eye code into a Base64 decoder, which is like binary to text encoding, it translates to: "10822", the date of the next WWE premium live event, Extreme Rules.
The coordinates lead to the Wells Fargo Center in Philadelphia, PA the location of Extreme Rules.
The title of the page reads a binary that reads "GACY" interestingly, in a similar vein to past potential red herrings or foreshadowing?
Getting in on the White Rabbit mystery, Kyle Scarborough on Twitter, an artist who has worked with Rotunda and has been posting throughout the mystery, interesting posted an artistic rendering of Alexa Bliss along with the caption, Prv 19.5 in an apparent Biblical reference to the Proverbs 19:5 statement:
"A false witness will not go unpunished,
And he who speaks lies will not escape."
Also, the cipher appearing in red has now been discovered now to be the Yautja language from the Predator movies.
More White Rabbit Clues Dropped On 10/3 WWE RAW