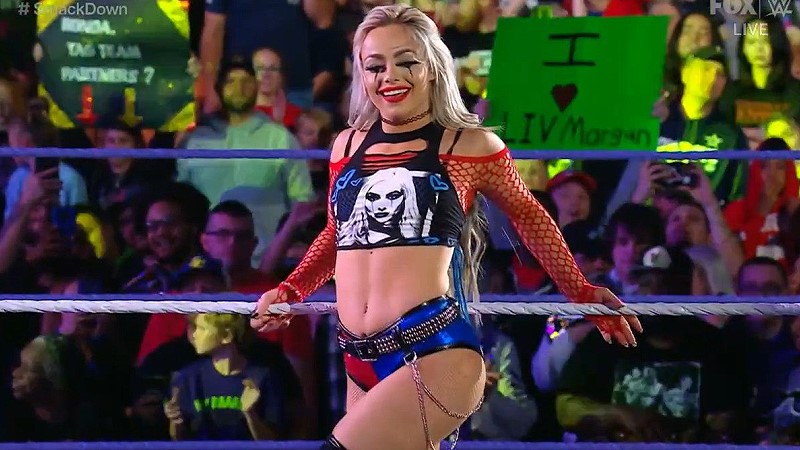 Liv Morgan Debuts Harley Quinn Inspired Look – Liv Morgan showed off a different side of herself tonight on SmackDown with a new Harley Quinn inspired gear and makeup. Morgan certainly was continuing to sport her new darker attitude as well.
Playing up her continuing pleasure from pain, Morgan's smile through the battle against Sonya Deville was pointed out by commentary and highlighted repeatedly by Liv during the match as well including calling her smile, "creepy" and "weird."
At one point, Morgan was hitting herself and screaming "hit me Sonya!" with Deville playing up the confusion about Liv "snapping" and attempting to escape the wrath from the second wind of the new more vicious persona of Morgan.
After the ref called the match, Morgan set up a bunch of chairs in the ring and suplexed Deville onto them.
Michael Cole said that losing a championship changes people. It's not 100 percent clear if this is a heel turn but it seems like Morgan is playing a character that is inspired by The Joker and/or Harley Quinn.
During the feud with Ronda Rousey, the plan was to elevate Morgan and show fans how tough she is. Tonight's angle took things to a different level with her character.
Liv Morgan Debuts Harley Quinn Inspired Look