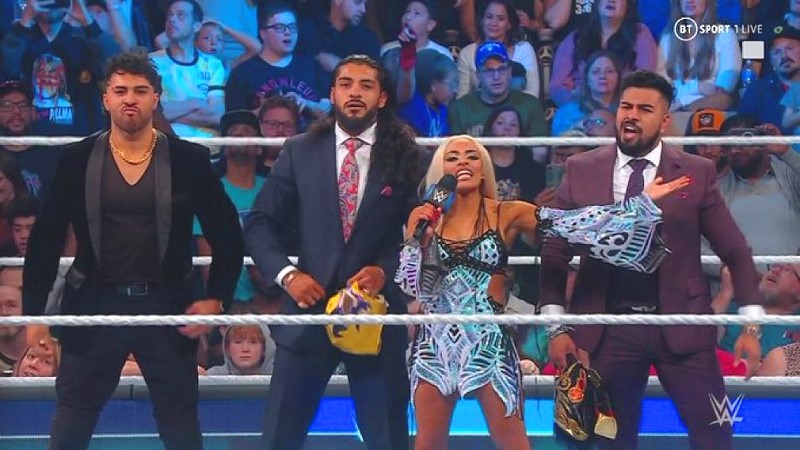 Legado Del Fantasma Makes SmackDown Debut With Zelina Vega – As rumored earlier in the day, Zelina Vega has returned to WWE SmackDown during tonight's Premiere Episode and joined alongside Santos Escobar, Joaquin Wilde and Cruz Del Toro, the NXT faction Legado Del Fantasma.
Hit Row were out for their match but they got brutally attacked by three masked men. They worked over Dolla in the ring.  B Fab checked on Dolla while Zelina Vega was shown on the turnbuckle and hit her with a head scissors take down and a running knee. Santos with a Phantom Driver to Ashante.  Wilde and Cruz with a side Russian leg sweep and kick combination.  They finish off Top Dolla.
Zelina then said she is back and she did not come alone. The three men unmask and Santos took the mic. He said they are Legado del Fantasma.  He said Smackdown is theirs.  He tells everyone to be safe.
The group's female member is now Zelina Member because the decision was made to not have Elekra Lopez stay with them.
The plan is for the group to get a big push. Triple H was very high on them, especially Santos Escobar, when they were in NXT. This was Zelina's first TV appearance since July. Legado Del Fantasma has been rumored for a main roster move for several weeks.
Legado Del Fantasma Makes SmackDown Debut With Zelina Vega