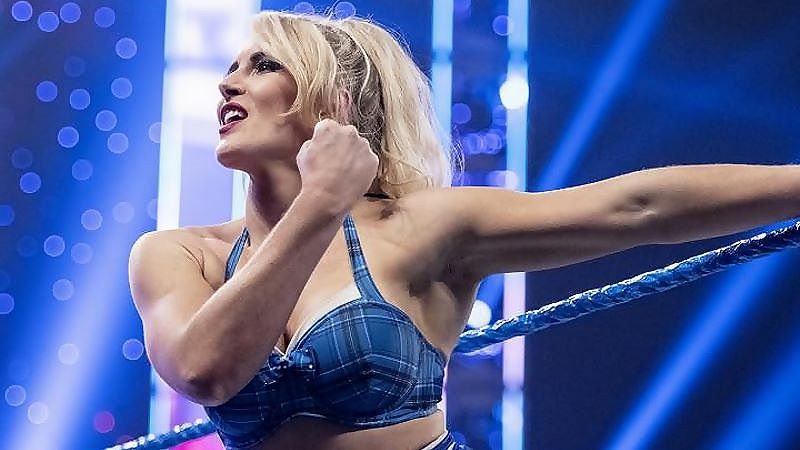 Lacey Evans Shows Off Her Figure in Blue Bikini – Lacey Evans did not appear on television very often during the summer of 2022, but judging by her activity on Instagram, she made the most of the time she had available to her.
After posting a lot of bikini photos in July and recent lingerie shots, Evans remained in the Summer spirit despite the arrival of Fall, as she continued to post bikini photos with the caption "Summer ain't over."

CLICK TO ENLARGE / DOWNLOAD
After more than a year of absence due to pregnancy, Lacey was re-introduced as a military heroine and acclaimed by fans for her commitment to the nation. Then something happened and she started a working as heel in a feud with Aliyah. However, her storyline with Aliyah was seemingly cut short due to her medical issues and she was declared not medically cleared in early August.
Though she has yet to officially hold gold in WWE, Lacey Evans was considered a rising star since moving from NXT to the main roster. Evans return was described internally as "chaotic and directionless," and that there were no immediate creative plans for her.
Before being sidelined, Evans participated in the women's WWE Money in the Bank ladder match with no impact at all. She then returned a couple of week's ago to compete in a Fatal 5-Way Elimination Match to determine the next challenger for Liv Morgan's "SmackDown" Women's Championship. The match was short and even in this case she had zero impact. Two week's ago on SmackDown, Lacey faced current champion Liv Morgan; despite dominating the whole match, as seen below she ended up losing to Liv in a bad way.
Again, we have no news on the reasons for the recent changes and no info about possible plans regarding her. Everything about lacey evans seems shrouded in mystery.
Lacey Evans Shows Off Her Figure in Blue Bikini