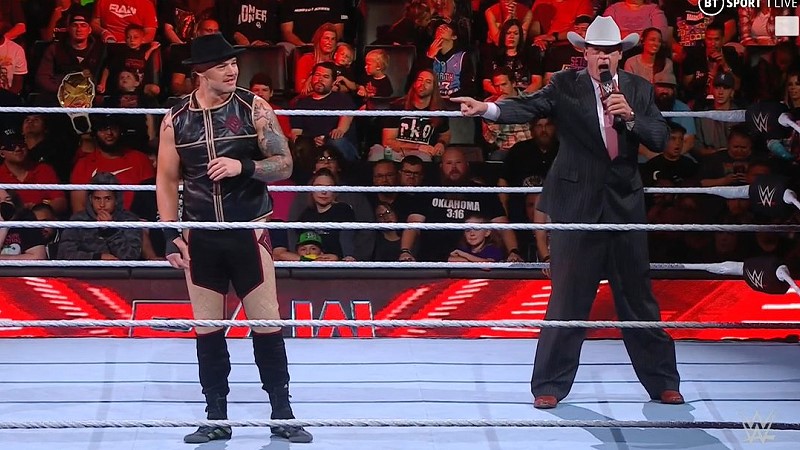 JBL Anoints The Modern Day Wrestling God – The Wrestling God has returned to the WWE storylines, and he has anointed The Modern Day Wrestling God.
Tonight's WWE RAW saw WWE Hall of Famer JBL return as the new mouthpiece for who he introduced as Mr. Baron Corbin. JBL insulted the people of Oklahoma City and revealed that Rey Mysterio going to SmackDown last Friday led to a big trade being made, with Corbin coming to RAW.
JBL went on to praise Corbin and introduce him to a new look and a new theme song. JBL continued his promo and declared Corbin to be The Modern Day Wrestling God, promising that tonight will start Corbin's emergence on Monday Night RAW. JBL revealed how he asked WWE for competition, and was given Dolph Ziggler. He then insulted Ziggler and joined the announcers for commentary while Corbin and Ziggler had a back & forth match, which ended with Corbin getting the pin via End of Days.
Corbin ended up using JBL's Clothesline From Hell and the fall-away slam during the match, but he also hit Deep Six and finished Ziggler off with the End of Days. JBL noted on commentary how he's been working with and talking to Corbin, and is confident in his abilities.
Corbin has recent WWE live event losses to Madcap Moss, Shinsuke Nakamura and Ricochet, but this was his first TV appearance since the September 2 SmackDown, where he was seen down & out backstage following an Open Challenge loss to Nakamura. JBL's white horned limousine then pulled up. The window rolled down and JBL asked Corbin what's happened to him. Corbin then entered the limo and they drove off together.
Below is a recap of tonight's segment from our live RAW coverage, along with photos and videos:
 
We go back to the ring and out comes WWE Hall of Famer JBL to a big pop. JBL says it takes a momentous occasion for The Wrestling God to come back to WWE and tonight is no exception. JBL says he has an announcement that will shake the very foundation of RAW, but first he wants to say something from the bottom of his heart… in all sincerity, to the world… he apologizes. For doing this… in Oklahoma. Fans boo but JBL starts ripping the locals, pointing to how the great state of Texas is nearby. JBL goes on and says as much as he'd love to stay out here an bash Oklahoma, because he really despises the state and all of these fans, but he's got great news.

JBL says Rey Mysterio left RAW for SmackDown as Dominik Mysterio found out what we've known for years, that Rey the deadbeat dad is one of the worst human beings ever. Fans boo. JBL says Rey wears a mask because he's ashamed of himself, but that void has created the biggest trade since Babe Ruth came to the New York Yankees. JBL calls for the sweathogs to stand on their feet, put their chubby hands together and welcome the greatest addition to RAW ever – Mr. Baron Corbin.

The music hits and out comes Corbin wearing new gear, and with an updated theme. He stops as the pyro goes off and fans boo. JBL applauds from the ring as Corbin makes his way in. Corbin shakes hands with JBL, then hits the corners to pose. JBL praises Corbin as three times the size of Mysterio, and says the dominance of Baron Corbin starts tonight. JBL says he asked for competition and WWE gave them a former World Champion – Dolph Ziggler. JBL says Ziggler isn't stealing the show, he's been stealing money from the company for years because if he was in the Attitude Era, he would've never made the cut. JBL says looking at the rest of the roster backstage today, they also would never have made it, they would've had to watch the show from the crowd like you fans, and praise the greats like Corbin. JBL goes on and declares today starts the Monday Night RAW emergence of The Modern Day Wrestling God – Mr. Baron Corbin. The music hits and out comes Ziggler to a pop.
JBL is on #WWERaw! 🤠 pic.twitter.com/eWcWV2h1qh

— WWE on BT Sport (@btsportwwe) October 18, 2022
The Wrestling God, @JCLayfield!#WWERaw pic.twitter.com/U8OKG8JKoi

— WWE on FOX (@WWEonFOX) October 18, 2022
BREAKING: As revealed by WWE Hall of Famer @JCLayfield, @BaronCorbinWWE is now a part of the #WWERaw roster as a result of the trade with #SmackDown for @reymysterio. pic.twitter.com/PG4yZxXuTH

— WWE (@WWE) October 18, 2022
The newest duo on #WWERaw!@BaronCorbinWWE x @JCLayfield pic.twitter.com/d2Vs4tNR1b

— WWE (@WWE) October 18, 2022
.@BaronCorbinWWE is on Monday Night Raw! 😱#WWERaw pic.twitter.com/8W4joxC7bP

— WWE on BT Sport (@btsportwwe) October 18, 2022
Baron Corbin 🤝 JBL#WWERaw pic.twitter.com/JGQBE8Cp1X

— WWE on FOX (@WWEonFOX) October 18, 2022
🎧🎤@JCLayfield #WWERaw pic.twitter.com/K1ZtwozThH

— WWE (@WWE) October 18, 2022
WWE Hall of Famer @JCLayfield is ready to rejuvenate @BaronCorbinWWE's career on #WWERaw! pic.twitter.com/eiahwf0xvB

— WWE (@WWE) October 18, 2022
"Today starts the Monday Night Raw emergence of the Modern Day Wrestling God!" – @JCLayfield @BaronCorbinWWE #WWERaw pic.twitter.com/VLhR0mJgCt

— WWE India (@WWEIndia) October 18, 2022
"Allow me to reintroduce myself…" 💎@BaronCorbinWWE#WWERaw pic.twitter.com/StzIg6HGgd

— WWE on BT Sport (@btsportwwe) October 18, 2022
"Today starts the Monday Night Raw emergence of the modern day wrestling god!" – JBL 👀@BaronCorbinWWE#WWERaw pic.twitter.com/TRqv5dCIkU

— WWE on BT Sport (@btsportwwe) October 18, 2022
JBL Anoints The Modern Day Wrestling God