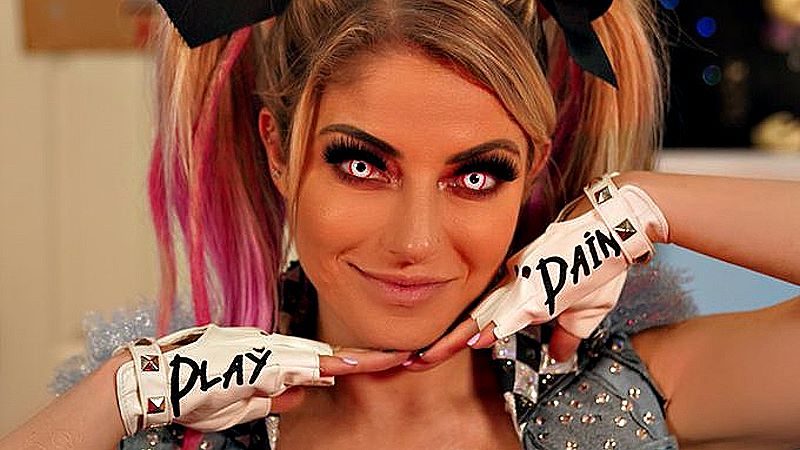 Alexa Bliss Reacts To Return Of Bray Wyatt – After Bray Wyatt's stunning return to WWE to close out Extreme Rules, Alexa Bliss has reacted.
While Bray Wyatt appeared with a debuting cast of characters (in human embodiments at least) one person that immediately springs to mind for fans is Alexa Bliss.
Since the epic reveal, Bliss has taken to Twitter to respond to the massive return of Bray Wyatt writing simply: "Hello, old friend."
Alexa Bliss perhaps seems like an obvious suspect for the person underneath the Abby the Witch, there could be a bevy of other possibilities as well given that Bliss was teased as a possible future foe for the debuting faction.
Alexa Bliss is currently without a direct feud as she has recently been going back and forth with Damage CTRL along with Asuka and Bianca Belair on WWE Raw.
What do you think, is Alexa Bliss a part of the Firefly Funhouse come to life?
Elsewhere in the reveal, real life embodiments of Huskus the Pig, Mercy the Buzzard, Ramblin' Rabbit and The Fiend were shown separately from the returning Wyatt who completed the debuting Wyatt 6.
Interestingly, Bray Wyatt's Twitter bio has changed to read: "A villain is just a victim from a different story"
Bray Wyatt made his triumphant return to WWE to close the premium live event, Extreme Rules in a most spectacular fashion after weeks of mystery teases that engaged sleuths from all around the WWE fandom.
Alexa Bliss Reacts To Return Of Bray Wyatt