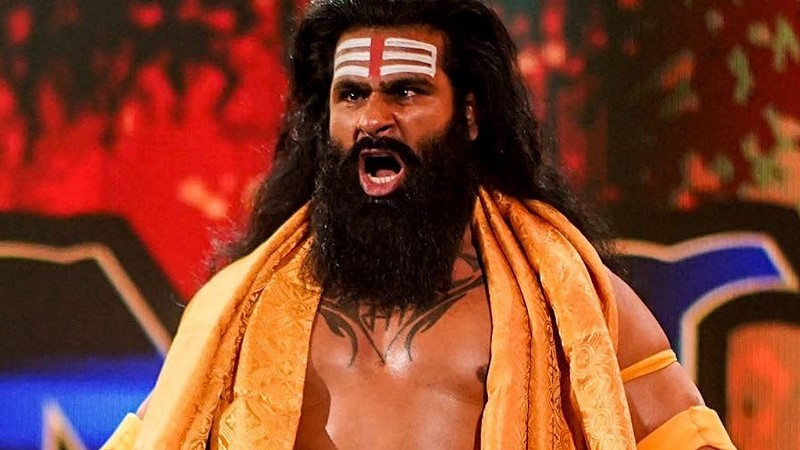 Veer Mahaan Sent To NXT – It's been several weeks since anyone has seen Veer Mahaan on WWE TV. He was one of the pushed acts on Monday Night Raw but shortly after Vince McMahon stepped down from the company, Mahaan disappeared.
Mahaan has been moved to NXT and, as seen in the photo below, he and Sanga have formed a tag team. The duo wrestled at tonight's NXT live event in Citrus Springs, Florida. 
Mahaan was previously moved from NXT to the main roster in 2021 as part of Jinder Mahal's stable but he was pulled off of Raw last Fall to be repackaged.
WWE aired months of vignettes teasing that "Veer is coming" and he made his re-debut on the 4/11/22 episode of Raw and dominated Dominik Mysterio. The plan by Vince McMahon was to build him up as a top heel on the brand.
Veer's last WWE match on TV was on the August 15 edition of "Raw," where he defeated enhancement talent Beaux Keller in under 2 minutes. Before that, his last match on "Raw" was on June 26 in the Last Chance Money in the Bank Qualifying Battle Royal match.
Before signing with WWE in January 2018, Veer was a pitcher for the Pittsburgh Pirates and was the inspiration for the 2014 biographical sports Disney film "Million Dollar Arm." The film starred Jon Hamm, Suraj Sharma, Aasif Mandvi, Bill Paxton, and Lake Bell.
It looks like Triple H has other plans for him and his main roster run has ended for now.
Veer Mahaan Sent To NXT