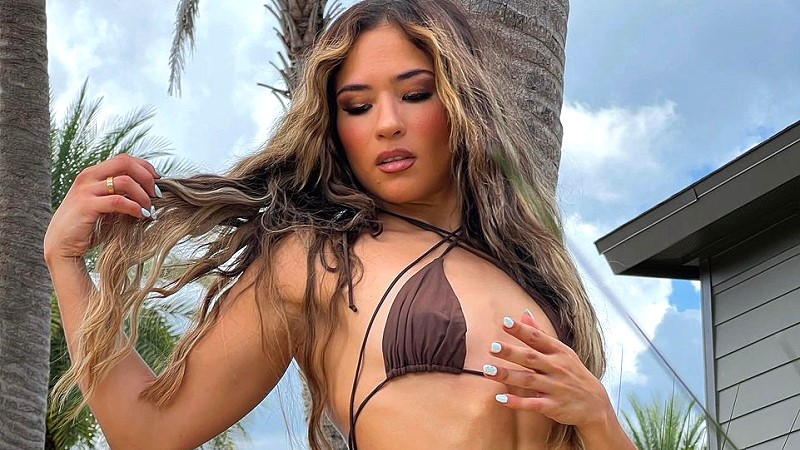 Valerie Loureda Underwear Photo – Valerie Loureda recently retired from Bellator MMA and decided to fulfil her dream to become a pro wrestler. Now that she's in WWE, she is ready to make an impact. She also turned up the heat recently.
Loureda confirmed her exit from MMA and signed a contract with WWE. The 23-year-old already made her Performance Center debut last month. She also made it clear she wants to duke it out with Ronda Rousey in the future.
The young star is certainly one of the most attractive prospects in the company. As such, she took to her Instagram and uploaded a few photos of herself in skimpy underwear.

CLICK TO ENLARGE / DOWNLOAD
After reporting to the WWE Performance Center on July 19, the former Bellator MMA fighter made her debut at an NXT 2.0 live event in Cocoa, Florida, where she did a promo, but didn't wrestle.
The prospect holds a 4-1 pro MMA record with her most recent win coming last November. She had been training at American Top Team, the gym founded by AEW's Dan Lambert.
Loureda previously noted that she was inspired by Charlotte Flair to join WWE after attending WrestleMania 38 earlier this year.
Ahead of her tryout at the WWE Performance Center, Loureda has been training with former WWE star Gangrel and Neilo Costa, among others. Gangrel has also involved with the training of AEW star Paige VanZant, another former MMA fighter who's making the transition to wrestling.
Valerie Loureda Underwear Photo