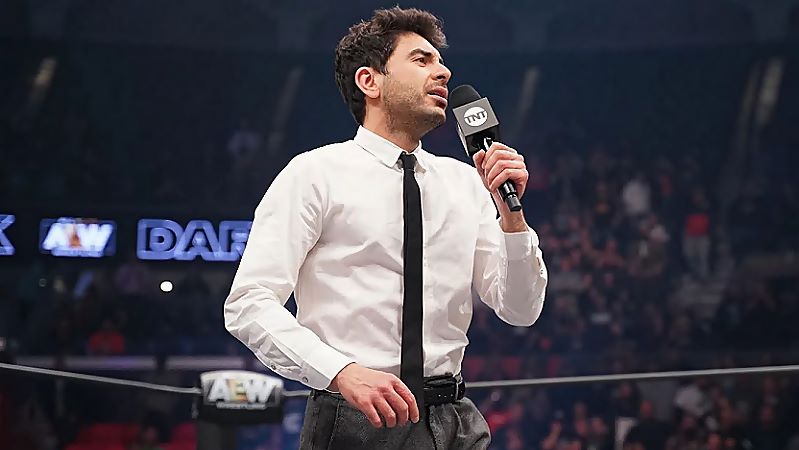 Tony Khan Teases A Surprise For Grand Slam – While appearin on Busted Open Radio to promote AEW Dynamite: Grand Slam, Tony Khan teased that there might be a surprise on tonight's show and at the Rampage tapings that will be taped after Dynamite.
"The ratings are literally the highest our audience has been since this exact point last year at Grand Slam." Khan said it's a good time to check out the show. He added, "When you look at the lineup tonight I think you are gonna see why this is such a great value for the fans in addition to the fact that I might have a trick up my sleeve for Grand Slam. I might have something planned in addition to what's on the card."
Khan added, "There may be something for Rampage and something for Dynamite. I'm covering both shows with exciting possibilities and for the people coming tonight, it's the best value for a ticket. Not only are you gonna get the best live 2-hour TV show of the year with Dynamite tonight but I really believe we got so much special stuff on the Rampage we're gonna shoot for Friday…"
Khan also appeared on Barstool Rasslin', where was asked about the chip that MJF holds and if it means that he can challenge for the title at any time. The implication was that he could cash in his title shot at the end of tonight's show.
While Khan did not outright say that MJF would cash in tonight, he certainly hinted at the possibility. MJF is not advertised to appear on tonight's show but Khan did say that he would be in attendance.
"At any time at any sanctioned event we can certainly make it happen. In this day in age, with live television and pay-per-view events, all these opportunities, it's exciting to have a contender out there looming and to have this big championship match tonight on Dynamite, certainly, it's that much more interesting to have two of the best wrestlers in the world Bryan Daneison vs Jon Moxley one on one for the World Championship. And to have a great wrestler like MJF looming in the background as a top contender with the right to challenge for the title any time. It's a very interesting championship picture right now in AEW."
Tony Khan Teases A Surprise For Grand Slam