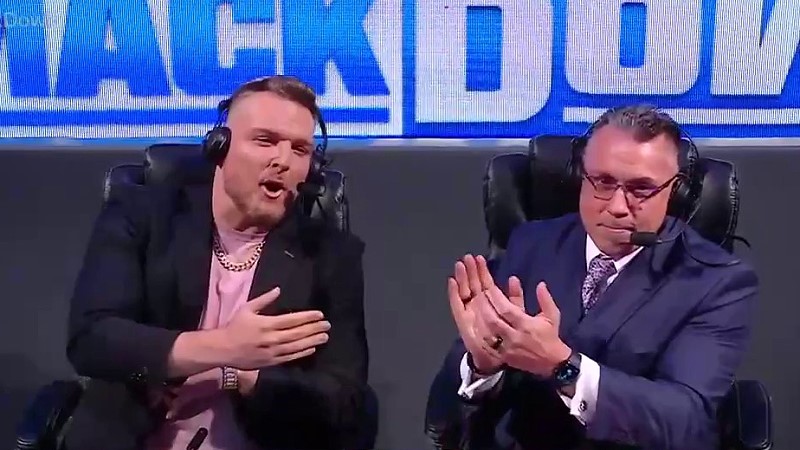 Pat McAfee Stepping Away From WWE For New ESPN Role – Today on The Pat McAfee Show, McAfee revealed that by taking the job with ESPN College GameDay, both sides thought it would be best that he steps away from WWE, for now, to focus on his new job position. McAfee makes it clear that he's still part of the WWE family and will seemingly return when the college football season concludes.
"I am honored and lucky to do it with that, though because it is Saturday morning to make that decision really be a firm yes for me I wanted to talk to the people from WWE," Pat McAfee said. "Because obviously, I hold my role as a SmackDown commentator as high as anything else that I do because not only is it a dream for me since I was a little kid, but there's other little kids out there that are hopefully getting their imagination, and their goals and dreams created just like I was when I was a kid watching WWE and somebody can go on and have bigger dreams than people that are around them could ever fathom or people the city where they're from could ever understand. I think WWE does that for kids.
"So every time I got an opportunity to get on a microphone there, I wanted to honor that. So before I could agree with Jimmy Pitaro to do College GameDay, which is an institution in honor of a lifetime, and in the sports world, one of the biggest shows of all time, I had to talk to WWE first and see what their thoughts were. I was thinking about maybe doing both. How do I go about doing it? I did it one time whenever SmackDown was in Buffalo, and there was a plane that was stuck in the Middle East, and they weren't able to get back.
"So Triple H actually called me who's in charge of creative now. Triple H called me and was like, 'Hey, can you get the Buffalo to do SmackDown because we don't have anybody basically,' and I College Game Day the next morning in Memphis. So Jim Irsay, this is the joke of my life; Jim Irsay gave me his f*cking jet to fly to Buffalo and then to GameDay in Memphis the next morning. I was on like two hours of sleep, but it was accomplishable. So the original thought for me was I could do SmackDown and GameDay; I could do it.
"The folks at the WWE, who I have nothing but love, respect, and appreciation for, I'm talking old regime, new regime, whoever you think is in charge over there. I have nothing but great feelings towards so I reach out to them. I chit-chat with them. They actually were the ones that said, 'Hey man, if you're gonna do GameDay, which is a great opportunity. Congratulations.' I think WWE has been a part of GameDay a few different times. We love the show. 'You cannot be traveling overnight for the entirety of the season. It's not good for your health. It's not good for your family. It's not good for anything. Whenever the time is right, we will have you definitely back in our family.'
"So SmackDown will be on hold for a little bit me commentating while I do College GameDay. I'm still very much in the WWE family. And as one OG in the WWE said to me in a message that was very heartfelt said, 'Hey, now one of our guys is on College GameDay.' So I'm still very much a part of the WWE family. We'll still very much be doing things, but for the good of college football and for the good of the opportunity that is in front of me right now. I'll be focusing on College GameDay on Saturdays."
Following McAfee's statement, Triple H took to social media to comment on the matter, posting the following tweet about the SmackDown commentator:
Pat McAfee Stepping Away From WWE For New ESPN Role