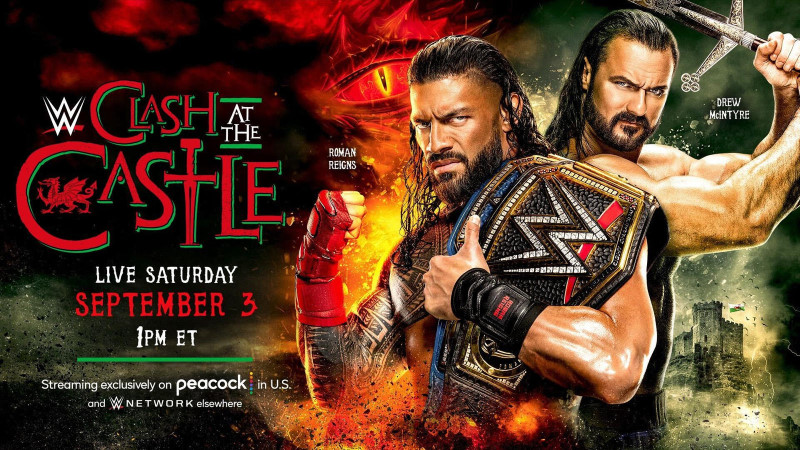 As we are all getting over the excitement of the WWE SummerSlam 2022, fans have now got their eyes on the Clash At The Castle, which is set to take place in September. If it is anything like the SummerSlam, where Roman Reigns beat Brock Lesnar, we are in for a treat. If you are looking for Clash At The Castle information, you have come to the right place. This guide will tell you everything you need to know about the event, such as where it will take place and early predictions.
When Will The Event Take Place
The event will take place on the 3rd of September 2022 in the bustling capital city of Wales – Cardiff. This is a hugely exciting time for UK WWE fans. This will be the largest wrestling event to take place here in more than three decades. So, you may want to grab your tickets quickly as this one is sure to be a sell-out! If you are travelling to Cardiff for the event, you may want to get your hotels booked as soon as possible, as rooms are already getting booked up. For many, preparations are well underway. The event will take place in the Principality Stadium, which was once known as The Millenium Stadium. The venue is expected to hold a capacity of 60,000 wrestling fans on the night, with many international fans in attendance. It will certainly be a night to remember. 
Take A Look At The Early Predictions
It is no secret to WWE Fans that Clash At The Castle is a highly anticipated show for one reason only. The battle for the Undisputed WWE Universal Champion is fully underway. Who will come out on top? Roman Reigns or Drew McIntyre? There is no denying that McIntyre is a formidable contender. However, after Reigns' recent victory in a Last Man Standing Match against Brock Lesnar, many fans believe he will be the favourite to win on the night. As for the other wrestling matches on the night, there will be plenty of exciting action to get stuck into. The rivalry between Seth Rollins and Riddle will continue; after Rollins recently took out Riddle at the SummerSlam, he looks like the firm favourite. However, we do not doubt that Riddle will be out for revenge.
Placing Your Bets
Looking at the early predictions is vital if you want to place a few bets on the night of the event. By researching the early predictions, you can better your chances of a larger payout on the night. It can give you an idea of who the favourites to win are, but it can also be an excellent way to find out what matches are happening on the night. If you want to hone in on your betting skills before the Clash At The Castle is underway, it can be a wise idea to play some games in online casinos first. If you want to find some of the best, top-rated sites to explore, you can check out websites like Online Casinos. Their website compiles a list of online casino reviews, so you can seek peace of mind that you are spending your money on safe sites. Check out their website: https://www.onlinecasinos.co.uk/blog/best-payout-online-casino.htm. 
How To Get To The Stadium
As many international fans will visit Cardiff for the event, many people wonder how they will get to the stadium. If you are flying to Cardiff, be aware that Cardiff Airport is the nearest airport to the Principality Stadium. It is a 30-minute drive to the stadium, so you will need to book a taxi or arrange coach travel for when you land. If you travel from a location in the UK, such as Liverpool, Newcastle, London, Birmingham, Manchester, or Edinburgh, there will be regular coaches to Cardiff; you can find more information regarding this online. If you choose to travel by train, Cardiff Central is the closest station to the stadium. Please note, if you are travelling by train from London, the train to Cardiff runs hourly and takes 2 hours to reach its final destination.
Wrestling Merch
If there is one thing you need – to be prepared for the event, it is your wrestling merch. If you attend the event, there will be plenty of opportunities to buy merch on the night. However, if you are watching Clash At The Castle from the comfort of your own home, you will need to dust off your best wrestling attire – so you are ready to cheer on your favourites of the night. Many see wearing their favourite wrestling attire as a good luck omen – to help their favourites win on the night. It is also a great way to show your support. Most fans will understand the importance of merchandise sales. It helps fund events and is also a good way for company officials to measure which wrestlers are the most popular. You can find some of the best-selling wrestling t-shirts online. There have been plenty of iconic designs over the years.
Viewing Parties
Not all fans will be able to attend Clash At The Castle. However, that doesn't mean you have to miss out on the action. You can watch the event in the comfort of your home by subscribing to the WWE Network, which costs £9.99 a month. The event will be broadcast live on the WWE Network. So, why not create the ultimate viewing party on the night and invite some friends to get in on the action? Make sure your home is stocked with enough snacks to keep you going throughout the show, and don't forget to wear that all-important wrestling merch. You can encourage some friendly competition on the night, and each place your bets on who you think will become the WWE Undisputed Universal Champion.
Summary
The 3rd of September at 7 pm is the date and time that Clash At The Castle will be underway. With so many exciting matches on the card, this is an event you don't want to miss. Who will reign supreme? And most importantly, will Roman Reigns come out on top against McIntyre? Stay tuned to find out.