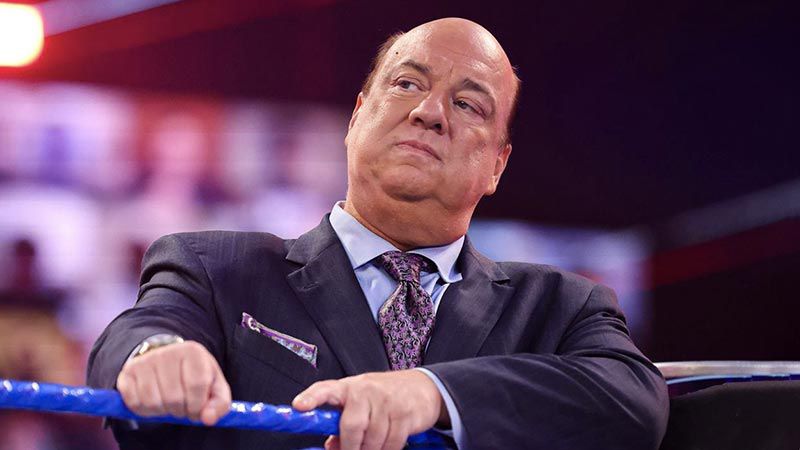 Paul Heyman may be in the running for a larger role with WWE creative.
Heyman often works on various creative with top stars like Brock Lesnar or The Bloodline, but now there are rumors of Heyman taking on a bigger creative role in the wake of the WWE Board of Directors investigation into Vince McMahon and John Laurinaitis. Vince has temporarily stepped away from his duties as Chairman & CEO, while the investigation continues, but he is keeping up his creative responsibilities.
A new report from PWTorch's Wade Keller noted that recent internal talk has indicated that Heyman could end up involved more with creative as he gets along really well with Stephanie McMahon and Paul "Triple H" Levesque, who is reportedly "back" to work more these days, but the extent of his current workload has not been confirmed.
Heyman's bigger role with creative may hinge on Vince and Laurinaitis both stepping down, while Stephanie would take over and have Triple H and Heyman to help her run things.
As we've noted, WWE's Board of Directors has been investigating Vince over a "secret $3 million settlement" he made to a former WWE paralegal that was hired in 2019. Laurinaitis is also being investigated for his involvement, and the Board is looking into other instances with former female employees as well. It was then announced on Friday, June 17 that Stephanie returned from her leave of absence to act as the Interim CEO & Interim Chairwoman after Vince voluntarily stepped away from his Chairman & CEO corporate duties, while still continuing his creative responsibilities. It was then revealed on Monday, June 20 that WWE's Senior Vice President and RAW/SmackDown Executive Producer Bruce Prichard is also now working as the Interim Senior Vice President of Talent Relations, filling in for Laurinaitis during the investigation. You can find full details at the links below, including statements from Vince and Stephanie, full details on the anonymous e-mails that led to the announcements, and more.