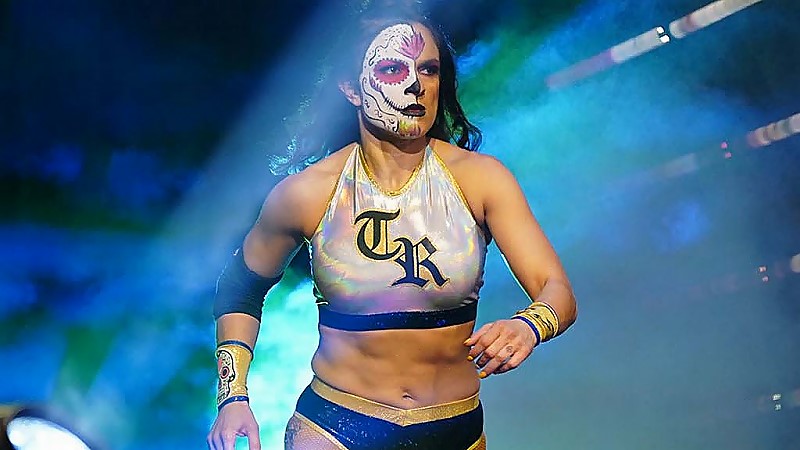 AEW Women's Champion Thunder Rosa was most recently in action when she issued an open challenge on last week's Dynamite which was answered by Marina Shafir.
Some fans thought the match had some clunky spots including one person who thought it was a perfect example of a wrestler sandbagging and no-selling for their opponent.
Former AEW Women's Champion Britt Baker as well as Marina liked the tweet from the person that was accusing Rosa of sandbagging during the match.
The fan wrote, "It's been a long time since I've seen a match where somebody so obviously tried to make themselves look better than their opponent by sandbagging and no selling, but I just saw a perfect example of it on Dynamite. It might just look like a bad match to the untrained eye but it's pretty clear when somebody doesn't want to play ball. Which sucks because it just makes you and your opponent look bad."
This isn't the first time that Rosa has been accused of this as Ivelisse discussed her issues with Rosa last September in an interview with Chris Van Vliet. She recalled them having these same issues in Lucha Underground, but after they worked on the indies together, it didn't happen again so she thought Rosa learned her lesson. However, when they worked a September 2020 match on Dynamite, their match fell apart.
"When the day came, she didn't want to do anything. I'm like, what? No, this match will be awesome. But I'm also trying to knock it out of the park. Even at the start, with the slap, we went over that 1 million times, we knew. She forgets what comes after. I had no choice but to nudge her face. That's when the shoot stuff happened. I've trained in MMA. You can't pull that on me. I just didn't want to allow that negativity. I didn't want to be pulled into that. She tried and tried though. Also, I was already signed. Why would I do that? Somehow I was made into the bad guy though. There's nothing that can be done about that, but the bigger issue is not understanding what kind of an asset I could be."