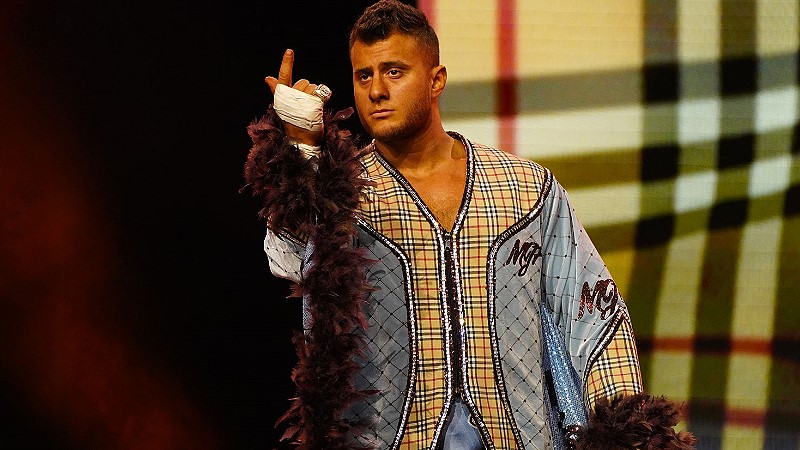 MJF has been removed from the AEW roster and no longer followed by the company on social media.
The change happened sometime this afternoon as he is no longer listed on the AllEliteWrestling.com roster page with the rest of the talent.
This comes after the company removed his merchandise from the official store. The only merchandise you can buy right now for MJF is stuff from his early independent days when he was known as Maxwell Jacob Friedman. The merch is up at Pro Wrestling Tees.
Another thing worth noting is that MJF's promo was briefly posted on AEW's social media accounts and then deleted. The promo (you can watch it at this link) was not posted on the company's YouTube account so they are going all the way with this. There are a lot of people backstage who don't know exactly what is going on and some are wondering if this has been a work from the start.
As noted earlier, there are people in the company who are upset by what MJF said on Dynamite and by him working everyone backstage.
This appears to be a very elaborate worked shoot with the goal of bringing him back at some point.
For the newer fans, worked shoot angles have been done before. One of the most famous worked shoot angles involved Brian Pillman in 1996. In his situation, he worked everyone into thinking that he was fired by WCW. What ended up happening is he was able to convince Eric Bischoff to give him a legitimate release and work in WCW for a few shows. What ended up happening was Pillman signing a lucrative WWE contract.
Another worked shoot happened in 2011 when CM Punk dropped his pipebomb promo. That led to CM Punk winning the WWE Championship from John Cena on his "last night" with the company. Punk secretly signed a new deal but fans were led to believe that he was taking the title with him and leaving the company.
MJF Removed From AEW Roster – No Longer Followed On Social Media