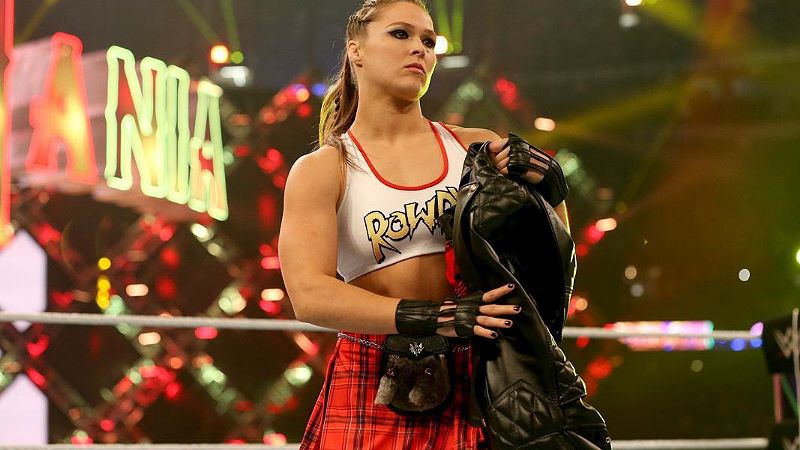 SmackDown Women's Title holder Ronda Rousey is probably the best-known women's face in the WWE to non-wrestling fans. That recognition doesn't just stem from her guest starring roles in TV or film or from her numerous appearances on the talk show circuit. Rousey has been a fighter since Day 1 of her professional career.
At the age of 17, she qualified for and competed in judo at the 2004 Olympic Games in Athens for Team USA. Four years later, Rousey would win a bronze medal at the 2008 Olympic Games in Bejing, becoming the first American woman ever to do so. She then retired from judo, and less than two years later, competed in her first mixed martial arts event.
Rousey progressed through the ranks like a buzzsaw. She made her Strikeforce debut in mid-2011, and less than eight months later, Rousey dislocated Miesha Tate's elbow to become the new Strikeforce Women's Bantamweight Champion. From there, it was inevitable she would join the ranks of the UFC.
Rousey was such a terror within the UFC women's division that oddsmakers always made her a heavy betting favorite. In fact, many pundits would publicly proclaim that placing a bet on Rousey was essentially pointless because the odds were so heavily tilted in her favor. But sports betting sites never shy away from a wager, and Rousey's odds for her UFC matches would range from -225 to -1400. To no one's surprise, Rousey won match after match to be crowned the UFC's first female champion.
It was during her reign in the UFC that Rousey began to make connections to professional wrestling. At first, it was quite innocuous. Rousey took the nickname "Rowdy" with the blessing of the most famous Rowdy around: "Rowdy" Roddy Piper. With nickname in hand and her impressive winning streak, Rousey became more and more of a public persona. In fact, despite rarely being in the octagon (her matches never lasted long), it could be said that Rousey was the most famous name in the UFC, especially to non-fight fans.
Perhaps the fame went to her head or perhaps she just finally met her match, either way, Rousey lost her seventh title defense by way of knockout to Holly Holm in 2015. Finally dethroned, Rousey would never again win another match in the octagon. After suffering a loss to Amanda Nunez in 2016, Rousey retired from the UFC. 
During this same time period, Rousey would continually pop up at WWE events, eventually becoming part of the Four Horsewomen alongside Shayna Baszler, Jessamyn Duke and Marina Shafir. It was at WrestleMania 31 in March 2015 that Rousey first stepped into the squared circle, assisting The Rock in his confrontation with The Authority (Stephanie McMahon and Triple H).
Two years later, Rousey would have her first real taste of action against Charlotte Flair as each wrestler's version of the Four Horsewomen met up at the 2017 Mae Young Classic. Five years and one pandemic later, Rousey and Flair would again square off at WWE WrestleMania Backlash where Rousey would win her title against Flair in an "I Quit" match that would unfortunately lead to an injury for Flair, knocking her out of competition for an unknown (as of now) time period.
The question remains as to what kind of heat Rousey will generate for the WWE moving forward as a WWE champion. Will she be the undefeatable wrecking ball that she was in the UFC? Can she deliver the same sort of national media attention she once garnered? Or, like her stint in the UFC, will Ronda Rousey burn too hot and too bright and quickly flame out? We shall wait and see.