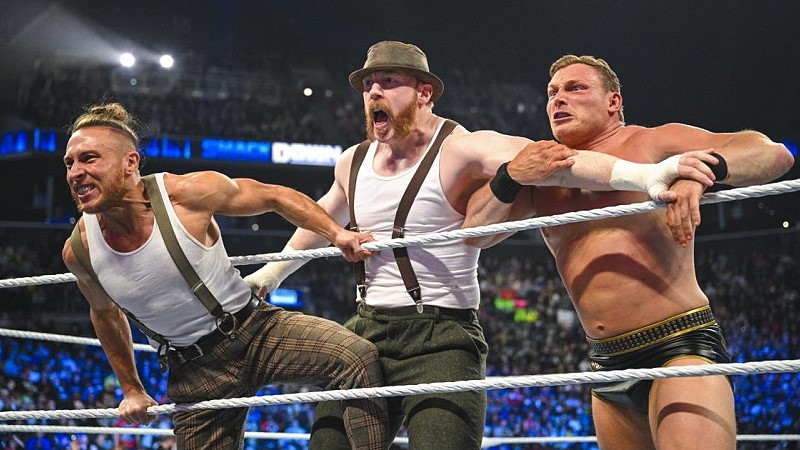 Original Name For Sheamus' New Stable – Another example of plans changing all the time in WWE was shown in the decision process of what Sheamus' faction with Ridge Holland and Butch was going to be called.
As noted last week, Sheamus, Butch, and Ridge Holland were addressed by a new name, "Brawling Brutes" on WWE SmackDown. The company originally filed the trademark 'Bloody Brutes' back on May 12. However, on May 19th, WWE filed a trademark for 'Brutal Brutes'. Fast forward to last Friday's SmackDown, the name of the faction was revealed as 'Brawling Brutes.'
It appears WWE originally planned to call them the Bloody Brutes, then changed their minds to the Brutal Brutes and finally settled on the Brawling Brutes. WWE has yet to file a trademark for the new name but will do so shortly. Here is the description for Brutal Brutes:
"Mark For: BRUTAL BRUTES trademark registration is intended to cover the categories of entertainment services, namely, wrestling exhibitions and performances by a professional wrestler and entertainer rendered live and through broadcast media including television and radio, and via the internet or commercial online service; providing wrestling news and information via a global computer network; providing information in the fields of sports and entertainment via an online community portal; providing a website in the field of sports entertainment information; fan club services, namely, organizing sporting events in the field of wrestling for wrestling fan club members; organizing social entertainment events for entertainment purposes for wrestling fan club members; providing online newsletters in the fields of sports entertainment; online journals, namely blogs, in the field of sports entertainment."
Sheamus, Holland, & Butch have been feuding with Xavier Woods & Kofi Kingston since before WrestleMania 38. Big E had been part of the storyline but was sidelined when he broke his neck while taking a belly-to-belly suplex from Holland during an episode of SmackDown.
Original Name For Sheamus' New Stable