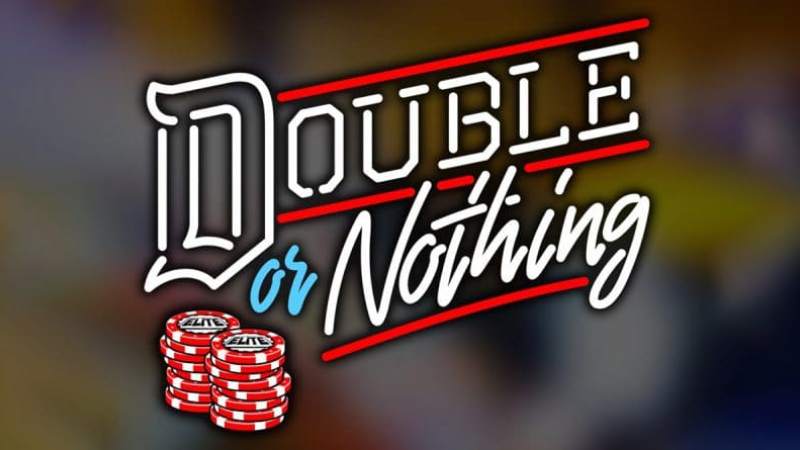 2022 AEW Double Or Nothing Results – During the Buy-In Pre-Show, The Acclaimed make their way out with Max Caster lighting things up with The Gunn Club, who he ends up calling Ass Boys. They get the PPV name wrong a couple of times until Anthony Bowens takes over and gets it right, before once again mocking their new friends as they head to the back.
HOOKhausen vs. Mark Sterling & Tony Nese
This one starts out with HOOK and Tony Nese inside the ring and the Premier Athlete tries to pose straight away, which allows HOOK to take him down immediately. Nese gets out of the right straight away, and that allows Danhausen to tag in which Nese finds hilarious. He allows Danhausen to get a free shot in, and he puts on a headlock, but Nese then drops him with a shoulder tackle.
Danhausen then showcases his own skills, avoiding Nese in the corner as he then hits a big boot, and he curses both of his opponents. Nese comes back in though, taking Danhausen down as the Premier Athlete begins singling him out with his aggressive style, beating him down in the corner.
Sterling then tags in and hits a suplex, but he then misses with his attempt at an elbow drop so Nese comes back in. He cuts off the tag by blasting HOOK to the floor, but Danhausen turns it around by taking down his opponent and bringing HOOK in. Nese looks for a tag but there is nobody there, and that allows the Team Taz star to begin throwing Nese around.
Nese tags out, and HOOK throws Sterling into the ring. Nese looks to distract him, but he gets thrown out of the ring as HOOK once again drops Sterling. He cuts the throat of Sterling, but Danhausen wants to be tagged in, he just puts his foot on Sterling and poses to get the win.
Winners: HOOKhausen
Jim Ross takes his seat alongside Excalibur and Tony Schiavone and the trio that will be calling tonight's pay-per-view event get their final pre-PPV banter out of the way.
2022 AEW Double Or Nothing Results
We are live from the T-Mobile Arena in Las Vegas, NV, as MJF makes his way out of the ring under big "ASShole" chants.
MJF settles in the ring as the chants only grow louder. From there, we shoot backstage and see Wardlow accompanied by a number of security guards. The handcuffed former bodyguard for The Pinnacle leader begins making his way to the ring.
The commentators point out how it looks like Wardlow is salivating at the prospect of finally getting to exact revenge on MJF here tonight. He emerges from the entrance tunnel to a roar from the Vegas AEW fans and then heads to the ring where he is let out of his handcuffs.
Our PPV opener is about to get underway. Both participants are in the ring, the stage is set and the bell finally sounds to get this one off-and-running.
MJF vs. Wardlow
MJF immediately rolls out of the ring. The fans boo and then break out in a "He showed up! He showed up!" chant as Friedman attempts to sneak his way into a free cheap shot from behind to Wardlow.
Wardlow eats it and then snatches MJF up with intentions of delivering his "Powerbomb Symphony." Instead, MJF breaks free and once again heads for higher ground, sliding under the ring ropes and trying to get another breather on the floor at ringside.
He finally re-enters the ring and after nearly getting Donkey Kong'd by Wardlow, he manages to get a poke to the eye that gives him a bit of breathing room and an ability to establish some offensive ground.
He gets in some shots on Wardlow, but it isn't long before he is screaming out of fear as the bigger man starts to unload his pent up aggression on him. The fans chant "P*ssy!" and "B*llsh*t" at him as he scurries out of the ring and attempts to avoid the fight once again.
MJF yells at the crowd to shut up and hollers over at Wardlow that they can work this out with words. The fans boo and Wardlow is having none of it. MJF tries sealing the deal with a handshake to confirm said-peace-offer, however Wardlow hangs onto his grip and as his face turns to stone, he once again snatches MJF up and this time successfully begins taking MJF on a trip to a Powerbomb Symphony.
He hits one and the fans chant "One more time!" and then "Two more times!" Wardlow happily obliges. Wardlow picks MJF up again and shows him to all four sides of the building in mid-air before planting him down into the mat with a vengeance. A fourth and then fifth powerbomb appears to be all she wrote.
He puts a boot on MJF's chest and the referee begins his three-count, which could go to 50 if he wanted, but instead Wardlow removes his boot after the count of two. He's not done inflicting damage to his former employer. He hoists him up for a sixth powerbomb and then asks the fans if they want to see a seventh.
Wardlow connects with eight and nine and then pulls the straps down for the tenth and final powerbomb. His symphony is complete and he makes the cover, easily scoring the three-count and picking up the victory in what was essentially a one-sided squash match.
Winner: Wardlow
With the win, per the pre-match stipulation, Wardlow is now free from his contract with MJF, and is now free to officially sign with AEW. Meanwhile, MJF is put on a stretcher and carted to the back.
The Hardys vs. The Young Bucks
The music and entrances are done and the bell sounds to get this one off-and-running. The crowd explodes as the early action gets underway in our second bout of tonight's AEW DoN PPV.
We see The Hardys faring well coming out of the gate in this one. After a tag, Jeff ends up laid out on the mat. As Jackson looks for a follow-up spot, he pops back up and sends him out to the floor. Matt hits the ring and sends the other Young Bucks member out as well.
The fans erupt in a "Brandon Cutler!" random chant, which for some reason bugs The Young Bucks. They head out of the ring and scold Cutler for getting a pop from the fans in Vegas.
Back in the ring, Matt Hardy continues to dominate the action on behalf of The Hardys, taking it to Nick Jackson with ease before eventually tagging Jeff Hardy back into the ring.
Some double-team action from Nick and Matt Jackson lead to the first offensive control for The Young Bucks since the opening bell.
The two knock The Hardys out to the floor at ringside and follow-up with a high spot that pops the already red-hot crowd. Back in the ring, Jackson works over Jeff Hardy as The Young Bucks widen the gap as they settle into a comfortable spot in the offensive driver's seat in this tag-team tilt.
A big spot off the top in the corner from Jackson backfires, as Hardy moves and he crashes and burns on the mat. This leads to Matt Hardy tagging in.
After getting the hot tag, Matt Hardy hits and takes out any-and-everything that moves before leading the crowd in a "Delete! Delete!" chant. He hits his Side Effect near-finisher for a close near-fall.
We see a Twist of Fate attempt from Matt not go the way he planned. This leads to another offensive shift in momentum, as The Young Bucks once again take over control of the action.
Jeff Hardy then gets dropped by Nick Jackson as Matt Jackson tries to fly out but gets attacked. Jeff then attempts to dive back off the ropes, but he gets hit by a superkick and falls down. This leads to Nick Jackson diving off the top rope to wipe out everyone on the floor.
Back inside the ring The Young Bucks continue their control with Matt Jackson picking up a near fall. But he then eats a knee strike from his own brother after Matt Hardy avoids it. That happens again on the outside, this time with Cutler eating a kick as Jeff then dives off the apron to hit a clothesline to Nick. Matt Hardy keeps the attack going with a Side Effect to Matt Jackson onto the ring apron.
The Hardys then connect with Poetry In Motion, but after that Matt Jackson responds well with a catapult, stopping Jeff coming off the top rope. Nick Jumps in and hits a stomp while Matt is laying on the knees, but Jeff hits a jawbreaker to Matt Jackson, but then misses with the Swanton Bomb.
Matt hits the Twist Of Fate on Jeff as Nick follows up with Jeff's own finisher, but he is able to kick out after it all! The Young Bucks miss with the BTE Trigger, but they respond with stereo superkicks to both of their opponents. The Hardys then eat several superkicks and they demand more, which they receive, but both men then kick out of pinfall attempts!
The Young Bucks then turn the steel steps on its side and set Jeff onto them but The Hardys fight back and Matt hits a BT Bomb to Nick in the ring. Meanwhile, Jeff sets Matt Jackson onto the steel stairs as he then heads to the top turnbuckle, hitting a Swanton Bomb on the stairs! Back in the ring Matt Hardy nails a Twist Of Fate, but Nick manages to kick out just in time.
Matt looks for it again and Nick reverses into a pinning combination, but Matt kicks out and hits the Side Effect into a Twist Of Fate. Jeff then tags in and connects with a Swanton Bomb for the win.
Winners: The Hardys
TBS Championship Match
Jade Cargill (c) vs. Anna Jay
Jade Cargill looks to charge into Anna Jay early but she responds with a boot to the face, Jay then countered the champion again, landing down on her in the middle of the ring. But, Jade then launches the challenger across the ring, following it up with a suplex and a huge clothesline.
Cargill heads to the second rope and drops down onto Anna, as she then charges into her in the corner. Jade looks to go to the top rope again, but Anna cuts her off and hits a huge superplex to the champion! Jade swings and misses which allows Anna to hit a lariat, and she then connects with a heel kick as she follows up by launching herself off the top with a flipping blockbuster.
Cargill takes herself outside the ring to regroup, but she gets sent into the steel steps instead. When she goes back into the ring, The Baddies try to get involved, but Anna drops them both with a double DDT. But when she gets back into the ring she eats a huge kick to the shoulder. Jade then attempts to hit Jaded, but Anna rolls through and then nails a thrust kick.
Mark Sterling then hobbles down and hands Jade a crutch, but Anna actually uses it and hits a Russian Leg Sweep with it, only for Cargill to kick out. John Silver then comes down and he takes out Sterling with a brainbuster to level things up. However, inside the ring, Jade hits the Eye Of The Storm, as Anna kicks out just in time.
Anna then reverses Jaded once again though, locking in the Queen Slayer, but Cargill powers up and sends her into the corner to escape the move. She misses with an elbow attack in the corner though, and the two women then end up brawling on the top turnbuckle. Stokely Hathway then comes down and distracts Anna as Cargill hits Jaded from the top rope to retain.
Winner: Jade Cargill
After the match Jade and The Baddies confront Anna, but Kris Statlander comes out to help, they're then joined by the former Ember Moon, Athena! She enters the ring and then Cargill and co. exit the ring. They head to the back as Athena and Kris Statlander hold things down in the ring as Anna Jay gets back to her feet.
The House Of Black vs. Death Triangle
Malakai Black starts out in control of the arm of Rey Fenix, and he follows it with several knee strikes until Fenix fires back by avoiding Black's attack to then do his sit-down pose. Black does the same and they then nip up and Black takes control as Buddy Matthees comes in with a huge boot to the face.
Fenix hits one of his own and Pentagon Jr then comes in as he gets slapped in the face by Buddy, only for Penta to fire back with his own. The two men go back and forth with strikes but Penta throws him out of the ring, Matthews tries to cut off the dive to the outside, but Penta sees it come and turns and stares him down.
PAC and Brody King then tag in and the bigger man drops his opponent with some stiff shots. All six men then end up in the ring as they all brawl and spill to the outside, yet inside the ring, Brody and Black take down PAC. Each wrestler then takes someone down and out of the ring until it ends up with PAC and Matthews as the Englishman turns his opponent inside out with a poisonrana and then a lariat.
The House Of Black then isolate PAC with frequent tags allowing them all to remain fresh. However, Brody crashes and burns with a cannonball as Pac avoids it and brings in Fenix, and he does a great job of taking out Matthews and Black on his own. The Lucha Bros then launch themselves out of the ring with double tope suicidas to take down their opponents.
Death Triangle then hit a trio combination move on Brody, but he's able to power out. Fenix then looks to dive out to Matthews but he blocks it and hits a suplex to the floor, so PAC takes him out with a dive only for Black to flip from the top turnbuckle to attack him, as Penta then launches himself out to do the same to Black.
Brody King then dives over the top rope and doesn't quite clear it, but he manages to take down his opponents anyway while landing on the apron. They hit Dante's Inferno, but Fenix's partners come in and charge to break up the pinfall attempt. Death Triangle then wipe out their opponents and PAC nails a brainbuster to Black, but Matthews breaks it up.
He then starts fighting the Lucha Brothers, and Matthews gets Fenix to his knees, but Penta runs up them and hits a Canadian Destroyer onto the apron. They then grab Brody King and hit a DDT/Stomp combination to the floor, leaving Malakai surrounded on his own. He eats a trio of kicks to the face.
Black hits a back heel kick to to both Lucha Bros members, but PAC avoids his and hits a strike of his own. He then heads to the top rope, but Matthews stops the Black Arrow only to eat a kick of his own, as he then connects with a 450 to Black. Matthews gets sent outside the ring, and PAC then nails a German suplex.
Alex gets on the apron and distracts the official as PAC hits a low blow to Black, he then heads to the top rope…but the lights go off! When they come back on, Julia Hart spits the black mist to PAC, and Black nails the spinning back heel kick for the win.
Winners: House Of Black
Owen Hart Foundation Tournament
Adam Cole vs. Samoa Joe
Adam Cole looks to goad Samoa Joe into locking up, but the ROH TV Champion has other ideas as he starts throwing hands, beating down his opponent in the corner. He then nails a big chop and an enziguri in the corner to stay in control. Cole tries to pick up the pace by hitting the ropes, but he just gets mowed down with a back elbow.
Joe follows Adam outside the ring, hitting more chops and he sits Cole down onto a chair, but as he charges in Cole sees him coming and hits a superkick, following up by charging him into the ring apron, shoulder-first, which is followed by a charge into the ring post. He continues the attack inside the ring, working the shoulder of Joe once again with submission work.
Cole looks for Panama Sunrise by Joe catches him and just drives the knees of Cole into the mat. Adam tries to fire back by running into the corner, but he gets planted with an STO and then another series of jabs and a Manhattan Drop into a big boot/senton combination, but that only gets a near fall.
Joe attempts a powerbomb but his shoulder gives in on him, and Cole follows with a kick to the area, but as he hits the ropes, Joe drops him with a huge lariat. The two men then charge at each other, and it's Cole that gets the best of the situation with a knee to the face. Joe then counters a superkick and slams Cole to the mat as he then gets onto his back with a STF submission.
With the official checking up on Cole, Bobby Fish appears and hangs the arm of Jor on the top rope, but he avoids the Boom and locks in the Coquina Clutch, but he has to relinquish it to attack Fish again. Cole then hits a trio of kicks to the injured shoulder as he comes in with the Boom afterward to get the win.
Winner of the Owen Hart Foundation Men's Tournament: Adam Cole
Owen Hart Foundation Women's Tournament Finals
Dr. Britt Baker vs. Ruby Soho
Rich Ward from Fozzy plays the familiar sounds of Britt Baker's theme song. Baker emerges as pyro and fireworks explode, and then she begins making her way down to the ring for the finals of the inaugural Owen Hart Foundation Women's Tournament.
It's time for another live performance as the theme for Ruby Soho by Rancid plays as the star of the same name makes her way to the ring.
The two women then start a feeling-out process with Ruby taking control for the most part, but DM responds well with several forearm shots as she then sends Ruby into the corner.
Soho fires back with a clothesline which sends Baker out of the ring, and she then dives outside with a major dropkick to keep the momentum going. Inside the ring Ruby heads to the top rope, but Britt pulls her down as she bounces off the top ropes with her ribs, which is an area she begins to sell.
Baker then targets the area by yanking Soho at the ring post, pulling her ribs into the area for further pressure. Soho fires back with some chops, but Britt then goes back with a big elbow strike to drop her opponent. Britt then goes to the middle rope but Ruby blocks it off and hits a superplex, which also hurts her ribs.
The two women then break things down with a slugfest just going back and forth until both of them drop down. The two women then exchange good reversals until Ruby connects with a suplex, following it with a senton from the top rope, but Britt kicks out! They once again head to the top rope, and Britt throws her off, following up with a Curb Stomp, and this time it's Ruby kicking out just in time.
Baker then puts the glove on for the Lockjaw, but Ruby is able to reverse it, only for Baker to put her back in and go for it again which Soho gets out of with a pinning attempt. She hits the No Future and she then locks in a Sharpshooter, but the former Women's Champion gets to the bottom ropes.
Soho then ends up on the shoulders of Britt, but Ruby gets out with a victory roll only for Baker to counter that with a pinning combination of her own, which catches Soho out as Baker wins.
Winner of the Owen Hart Foundation Women's Tournament: Britt Baker
After the match, Dr. Martha Hart makes her way out as Adam Cole and Britt Baker celebrate their victories. She thanks the fans for their warm welcome, she then puts over the work of Owen Hart and says we can now celebrate him again in the squared circle.  She thanks Tony Khan, Chris Jericho, the Dark Side Of The Ring, Pro Wrestling Tees, and her family. She then presents the winners with a title each, and the trophy itself.
Mixed AEW Trios Match
Scorpio Sky, Ethan Page & Paige Van Zant vs. Sammy Guevara, Frankie Kazarian & Tay Conti
Sammy Guevara showcases great athleticism to avoid Ethan Page's offensive moves, but he then gets to pick him up and hit a power slam as Sammy gets too arrogant. Scorpio Sky and Frankie Kazarian then come in and go back and forth until Sky catches him with the dropkick, but Frankie then responds with a power slam of his own.
Sammy then tags in and Tay Conti distracts Sky, allowing him to take control as he then leaps from the top rope to hit a cutter. He heads over and swears at Paige while Sammy and Tay hit a double suplex to Sky, who kicks out straight away. Frankie comes back in and continues attacking his former partner.
Page grabs Kazarian to cheat, and that allows Sky to connect with a Flatliner, but as he looks for a tag Conti takes out Paige on the ring apron. Kazarian wants to tag out but his partners are busy flirting, yet as he takes control Sammy then tags in, which leads to him and Kazarian arguing and Sky pushes them into each other.
Paige then gets to tag in and she connects with several clotheslines and then a back suplex which she follows up with a back handspring. She looks for a TKO but Sammy stops it only to eat a huge punch from her and then a tornado DDT to Sammy. Paige then drops Conti head-first into his crotch and then a Michinoku Driver.
Conti hits a Judo Throw and a Pump Kick followed by a second and a third one. Conti hits another Pump Kick for two. Conti hits a Swinging Gutbuster on VanZant and then she and Sammy start kissing again. ATT circles them and Kazarian tells them to screw off and leaves them to get beat down.
Sky hits a Slingshot Cutter on Sammy and then eats a Slingshot DDT from Kazarian. Kazarian blind tags Conti and slingshots Sky back into the ring into a Cutter! 1…2..NO Sky kicks out! Conti argues with Kazarian and Sammy tries to Superkick but he ducks causing Sammy to hit Conti! Kazarian throws Sammy out but walks into a kick from Page and the TKO from Sky for the pin! Neither Frankie or Sammy can ever challenge for the TNT Title, as long as Sky has it, again.
Winners: America's Top Team, Scorpio Sky, Ethan Page, & Paige VanZant
Darby Allin vs. Kyle O'Reilly
The two men look to take control early on, but Kyle O'Reilly comes in hot with a big knee strike, and he follows it by just beating down his opponent in the ring. A bust open Darby Allin begins to fight back though, hitting the Code Red for a near fall. Kyle once again goes for knee strikes, and he then hits a big forearm.
Allin responds with a knee strike of his own and he follows it with a stunner, but as he then goes for a suicide dive, things don't quite go right as Allin lands very awkwardly. He does it again though, and this time Kyle catches him, locking in the body scissors on the floor.
Back inside the ring and Kyle once again controls things with his striking, and he then delivers a brainbuster which almost gets the job done. He then transitions into an ankle submission, but Darby steps over into a version of a Scorpion Deathlock, which forces O'Reilly to head to the ropes.
Allin fights himself back into things and takes a huge risk, leaping off the top turnbuckle with a Coffin Drop which lands on Kyle on the apron. He then looks to do it again inside the ring, but Kyle catches him with a counter, and then the two men just start trading punches and slaps until they both go down.
Kyle rocks him with a huge one, and he then nails a PK, but Allin kicks out at one, so Kyle does it again, and this time he kicks out at two. Kyle hits another, follows it with the diving knee drop and gets the win.
Winner: Kyle O'Reilly
AEW Women's Championship
Thunder Rosa (C) vs. Serena Deeb
Both women lock up with real fire to kickstart the match, bouncing around the ring, and they then lock up again with the champion powering down Serena Deeb, but she is able to bridge to avoid a pinning predicament. Rosa then maintains control of the shoulders, working a great submission.
Thunder Rosa transitions nicely into a pendulum submission, and she follows it with a shoulder tackle. Rosa then channels her inner Dustin Rhodes with the drop-down uppercut, but she misses with a charge after that, only to then boot Deeb out of the ring. Thunder follows it with a baseball slide attempt but misses, and Deeb then sends the champion into the ring post.
Back inside the ring, Deeb connects with a swinging neckbreaker, and she then sets Rosa on the top rope, locking on another submission that wears the champion down. Rosa battles back and charges into the corner several times to take down Deeb, followed by a great dropkick and Northern Lights suplex.
The two women continue to go back and forth until Deeb locks in the Octopus hold, and then connects with an impressive move from the top rope, flipping while holding Thunder to slam her face-first.  The Professor then focuses on the ankle, but Thunder turns it around and starts smashing the knee of Deeb into the mat before a big double clothesline.
Rosa dives from the top rope to stomp down on Deebs back, immediately hitting a Death Valley Driver, but the challenger kicks out and then comes in with a chop block to get straight back on top of things. She follows it with a Figure Four Leglock and while it's set in the women just trade huge slaps to each other as they then roll out of the ring.
Deeb nails the Detox inside the ring, but Thunder ends up getting her foot onto the ropes. Deeb stomps on that for good measure and then powerbombs the champion before locking Rosa in a Texas Clover Leaf.
Rosa yells out in anguish, but ends up escaping and countering into a pin attempt. Deeb kicks out. Deeb gets up and then we see a big roundhouse kick land. Deeb heads to the top-rope but is cut off by Rosa.
Rosa ends up bringing Deeb off the top the hard way, connecting with a big superplex. She hangs onto the head-and-shoulder control upon landing, and stands up to connect with a Fire Thunder Driver for the pin fall victory. With the win, Thunder Rosa retains her AEW Women's Championship in an excellent performance against the equally impressive Serena Deeb.
Winner: Thunder Rosa
Anarchy in the Arena
Jericho Appreciation Society vs. Blackpool Combat Club
Justin Roberts inform the crowd in attendance that "sh*ts about to hit the fan" in this Anarchy in the Arena bout.
"The Wizard" Chris Jericho leads his Jericho Appreciation Society crew of sports entertainers down to the ring, as the fans sing along inside T-Mobile Arena in Las Vegas, Nevada.
Now the music fades down and the entrances of their opponents begin. Out comes Eddie Kingston and the team of Santana & Ortiz. From there, Bryan Danielson and Jon Moxley of the Blackpool Combat Club led by William Regal make their way out.
Mox ends up using a fork to rip at the heads of his own tag-team partners, showing off the difference between sports entertainers and wrestlers, as he cuts open the domes of Santana & Ortiz. Chris Jericho wants to get out of here, which the commentators point out is ironic considering this match was his idea in the first place.
The "Wild Thing" theme for Jon Moxley continues to play deep into the action, as the music continues for several minutes into the match as high spots take place in various spots of the building to get this match off-and-running with a bang.
"The Mad King" is shown badly busted open and bleeding all over the place as he brawls with some of the J.A.S. We see Daniel Garcia fight into an offensive lead near the ring. He ends up connecting with a vicious piledriver onto the steel ring steps in a spot that pops the crowd and elicits some immediate replays.
Referee Aubrey Edwards and other officials try and follow the action as it spreads all over the place, inside the arena and behind the curtain. We see a very bloody Kingston duking it out before the camera shot changes to Parker hitting Bryan Danielson with a ring bell.
We move to another part of the brawl where we see Moxley throw a full cooler at Jericho's face to knock him down. The fans are following the action around and pointing their phones at it as the PPV cameras catch up with the brawl in the concord.
Garcia tries dragging Kingston back to the ring to finish this match, as Tony Schiavone points out on the broadcast. Jericho tries putting Moxley in the Walls of Jericho or Walls of the Wizard on the time keepers table. They end up breaking through the table where Mox takes a rough spill.
Bryan Danielson and Jake Hager, who are both bloody as hell (like literally every other member involved in this match) duke it out near the ringside area. We catch up with "The Mad King", who is nearly covered head-to-toe in blood, continues the action out near the concession stands.
The camera pans back to the ring, where we see Jon Moxley tearing the top-rope off. All four ring posts cave in as the ropes smack down on the ring mat. Jericho is also in the ring and he beats down Mox shortly after the ring is disassembled.
Now we watch as Mox beats Jericho down with part of the turnbuckle, while Danielson fish-hooks at the mouth of Hager with the steel turnbuckle hook. Jericho gets hold of a steel chair and smashes it across the spine of Moxley.
Once some high spots involving ladders and barbed-wire covered boards are finished, the camera pans back in the ring, Moxley and Danielson get Jericho and Hager down and proceed to elbow the crap out of them over-and-over again. Eddie Kingston joins the fun, entering the ring with a can of gasoline.
"The Mad King" dumps the gas all over Jericho and Hager. Danielson and Kingston, actual teammates, end up brawling with each other before anything else happens. Mox is trying to separate them, and in comes Jericho to take advantage. Hager joins him in launching Mox out onto the barbed wire covered board.
Jericho hits his finisher on Kingston and then grabs the turnbuckle. He tells Hager to pull Danielson closer. He hits a big spot there and then goes for the cover, but somehow "The American Dragon" kicks out and keeps this match going.
Danielson fires up for a big offensive comeback. He blasts everyone in sight with repeated "Yes!" kicks and then goes for a running knee in the corner. As Danielson looks to be ready to wrap this one up, he becomes victim to a shot from behind with a bat from Hager.
Jericho comes in with a Walls of Jericho on Danielson as Hager helps stretch him even more. Danielson eventually loses consciousness and goes out. That's how this one ends, as the Jericho Appreciation Society end up with the victory in an absolutely insane Anarchy in the Arena match.
Winners: Jericho Appreciation Society
Rush Makes AEW Debut, Signs With Andrade El Idolo
We shoot to what the commentators build up as very big news from Andrade El Idolo. We see El Idolo seated at a table and he talks about not coming to AEW to be a loser. He asks if the papers for his newest talent are ready. He is told they are. He then introduces who he bills as one of the greatest pro wrestlers in the world. We hear a knock at the door and in a nice suit walks Rush. The two do a hand-gesture together and that wraps up the quick segment.
Next TNT Title Challenger Revealed
Next, we head to the interview zone where a member of the AEW broadcast team is standing by with Ethan Page, Scorpio Sky and Paige Van Zant.
Ethan Page gloats about their victory earlier this evening and talks about being happy that they can now be done with Sammy Guevara and Frankie Kazarian and move on to bigger and better things.
We then hear from Scorpio Sky, who also touts beating the aforementioned duo and Tay Conti in the Mixed AEW Trios bout earlier in the show. He then questions who is next to challenge for his TNT title.
Up walks Dante Martin, who says they may never have to worry about Sammy Guevara and/or Frankie Kazarian ever challenging for the TNT title again, he is still eligible.
Sky gets in Martin's face and says he's been impressed with his work as of late. He says he's going to give him what he wants, making a TNT title showdown between the two official for SoCal.
He tells him when he's laying on his back in SoCal and looking up at the Hollywood sign wondering what happened, to remember that he asked for this. He snaps his fingers to end the segment.
AEW Tag-Team Championship
Ricky Starks & Powerhouse Hobbs vs. Shane "Swerve" Strickland & Keith Lee vs. Jungle Boy & Luchasaurus (C)
This one starts out as a complete brawl and the champions both dive in different directions to take out their opponents. Luchasaurus ends up being tagged out though as Swerve Strickland comes in. But Team Taz regain control with Powerhouse Hobbs just running through Swerve. Jungle Boy hits the ring to break up the pinfall and he then tags in, hitting Swerve with a hurricanrana.
He follows that buy diving outside of the ring twice in a row to take down Swerve, but the third attempt sees Keith Lee catch him and then slam him onto Luchasaurus. Ricky Starks then hits the ring and he starts traveling on the top rope, but Jungle Boy pulls him and makes an awkward landing.
He gets to his corner but nobody is ready, and Strickland then tags in and he begins chopping down Hobbs with different strikes. They send Starks into the champions, and Strickland then runs up Keith Lee and flips off him to take all of them out. Hobbs aims for a powerbomb but Strickland counters with a hurricanrana.
Lee then comes in and lifts Hobbs putting him onto the top turnbuckle but Hobbs fights back and throws Swerve to the ring. Luchasaurus then runs into Starks and starts throwing hands with Hobbs, and while he misses in the corner, he then hits a double clothesline on Team Taz.
Keith Lee then tags himself in and the three being men stare each other down and start throwing hands. Luchasaurus looks for a double Chokeslam, but his targets then work together and Chokeslam him instead. Hobbs and Lee then stare each other down and the Limitless One launches Hobbs over the top rope.
Lee flips over the top rope to take everyone out and then back in the ring Luchasaurus lifts him and drops the challenger, but Keith kicks out immediately. They then start throwing hands against each other, but Hobbs then returns with a neck breaker from the top rope to both of them.
Starks and Jungle Boy come in and Starks looks to hear to win, but Christian pulls his feet off the ropes and that leads to Hobbs attacking him. Ricky then rocks Jungle Boy with a Spear, but somehow Jungle Boy kicks out. Starks then nails the Rowshambo but Luchasaurus breaks up the pinfall.
Hobbs then powerbombs Luchasaurus but gets taken down by the Swerve Stomp. Luchasaurus then ends up accidentally kicking Jungle Boy in the face and Lee and Swerve hit a huge double team that seemingly has this done until Hobbs breaks it up. He and Lee then start throwing hands again, but Starks catches Lee with the FTW Title.
Strickland throws Hobbs into the ring post, but he gets hit by Jungle Boy. Starks wants to use the title again but Cage pulls him away. Swerve misses with the stomp and the champions connect with Jurassic Express to retain the titles in a great match.
Winners: Jurassic Express
AEW Championship
"Hangman" Adam Page (C) vs. CM Punk
The bell sounds and we're off-and-running with this one. The fans immediately break out in "CM Punk! CM Punk!" chants, which spread throughout the T-Mobile Arena. Punk and Page slowly move in on each other, going nose-to-nose in the middle of the ring in intense fashion.
We see the two trade some quick shots and then back off. The commentators point out how you can tell from the way these two are locking up alone that they have a strong feeling about beating down and defeating the other. They show this again with an intense lock-up as soon as J.R. makes the remark.
We see Page drill Punk with a big shot and then slap on a side head lock. Punk shucks him off and sends him into the ropes. The two then proceed to trade back-and-forth chops, in vicious fashion.
A "Let's go Hangman!" and "CM Punk!" dueling chant from the fans in T-Mobile Arena spreads and catches fire as we watch Punk work over Page on the mat, looking to secure an arm-submission of sorts.
Page ends up escaping and freeing himself. He returns to his feet where he and Punk begin duking it out once again. Yet again it is "The Best in the World" who gets the better of said-exchange.
He follows it up with some punishing offense, beating on "Hangman" before once again showing superior ground work. The crowd actually ends up loudly booing Punk and begin clearly chanting for "Hangman" as the action continues.
Punk heads to the top-rope and leaps off, only to be caught by the champ. Page struggles not to drop Punk after catching him, but does manage to keep hold of him. He then connects with a fall-away slam. He follows that up with some additional offensive spurts, including a leaping lariat after spring-boarding off the ring ropes.
This sends Punk out to the floor, where Page follows out after him to continue building on his offensive momentum. Page delivers some more shots on Punk on the floor and then sends him back into the ring. He follows in after him, stopping briefly to pose and soak in the adoration from the Las Vegas crowd.
After some more offense from Page in the ring, we see Page and Punk end up out on the floor at ringside again. Page lands a big lariat and another big shot on the floor before bringing the action back into the ring. Page purposely sends Punk flying out to the floor for the second time in a row. This angers referee Paul Turner, but the match continues regardless.
The commentators talk on the broadcast about the disdain that "Hangman" is showing for "The Best in the World" as these two continue to battle it out here in tonight's AEW Championship main event.
Page and Punk fight their way over to the corner of the ring, where Punk looks to put Page on the top-rope. He does, and then climbs up after him. Punk tries for a superplex off the top and the two go sailing down to the mat, landing with authority.
Soon after this, Punk lands some shots on Page and then snatches him up for a big bulldog spot. He connects with that and then hits another big spot afterwards.
Punk plays to the crowd a bit and then heads over to "Hangman," looking to secure a Sharpshooter (or Scorpion Death Lock, of course!) Punk connects with a neck-breaker instead, as Page avoided the submission attempt, and then goes for a pin fall attepmt.
Page kicks out at two and the match continues. As Excalibur points out on commentary, this is where conditioning will start to play a major factor in determining who ends up getting their hand raised in the ring and the gold belt in their travel gear.
We see both guys down and out but when they get up, it is Page who sends Punk sailing. He then hits a crazy moonsault onto Punk on the floor. We see replays of this as Excalibur points out that Page may have suffered an injury upon landing.
Page rolls Punk back into the ring and then gets himself in position to hit a big Buckshot Lariat spot. He goes for it, but Punk has it well-scouted and avoids it. Punk then locks in the Sharpshooter that he couldn't manage to fully secure moments ago.
We hear Page screaming out in pain, as he looks to escape the hold and keep-hold onto his AEW Championship. He fights and crawls his way to the ring ropes, where he eventually grabs them and forces the hold to be broken up by the referee. Paul Turner tries to do exactly that, but Punk holds onto the hold for a few seconds for good measure.
Punk looks to have an idea of sorts as we see "Hangman" still feeling the affects of the Sharpshooter and previous offense from Punk. "The Best in the World" ends up heading to the ring apron and he is looking to finish Page off with his own finisher.
He goes for the Buckshot Lariat and then tries to finish "Hangman" off with it. He makes the cover, however Page kicks out before the count of three.
Now we see Page recover and begin to take over on offense. He looks for to finish Page off with his finisher now, as he calls for and goes for the GTS. Page ends up surviving. Page then goes for another one of his trademark finishing moves, but upon going for the cover, the referee's hand only bounces off the mat twice.
The fans actually booed after Punk wasn't finished off in the last high spot sequence. Page then gets up and plays to the crowd now as Punk is laid out below him.
Page calls for the GTS. He hits it and goes for the cover, yet somehow Punk manages to kick out as well. This match is getting some great crowd heat from the fans in Vegas, as they are starting to sense the end coming soon.
A loud "Cowboy Sh*t!" chant breaks out as the commentators point out Punk clutching his jaw after taking his own GTS move from Page. The two are both on their knees and looking to get back to a vertical base. They end up duking it out from that position, with each drilling the other with big shots while working their way back to their feet.
We see the action spill out to the floor once again, with Page in control of the offense. Punk is laid out by the champ, who then takes his title and raises it proudly over the fallen wrestling legend, gloating that it is still his. He then brings Punk back into the ring and positions himself for the Buckshot Lariat.
He leads the crowd in cheering him on and then goes for the big finisher. Punk ends up countering him just in time, hoisting Page up for the GTS, but bumps the referee in the process and loses it. Page then connects with his Buckshot Lariat which lays Punk completely out. He can't go for the cover, however, as refere Paul Turner is still out like a light.
Page looks around and then spots his AEW Championship title belt. The commentators sell the fact that the hot-headed Page is doing some quick on-the-spot math, as he notices the refere is down and out and realizes his ability to use the title to his advantage via a cheap shot.
He gets fired up and waits for Punk to get back up, but eventually decides against it. He drops the title belt and instead positions himself for the Buckshot Lariat once again. He goes for it but Punk ends up countering and this time connecting with his GTS finisher. He goes for the cover just as referee recovers. 1-2-3. CM Punk wins. We have a new AEW Champion, and he is "The Best in the World."
Winner and NEW AEW Champion: CM Punk
The crowd pops and soaks in the moment, as CM Punk is presented with the AEW Championship as "Cult of Personality" by Living Colour plays for the second time this evening. An emotional Punk takes the title and proudly hoists it up in the air, soaking in the adulation from the fans in attendance inside the T-Mobile Arena in Las Vegas, NV.
The commentators talk us through some key match highlights and replays, including the finish of this title bout main event. We return live to see Punk still celebrating his first title victory in AEW. That's how the third-annual AEW Double Or Nothing pay-per-view wraps up. Soon after this, we head off the air and that'll do it for this year's AEW DoN show.
---
Since 2001, WrestlingAttitude is your number one source for WWE wrestling news, rumors and results. Make sure to follow us on social media to get the latest news in real time! We are facebook, Twitter, Pinterest and Instagram at the following links:
WA on Facebook – https://www.facebook.com/wrestlingattitude/
WA on Facebook (Women's Wrestling) – https://www.facebook.com/WrestlingDivas/
WA on Twitter – https://twitter.com/wa_wrestling
WA on Instagram (Women's Wrestling) – https://www.instagram.com/wa_wrestlingattitude/
WA on Pinterest – http://www.pinterest.com/realbadrose/wrestling/
---