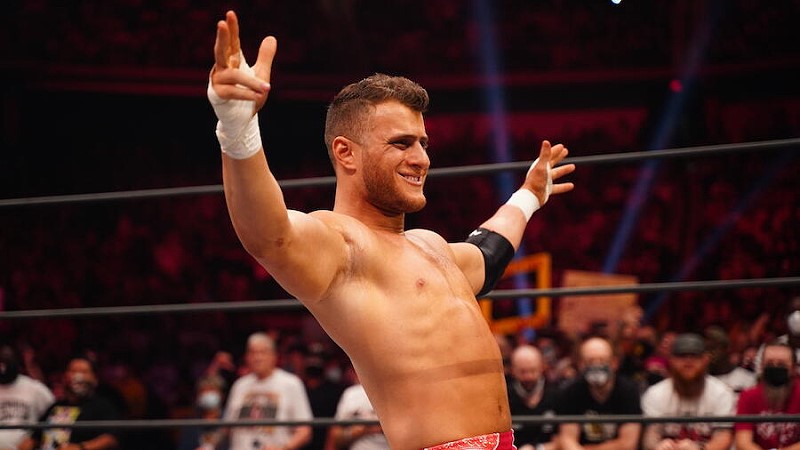 Big Update On MJF – AEW Contract Situation – MJF's long-term future with All Elite Wrestling remains up in the air. Fightful Select previously noted that MJF was leaning toward not re-signing with the company when his contract is up in 2024. The report noted that MJF wasn't pleased with his contract situation.
In an update, Sean Ross Sapp reports that he hasn't heard of a specific contract being offered to MJF. He also wrote "The Salt of the Earth" hasn't been said to be "angling for anything particular." Ross also stated that the company has made "overtures" to MJF, hoping to launch contract talks, but these attempts have come empty. The report also cited a source who expressed that AEW president Tony Khan claimed that he would be willing to pay MJF a rate that was comparable to other top stars.
Ross Sapp went on to that MJF isn't trying to get paid more without an extension because "contracts don't work like that." Additionally, the report makes it clear that Fightful hasn't heard of any attempts by Cody Rhodes to reach out to AEW talent and bring them to WWE.
Will Washington of Fightful also noted during a recent podcast that the AEW locker room is not on MJF's side in the contract talks with AEW. MJF also reportedly wants more money now and test out free agency.
"I did some digging around as well. I asked multiple people around in AEW and I did get one person who gave me a quote they said I am free to use. So basically, there's not a whole lot of people on MJF's side of this I am gathering. The one thing I heard from somebody that said, 'Look his deal is his deal. Changing the terms of an existing deal while in the middle of it would set a horrible precedent and If he wants new money then sign a new deal.' The idea I gave..what they're saying here is, yeah if MJF in the middle of his deal can simply say actually, I'm actually worth this now.

Granted, I think he is…but they're like what would stop anybody else from wanting to change the terms of their deal in the middle of it and not sign a new deal. And also said [the source], 'Tony would be a fool to give him any more money without the guarantee of more years.' Of course if Tony gives up something on this new deal then he has to get something and so yeah, you sign a new deal, he's got to tack on a few more years to make it happen. It sounds like he still wants his free agency in 2024."
Big Update On MJF – AEW Contract Situation