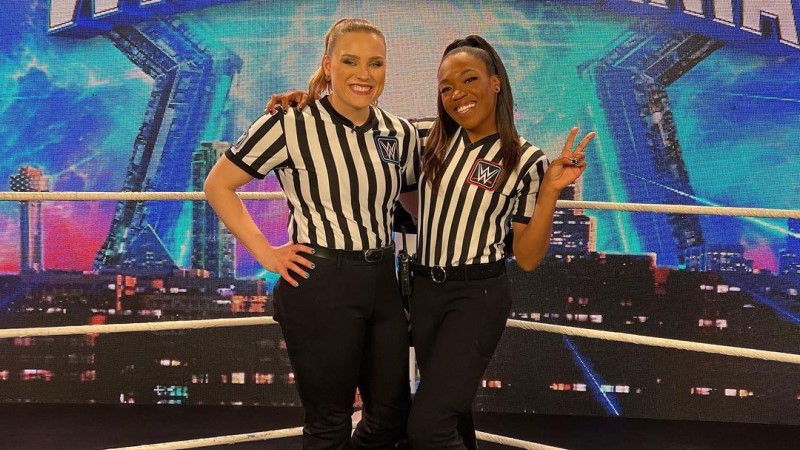 WWE created women's history at WrestleMania 38 but not just with its in-ring competitors.
Aja Smith/Daphanie LaShaunn revealed that she made history at WrestleMania by becoming the first black female to officiate during the event.
Jessika Carr, the more tenured of the two WWE female officials, revealed on her Instagram that even more history was made as she and Dapahnie became the first two women to officiate matches back-to-back on WrestleMania.
Empowered women, empower women. —-

Don't want to let it slip under the radar.

For the first time ever, Wrestlemania at that, two matches were refereed by two women back to back Saturday night!

@ajasmithwwe I'm incredibly proud of you and so grateful you're just as hard working and passionate as I am.

The sky is the limit, there are no ceilings. This is the first of many sister, let's keep enjoying the ride and being the best we can be!
Carr was the official for Drew McIntyre vs. Happy Corbin on Saturday, while Daphanie was the official for The Mysterios (Rey & Dominik Mysterio) vs. The Miz & Logan Paul.
On Sunday, the match between Edge and AJ Styles at WrestleMania and reflected on what refereeing at WrestleMania means to her.
I worked for 13 years to get myself to this weekend and tonight. I started in this crazy business in 2009 with the hope and dream of becoming successful in this industry.

As time goes on and you take different opportunities your goals change with time.

To have this weekend happen like it did was unreal because I walked into it with confidence, a sense of pride and excitement rather than extreme nervousness.

So many more photos and stories to share. But above all I'm so grateful, especially for the incredible performers I got to share the ring with.
WWE Female Refs Made History At WrestleMania 38