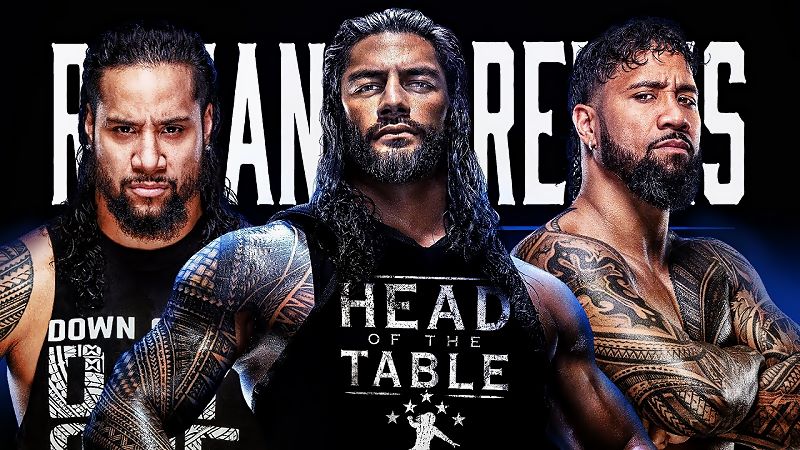 Roman Reigns Wants The Usos To Unify The Tag Team Championships – Undisputed WWE Universal Champion Roman Reigns closed out tonight's SmackDown and he revealed what his next step is.
Reigns said he doesn't think there is anymore to achieve but there's more for The Usos to do and it's not enough for them to hold the SmackDown Tag Team Titles. Reigns said that it's time to unify the Tag Team Championships as well and he wants Jimmy and Jey to win the Raw Tag Team Championships.
Shinsuke Nakamura walked out to the ring but was quickly taken out by Jimmy and Jey with a superkick. There were no hints given as to who would be next to challenge Reigns. McIntyre and Reigns were advertised for house shows this month. McIntyre will face Sami Zayn next week on SmackDown.
Here is a recap form our live coverage:
Roman Reigns wants to let everyone in on something private, something he and his Wise-man discuss rather frequently. Reigns says it pains him to say that SmackDown and the WWE Universal Title wasn't enough, so he went to WrestleMania, smashed Cowboy Brock, took Monday Night RAW, and took the WWE Title. Fans pop for Reigns.
Reigns brings up the next step for The Tribal Chief. He doesn't think he can really do much more, he's done did it all, you know? But there's plenty left for The Bloodline to achieve. Reigns says there was so many historical pictures and videos taken of them this week, and he couldn't but think that he saw his two titles, but he only saw his cousins with their one title each. Reigns says that's not enough. He recalls how he told Jey Uso a while ago that they'd elevate him to new levels of greatness, and there's only one way to do that. Reigns says it's time to unify the Tag Team Titles. Reigns wants The Usos to go to RAW and bring him the RAW Tag Team Titles, get them for yourselves because when you do that, you do it for The Bloodline. Reigns asks if that's a deal and The Usos are fired up. Reigns says there you have it, The Bloodline will have all the gold soon. The music interrupts and out comes Shinsuke Nakamura to a pop. Reigns and The Usos look annoyed as Nakamura struts to the ring.
Fans sing Nakamura's theme after it stops. Reigns says Nakamura doesn't have to say anything, Reigns understands how he feels because he lost his partner. You know the guy, Rick… BOOGS!, says the crowd. Reigns says they lost Jimmy Uso to an injury for a year, so they know how Nakamura feels. Reigns is a compassionate Tribal Chief and now that they have all the gold, The Island of Relevancy is full of love. Reigns wants to help Nakamura. He hugs Nakamura in the middle of the ring, and whispers something in his ear but we can't hear it. Whatever Reigns said, it confuses Nakamura. Reigns then steps away and The Usos immediately drop Nakamura with a double superkick.
The Usos stand over Nakamura and talk some trash, then turn to Reigns and tell him they have his back. The Usos go on about how they're now headed to Detroit, the site of Monday's RAW. The Bloodline stands tall with the gold in the air as we go to a replay of what happened to Nakamura. The SmackDown After WrestleMania goes off the air with The Bloodline standing tall in the ring, Reigns raising the WWE Title and the WWE Universal Title.
Roman Reigns Wants The Usos To Unify The Tag Team Championships