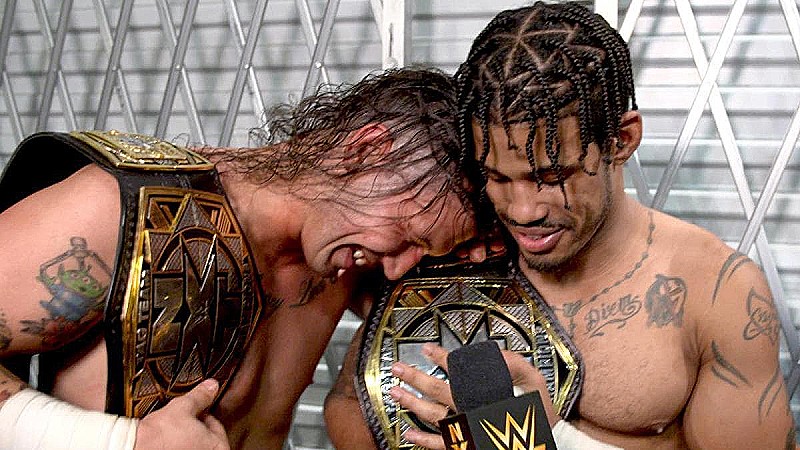 During Wrestling Observer Live, Bryan Alvarez talked about Nash Carter's release from WWE.
Alvarez noted that Kimber Lee tweeted some things a week ago but those tweets were deleted and then several days later she posted the photos with the abuse allegations but it was the Adolph Hitler photo that got him released. Alvarez said that people in WWE did not believe Lee's allegations.
Alvarez said, "What I was told is that the reason that they won the Tag Team Titles this weekend, even though the allegations were out there. The reason that happened was because it was not believed that Kimber Lee was reliable. That was what I was told. They did not believe her story. NXT, I don't know what kind of investigations they do. I don't know what happened. Whatever happened, they determined that she was not credible. That's why they put the Tag Team Titles on MSK."
Alvarez added that The Creed brothers were told to bring their family to Stand & Deliver, which indicates that there might have been plans to win the titles. Those plans did not pan out and MSK won them.
"I don't know this 100 percent but everyone going into Saturday thought The Creed Brothers were going to win," Alvarez said. "All I can tell you is that The Creed's were told to have your family at the show. So, I think the Creed's also thought they were winning. For whatever reasons, they put the belts on MSK."
Alvarez added, "They were breaking up Imperium because I think the idea was it was gonna be Marcel Barthel and Gunter going up to the main roster and poor Fabian Aichner was gonna be a singles guy in NXT. Now that there is no more MSK, I'm thinking that Imperium may be staying down there. Now we've got vacant tag team titles…the whole situation is mindblowing to me. I've heard that there are many people in NXT that they are on Nash Carter's side, for whatever you want to make of that…"