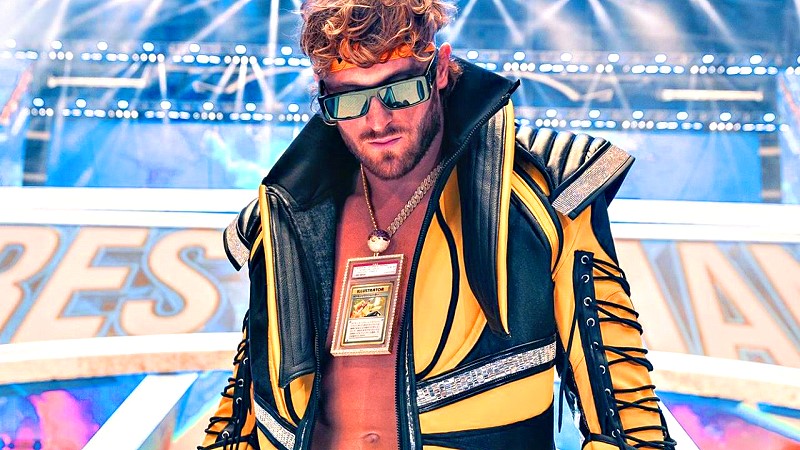 Logan Paul Reacts To The Miz Betraying Him – Logan Paul won his WWE in-ring debut on the opening night of WrestleMania 38, as he teamed up with The Miz to defeat Rey and Dominik Mysterio on Saturday night. But after the bout, "The A-Lister" betrayed Paul by dropping him with a Skull Crushing Finale.
In a WWE Digital Exclusive, Paul reflected on his WrestleMania experience. First, he called the fact that he wrestled the Mysterios and won the match "surreal."
"This is surreal," said Paul. "I cannot believe I got to share a ring with the Mysterios and also won the match. This is my first win. Like I can no longer say I'm the world's highest-paid loser, like that was my thing."
After Paul expressed his excitement about his victory, he turned his attention to The Miz. When asked about the former WWE Champion's actions, Paul compared them to the way Will Smith slapped Chris Rock at The Oscars. He then shared his belief that The Miz is jealous of him.
"I think it's equivalent to Will Smith slapping Chris Rock," said Paul. "I'm still processing why Miz betrayed me. To be honest with you, if I had to guess, he's probably jealous I was doing flips. I went off the top rope, I was doing cool s—, but quite simply, he's obviously not capable of doing that. He's older, he's a little thicker. I'm nimble, I'm young, I'm spry. He doesn't have it like me,. And I think he got jealous and decided to turn on me."
When asked what he would say to The Miz, Paul had a short message for his former partner.
"F—you, Miz," said Paul. "F— you so hard. That's it."