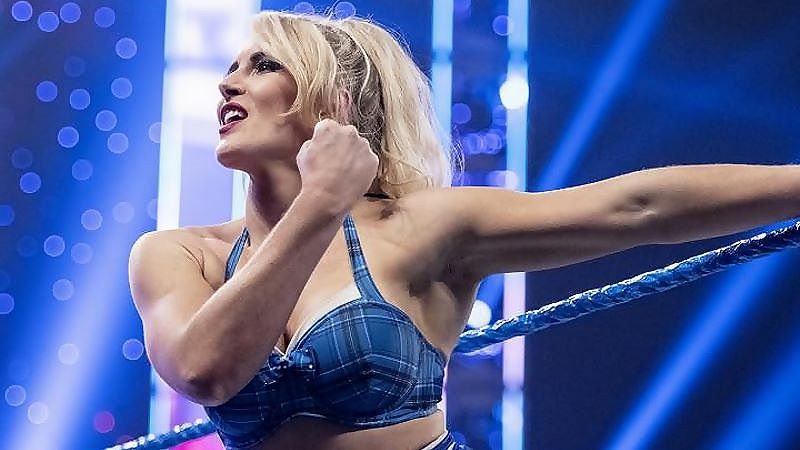 Lacey Evans returned with a video promo during tonight's SmackDown episode and apparently she is no longer a heel.
During the show, Michael Cole mentions the adversity that a WWE Superstar had to go through and that person is Lacey Evans.
A video was shown in which Evans talked about the emotional and physical abuse that was part of her life while growing up. She talked about her and her mother picking things up and leaving without telling her father.
Lacey says she was born in a small town in Georgia. Her father worked construction. Things were tough because of mental health and addiction issues. Her mom tried to do her best but the abuse got too bad. Lacey says she was taken away from everything she knew. Her mom picked her family up from school and took them away from her dad. She says they lived in shelters and campgrounds. Moving around made her learn that she could adapt and overcome or give up.
Lacey says she was not going to give up. She might not have had the same path as the others, but that is fine with her. It made her a different person today. It has made her a wife, mother, US Marine, and WWE Superstar. That does not make her any better than any of the others, but they aren't better than her.
This was clearly a babyface promo and they have dropped the Sassy Southern Belle character that fans were accustomed to seeing when she was last seen on WWE television. Michael Cole said that the Lacey Evans story will continue next week.
Lacey also tweeted on tonight's return to the WWE storylines and wrote, "My legacy will be the truth. It will be raw & real. It will show the world what U R capable of, regardless of the cards stacked against you. It will be for the ones down & out before they even get a chance to play the game. Love it or hate it, It's for the ones who need it."
This was Evans' first WWE television appearance since February 2021 when she took time off due to her pregnancy.
Lacey Evans Apparently Drops Sassy Southern Belle Character On SmackDown