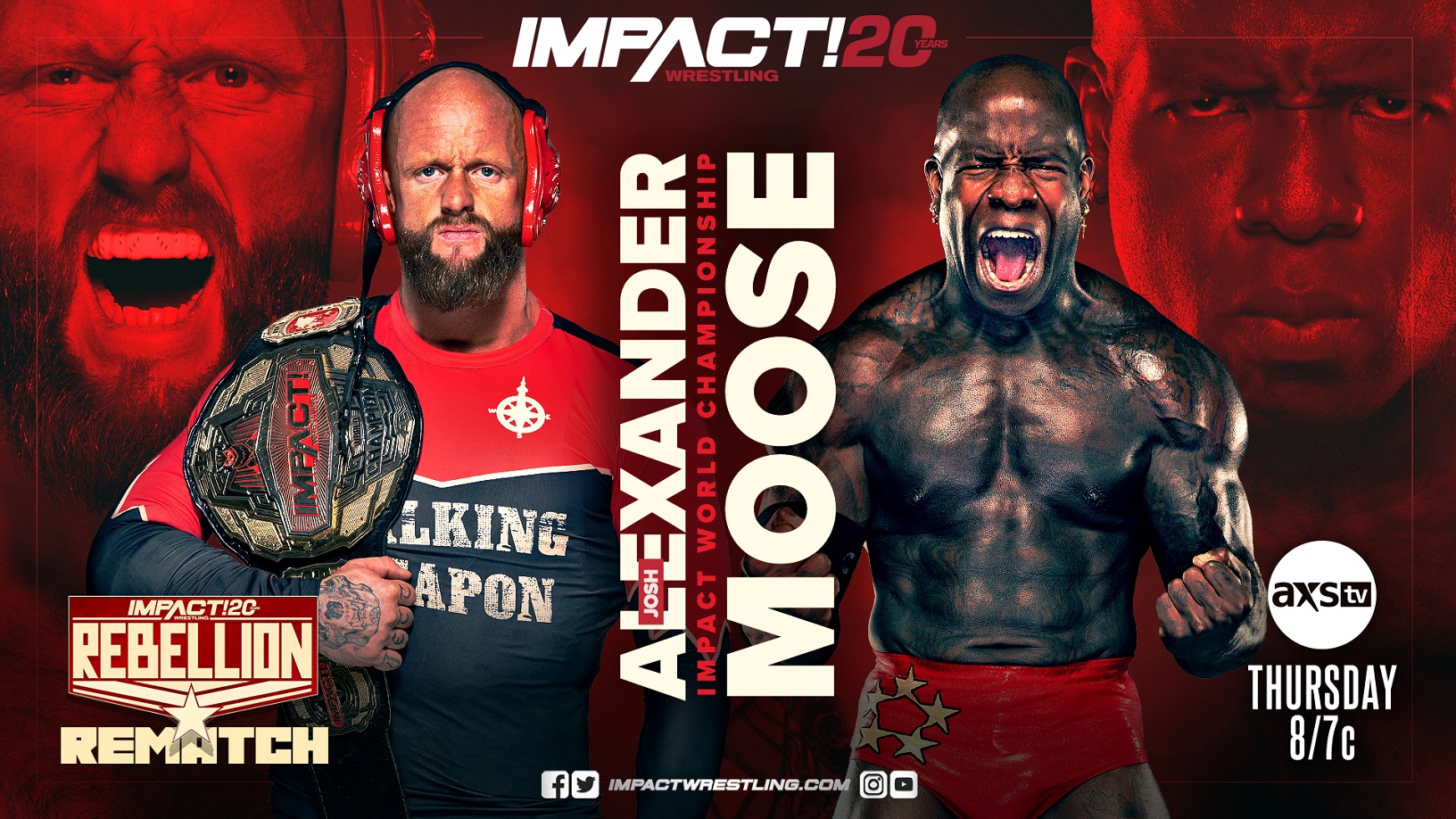 The action begins Before the IMPACT with an exclusive match!
Vincent vs Crazzy Steve
After falling to Kenny King in this week's exclusive Digital Media match, Crazzy Steve looks to even the score with Honor No More as he takes on Vincent! Steve attempts to lock in Upside Down but Vincent fights him off. Vincent counters a tornado DDT and plants him face-first on the mat. Steve turns the tide by successfully locking in Upside Down. Steve bites Vincent's finger and quickens the pace. Steve hits a big clothesline for two. Vincent connects with Orange Sunshine out of the corner, then soars with Red Rum to pick up the victory!
Vincent def Crazzy Steve
With an unforgettable Rebellion pay-per-view in the rearview mirror, the fallout begins on an all-new IMPACT!
After retaining their IMPACT World Tag Team Titles in an unprecedented 8 Team Elimination Challenge, Violent By Design kicks off the show. Eric Young reflects on their victory and claims that the dominance will continue. The final team to oppose them at Rebellion, Heath and Rhino, interrupt. Rhino says that they have unfinished business and they don't just want retribution, they want the IMPACT World Tag Team Titles! The Briscoes make their IMPACT return and confront both teams in the ring. Jay Briscoe tells VBD that they've won gold all around the world and IMPACT will be no different. The Briscoes argue with Heath and Rhino over who's next in line for at title shot. Heath and Rhino challenge them to an impromptu match and it's on!
Heath & Rhino vs The Briscoes (Jay & Mark Briscoe)
Jay launches himself over the top rope to the floor, colliding with Heath and Rhino. The brawl continues on the outside where the Briscoes remain in control. Rhino trips up Mark from the outside, allowing Heath to turn the tide. Heath and Rhino wear Jay down as they cut off the ring and prevent him from making the tag. Jay finally breaks free and tags in Mark. The pace quickens as the Briscoes take down Rhino with a double shoulder tackle. Mark hits a top rope elbow drop on Rhino to score the victory and earn the next opportunity at the IMPACT World Tag Team Titles!
The Briscoes (Jay & Mark Briscoe) def Heath & Rhino
On commentary, Tom Hannifan and Matthew Rehwoldt reveal that Violent By Design will defend the IMPACT World Tag Team Titles against The Briscoes at Under Siege, streaming LIVE May 7th on IMPACT Plus and YouTube for IMPACT Ultimate Insiders!
Moose confronts IMPACT Executive Vice President Scott D'Amore about only having five days to prepare for his IMPACT World Title rematch against Josh Alexander tonight. D'Amore informs Moose that the winner of tonight's main event will defend the title against a hand-picked opponent at Under Siege and he thought that Moose would want to be in that spotlight. Moose vows to get his title back and tells D'Amore to prepare to console Alexander's family for what he's going to do to him tonight.
EGV is coming soon.
VSK vs Bhupinder Gujjar
After the returning VSK accused Bhupinder Gujjar of taking his spot on the roster, the two meet in singles action! Gujjar is on fire from the opening bell as VSK recruits to the outside. Gujjar is hot on his trail as he hits a springboard crossbody from the ring to the floor. Back in the ring, VSK targets the back of the neck to gain control. VSK rolls him up with a hold of the tights but it's not enough to keep Gujjar down. Gujjar hits a big powerslam, followed by the second-rope spear to remain undefeated!
Bhupinder Gujjar def VSK
After the match, Raj Singh attempts to rekindle his relationship with Gujjar. An enraged Shera goes face-to-face with Gujjar but Singh holds him back. Gujjar wants no part of Singh as Shera shows him an example of his power and attacks VSK.
Gia Miller interviews new X-Division Champion Ace Austin after he defeated Trey Miguel and Mike Bailey in a Triple Threat match at Rebellion. Austin praises himself for becoming a three-time X-Division Champion when NJPW veteran Rocky Romero interrupts. Romero tells him that the NJPW Best of the Super Juniors is coming up and he could put in a good word for him if he's interested in competing. Austin tells Romero to get off his set. Romero challenges him to an X-Division Title match next week but Austin declines. Luckily for Romero, he's good friends with Scott D'Amore! As Austin storms off, he's confronted by his former ally, Mike Bailey, who congratulates him.
Following his recent success, including a victory over Chris Sabin and Jay White at Rebellion, Maclin believes that he should be Scott D'Amore's handpicked challenger for the IMPACT World Title at Under Siege!
Honor No More (Eddie Edwards, Matt Taven & Mike Bennett) w/ Maria Kanellis & Kenny King vs Mike Bailey & Motor City Machine Guns (Chris Sabin & Alex Shelley)
IMPACT continues to fight back against Honor No More in this six-man tag team match! The action is fast and furious from the opening bell as both teams brawl in and out of the ring. Taven sets up Edwards for a mid-air powerbomb on Bailey. Moments later, Bailey delivers a series of kicks to Edwards. King provides a distraction from the apron, allowing Bennett to pull Bailey to the outside. Edwards dives through the ropes with a shot of adrenaline to gain control. Sabin hits a big back body drop on Edwards but gets caught with a springboard kick from Taven. The Motor City Machine Guns put their great double team offense display as they take out Bennett. Edwards hits Sabin with the Boston Knee Party. Everyone from Honor No More following a flurry of high-flying offense from their opponents. Kanellis distracts the referee, allowing King to stop Bailey from hitting Ultima Weapon. Taven sends Shelley into the ropes, knocking Bailey down in the process. Edwards hits Bailey with an assisted Die Hard Driver to win!
Honor No More (Eddie Edwards, Matt Taven & Mike Bennett) w/ Maria Kanellis & Kenny King def Mike Bailey & Motor City Machine Guns (Chris Sabin & Alex Shelley)
After the match, tensions are rising between Bailey and Shelley. Bullet Club makes their way to ring, leading to a huge brawl with Honor No More. Bullet Club stands tall after a Magic Killer to King!
Josh Alexander reflects on the six-month roller coaster that he endured to become IMPACT World Champion at Rebellion. Alexander vows to remain champion when Moose gets his rematch in tonight's main event. As for Under Siege, Alexander says that no matter who Scott D'Amore's hand-picked opponent is, he'll be ready.
New AAA Reina de Reinas Champion Taya Valkyrie is in the ring to address her victory over Deonna Purrazzo this past Saturday at Rebellion. Valkyrie says that sometimes you have to hit rock bottom in order to reach the top again. Out of nowhere, Purrazzo blindsides her and a brawl ensues until Decay hits the ring. Rosemary, who has a long history with Valkyrie, stares her down. Knockouts World Champion Tasha Steelz interrupts for her scheduled match next!
Knockouts World Champion Tasha Steelz and Savannah Evans vs Decay (Rosemary & Havok)
After Savannah Evans played a role in Tasha Steelz retaining the Knockouts World Title over Rosemary at Rebellion, Decay seeks vengeance in tag team action! Chaos reigns supreme as another brawl breaks out before the opening bell. Havok and Rosemary send Tasha and Savannah colliding into one another on the floor. Rosemary hits a corner suplex on Tasha for two. Tasha escapes her wrath and makes the tag to Savannah. Rosemary locks in Upside Down but Savannah fights free and hits a powerslam. Havok connects with a Death Valley Driver on Savannah for two. Tasha attempts to distract the referee with the title belt but Rosemary takes her out. Rosemary spears Savannah and Havok capitalizes to score the pinfall!
Decay (Rosemary & Havok) def Knockouts World Champion Tasha Steelz and Savannah Evans
It's time for a new edition of All About Me with the reigning Knockouts World Tag Team Champions, The Influence! Madison Rayne and Tenille Dashwood reflect on their victory over The IInspiration at Rebellion and claim to have "cleansed" the locker room of them. The lights go out and "The Quintessential Diva" Gisele Shaw appears on the set. Dashwood confronts her and says that there's no room in the spotlight for anyone but The Influence. Shaw fires back and challenges her to a match next week. Rayne speaks on Dashwood's behalf and accepts!
Celebrate IMPACT Wrestling's 20th anniversary at Slammiversary, LIVE June 19th on pay-per-view from Nashville, TN!
Vincent has reanimated PCO for a Monster's Ball with JONAH next week!
Next Thursday at 8/7c on AXS TV and 8:30pm ET on YouTube for IMPACT Insiders, don't miss the final IMPACT! before Under Siege. PCO and JONAH collide in Monster's Ball. Ace Austin defends the X-Division Championship against Rocky Romero. Brian Myers and W. Morrissey face off in a Tables match, plus more!
IMPACT Wrestling is Under Siege, LIVE May 7th on IMPACT Plus and YouTube for IMPACT Ultimate Insiders! Violent By Design defend the IMPACT World Tag Team Titles against The Briscoes. Taya Valkyrie defends the AAA Reina de Reinas Championship against Deonna Purrazzo in a Rebellion rematch. Bullet Club takes on Honor No More in a 5-on-5 showdown where the Bullet Club's fifth member will be the returning El Phantasmo. Plus, Tasha Steelz puts the Knockouts World Title on the line against Havok and more to be announced.
IMPACT World Champion Josh Alexander vs Moose – IMPACT World Championship
There's no rest for the weary as Moose receives his IMPACT World Title rematch against Josh Alexander just five days later on IMPACT! Moose charges towards Alexander at the opening bell, then tosses him across the ring to gain the early advantage. Moose hits a running uppercut in the corner but Alexander comes back with a quick vertical suplex. Moose sends him toppling all the way from the top rope to the floor, then delivers a thunderous powerbomb on the apron. Alexander hits multiple German suplexes, then locks in the Sharpshooter but Moose crawls to the bottom rope in order to break the hold. Moose counters the C4 Spike as both men exchange forearm blows in the middle of the ring. Moose gains the upper-hand with a headbutt but Alexander rolls through into an Ankle Lock. Moose locks in the Ankle Lock but this time it's Moose who fights out and connects with a Uranage. Moose hits a buckle bomb in the corner as Alexander collapses at his feet. With a burst of momentum, Alexander hits a powerbomb, followed by the C4 Spike to retain the IMPACT World Title!
IMPACT World Champion Josh Alexander def Moose – IMPACT World Championship
After the match, Alexander is confronted by Scott D'Amore's handpicked challenger for Under Siege, Tomohiro Ishii! It's "Walking Weapon" vs "Stone Pitbull" at Under Siege as the two stare each other down. IMPACT! goes off the air.