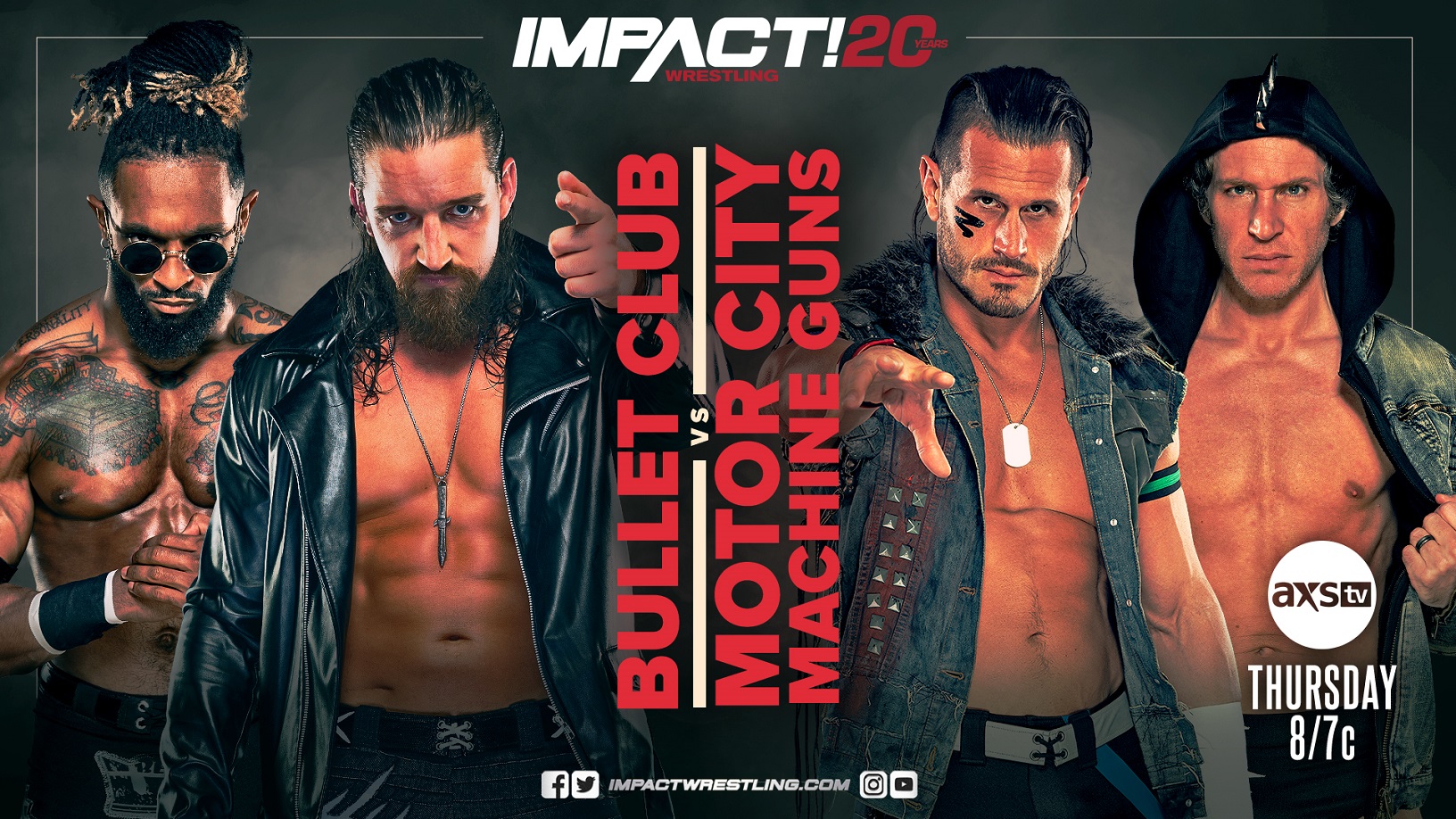 Impact Wrestling Results (3/31) – IMPACT Wrestling kicks off with a recap of the feud between Josh Alexander and Moose, which showed part of Alexander's promo from last week regarding Moose going to his house. Moose's promo from last week follows where he said he won't fail Josh's son as Josh did. We then cut to an indie show from the past week where Moose speared Alexander's wife.
Alexander arrived in the IMPACT Zone and Scott D'Amore told Alexander that he sent Moose home. He said that he set a meeting to strip Moose of the title. Alexander put Scott against a door and said that it didn't happen to Scott's family. He says he needs Moose and he should pay attention to what happens tonight.
Jonathan Gresham vs. Kenny King
Gresham takes a mic and says the reason he came to IMPACT was to show what the true essence of wrestling is. He said along with that came Honor No More. He states the foundation of ROH was built on guys like Punk, Danielson, Punk, and Edwards. He says that Eddie is not honorable anymore. King comes out with a mic and tells Gresham he disgusts him. King says that Gresham that he is one of the best, but he is a puppet for ROH to bring prestige to their company. King says they call him the octopus because he is all arms and no brains or balls. King says he isn't interested in pure rules and he doesn't want the title. King says he is going to pound Gresham into the dirt.
This opening contest kicks off with the current Ring of Honor Champion and King face to face. They lock up and have to be separated by the ref, but King got a cheap shot in. They separate and lock up again. Gresham gets the advantage and rings the arm of King. King sends the ROH Champion to the outside who trades places with King. King sends Gresham to the outside of the ring and rakes the eyes of Gresham and dives to the outside onto Gresham.
King starts punching Gresham on the outside and then proceeds to hit a snap suplex. King throws Gresham back in the ring as he runs at him in the corner but gets caught with a back elbow. They got back and forth util Gresham hits King with a dropkick. Gresham hits a chop in two corners and then eventually hits a Dragon Screw between the rope as he was on the apron. Gresham missed a crossbody as we head to the commercial.
As we return from the commercial, King has the advantage as he is attacking King in the corner with strikes and chops. He kicks Gresham in the head and hits a Spinebuster for two. King gets Gresham on his shoulders who falls off and tries to sweep the leg. Gresham fails but ends up popping King's knee. Gresham goes for a few small packages before he hits a knee to the ankle followed by an elbow to the face for two. Gresham goes for another roll pin for two and King hits a Snap Dragon Suplex and a Tiger Driver for two.
King gets Gresham on his shoulder but Gresham counters. King counters into a roll-up for two and then Gresham is able to get a figure four on King. Gresham stands up with the figure four applied and the shoulders of King remained down for three.
Winner: Jonathan Gresham
After the match, Edwards and King attempted to beat up Gresham until Rocky Romero came and the ROH World Champion and Rocky fought them off. Backstage, Gia Miller interviews the Motor City Guns Alex Shelley states that they won clean in their first match against Jay White and Chris Bey and he guesses he didn't teach Jay White math. Alex says it's going to happen again. Chris Sabin says he loves the name Multiverse and tonight they will prove why they are the best team to ever live!
Back from the commercial, Gia is interviewing Deonna Purrazzo who says she is pushing limits with Champ Champ Challenge. Purrazzo boldly states that she is the Multiverse and she is here.
Chump Chump Challenge: Johnny Swinger & Zicky Dice vs. Good Brothers
Swinger gets on the mic and says that people need to get on their feet. Swinger says if Dice listens to him, he will be the next Adrian Adonis. Swinger calls out two people for the challenge. The Good Brothers come out and accept the challenge. Dice starts out against Gallows and is immediately hit with an uppercut. Gallows hits a fallaway slam on Dice and then runs at him the corner. Gallows hits Dice with a kick to the head as he tags in Anderson. They hit a Magic Killer on Dice for the win.
Winners: Good Brothers
Gia interviewers The Good Brothers following their match, and Anderson says they are the best tag team ever. Gallows says they got screwed last week but at Rebellion, they will go through seven teams. Gallows says they're going to find out how many Briscoes are in their gun in the Multiverse show. PCO is shown screaming in a parking lot asking for Jonah as we head to the commercial.
As we return from the commercial break, PCO is still screaming for Jonah who attacks PCO from behind with a dolly. Jonah sets PCO on the dolly and wheels him straight into cones. PCO and Jonah brawl in the backstage area while intense music plays in the background. Jonah hits a powerbomb on PCO in the backstage area as Jonah tells PCO to stay down, Jonah then continues to punch PCO and hit him with a sledgehammer to the gut twice.
Jonah attempts to end it off by breaking a piece of concrete with a sledgehammer to the gut of PCO… that is until PCO gets back up and the two continue brawling! PCO slams Jonah with a car door and then walks away with Jonah lying on the ground. PCO brings back a shovel and starts tossing gravel and dirt at Jonah.
Madman Fulton vs. Josh Alexander
Fulton attempted a big boot to start off but Alexander countered and hit a huge German followed by an overhead belly-to-belly suplex. Alexander sends Fulton to the outside and the two brawl on the outside. Alexander sends Fulton back inside and attempts to hit the C4 spike but fails. Alexander then hits a German and then a powerbomb. Alexander locks in the ankle lock and Fulton taps out after this quick contest.
Winner: Josh Alexander
After the match, Alexander gets the ankle of Fulton and twists it and Tom Hannifan on commentary seemed to think that Alexander broke the ankle of Fulton. Mike Bailey is shown backstage as Trey Miguel walks up. Miguel questioned Bailey's relationship with Ace Austin. Miguel said that Ace won't have his back going into the three-way match at Reblleion for the X-Division Championship.
IMPACT cuts out but Mickie James came back on after a commercial and says that it will be the MidCardonas versus her and Nick Aldis. Backstage with Gia Miller, Matt Cardona says he has a historic title reign. Chelsea Green comes out and says she isn't the little sister that needs saving. Green says she deserves a shot at the championship. Matt comes back out and says tomorrow night they will prove they are the power couple of pro wrestling.
Knockouts Battle Royal:
Tasha is on commentary as the winner of this match becomes the number one contender for her IMPACT Knockouts World Championship. Madness ensues in the battle royal as they all get a piece of the action. Havok starts attacking multiple women and eliminates Alisha, making her the first person eliminated from the match. Many of the women in the match all decide to team up to eliminate Havok, as she appeared as the monster in the match. The women all go back to brawling around.
Jessie McKay and Tenille Dashwood both end up on the apron and then Dashwood gets hit by a big boot for the elimination. McKay gets saved by Kaleb with a K who catches her. Madison Rayne gets eliminated, followed by Jessie McKay by Savannah Evans. Evans then goes back and forth with Jorydnne Grace in the ring as Evans and Grace are both eliminated. We are down to Lady Frost, Giselle Shaw, and Rosemary.
Rosemary goes after both women until she gets hit with a superkick. Frost is almost eliminated as she is in the corner following a Moonsault attempt gone wrong. Rosemary is able to eliminate both Shaw and Frost at the same time which means she wins and gets a title shot at Rebellion against current champion, Tasha Steelz!
Winner: Rosemary
We are taken back to BTI, which featured Black Taurus taking on Deaner. A promo then plays for Violent By Design where Eric Young says they took everything from The Good Brothers. Young says they will run through seven teams and will hold on to the belts. Young says Deaner showed the sickness still exists by losing to Taurus. Young says DeCay has their undivided attention and the world belongs to them.
Back from the commercial, Brian Myers is on commentary for the following contest.
Aiden Prince vs. Bhupinder Gujjar
Gujjar and Prince start quickly going back forth as Prince attempts to knock Gujjar down, but fails and gets sent to the outside. Gujjar brings Prince back into the ring and hits him with a forearm. Gujjar sends Prince to the outside who attempts to leave, but Gujjar stops him. Gujjar hits Prince with chops and stiff elbows to the face. Prince attempts an ariel move but gets hit with a slam for two.
Gujjar sends Prince into a corner and runs at him, but gets hit with a boot. Prince strikes Gujjar and stomps his head while he's on the mat, and then in the corner. Prince hits a boot in the corner, but Gujjar blocks the second with a sling blade and hits a second Powerslam. Prince hits a Brainbuster on Gujjar following a counter but misses an ariel move. Gujjar hits Prince with a spear from the second rope for the win.
Winner: Bhupinder Gujjar
As Myers was making his way to the back W. Morrissey comes out and starts hammering away on Myers. Morrissey was going for a Powerbomb but failed because Myers was able to get out of it and escape due to help from Prince. Morrissey decides to put Prince through the table instead via the BQE Powerbomb as we head to the back where we see Bullet Club getting prepared for their match. We head to the commercial.
Masha Slamovich vs. Abby Jane
Back from the commercial, Masha turned her back on Jane and got hit in the back. Masha quickly counted and hit Jane with a Dragon Suplex and then the Snowplow for the win.
Winner: Masha Slamovich
Bullet Club vs. Motor City Machine Guns
Jay White starts out in the ring against Chris Sabin, who he gets in the corner and attacks. bSabin counters and hits a crossbody onto White and then chops him. White rakes the eyes of Sabin and then hits him with a chop. Shelley made the tag as the two hit double-teamed moves on White. Bey attempts to get involved, but the two are able to fight off Bey. Shelley tags in Sabin as the two hit a double-team move on White. Sabin gets White in a headlock and then transforms it into an abdominal stretch.
Sabin turns it into two forearms which are eventually stopped after a knee to the back from Bey. White hits a DDT on Sabin as Bey comes in hitting a Phenomenal Forearm to Sabin as we head to commercial break. As we come back, the Bullet Club has momentum and control. Bey gets tagged in by White and stops a tag from Sabin to Shelley. Bey hits an elbow to the back of the head of Sabin for two and then tags in White who kicks Sabin in his corner multiple times.
Bey illegally chokes Sabin while the referee was dealing with Alex Shelley. Bey gets tagged in but Sabin leapfrogs them both and tags in Shelley, who is able to take down both of Bullet Club and get a submission in on Bey after a two count. White saves it by raking the eyes of Shelley, but the Guns get out of it and attempt a double-team move that fails. Bey gets a two-count on Shelley and then starts beating down on him. White illegally chokes Shelley and then Bey gets a submission on Shelley.
Shelley attempts to fight back but fails. Bey ends up tagging himself in and goes for a suicide dive, but connects with his partner by accident. Sabin gets tagged in and hits Bey and White with two different ariel moves and puts Bey on the top rope in a tree-of-woe position and eventually hits him with a dropkick. Motor City hit Bey with Thunder Express for the two-count. The Guns continue to double team until Jay White intervenes and sends them both to the outside, as Bey dives onto both of them.
White hits Sabin with a neck breaker and Bey hits him with a splash for two. White was upset with the ref's call as Sabin rolls up Bey without the ref looking. Bey then rolls up Sabin for the two-count. Sabin hits Bey with a dragon screw, and Motor City both double team Bey and they hit Skull and Bones, but Bey kicks out! White and Shelley go back and forth for a little until Motor City gets the advantage and goes after Bey. The Guns attempt a double team, but Jay White makes sure that doesn't happen. White stops a Cradle Shock, which allows Bey to hit the Art of Finesse for the win.
Winners: Bullet Club