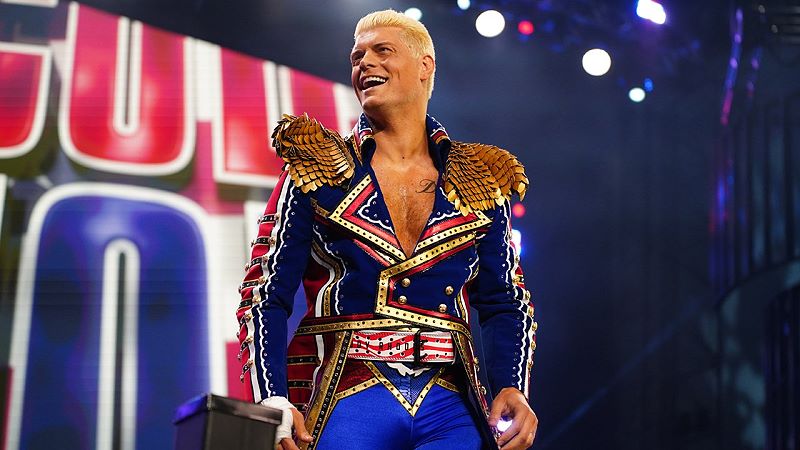 Unhappiness Led To Cody Rhodes AEW Departure – Dave Meltzer did a very detailed write-up on the Cody and Brandi Rhodes situation that led to their exit from AEW.
The following was noted in the write-up:
Cody and Brandi Rhodes' three-year deal with AEW expired on December 31, 2021 and there had been talks over the past six weeks about a new deal. Both continued to work on community relations and on TV with the idea that they were staying. While Cody missed TV in early January due to a COVID-19 issue, he returned to lose the TNT Championship to Sammy Guevara.
Rhodes To The Top had been renewed for a second season but there was no formal announcement made and the belief is that the show will not return. Cody is also a judge on The Go Big Show. His departure from AEW likely means that he won't be back next season.
Meltzer noted that until negotiations fell apart on Monday, most people in AEW were not aware that anything is up and the belief was that Cody and Brandi were staying. It was also noted that several people were surprised and didn't know anything until the day of but one person said that he knew this was coming a few weeks ago and he categorized it as "unhappiness" even though everyone claimed that the EVP's were getting along the best they have been in a long time. One person was said to have used the term "heartbroken" about the situation.
It was also noted that both Cody and Brandi have kept quiet on talks and the belief is that they have not spoken to anyone about their split from AEW. Cody had been open about working without a contract but he had given the impression that he was expecting to reach an agreement on a new deal. Brandi recently closed a deal between AEW and the American Heart Association and Cody worked with Amanda Huber in the community relations division.
Meltzer added that as of Monday evening, there were lawyers involved to work out the split and both Cody and Brandi can start with WWE immediately since they are not under contract. In WWE, there has been talk about the possibility of Cody joining the company but there is nothing known on Brandi's status but she has talked about wanting to wrestle.
Tony Khan has said in the past that he had options on all the key talent for 2022. He used that option clause to extend The Young Bucks and Chris Jericho and Cody had an option year as well so that would have been Khan's call not to exercise it for Cody and Brandi.
This is pro wrestling and there's always the possibility that this is a work similar to what Brian Pillman did in 1996. Pillman convinced WCW management to let him out of his contract and work some dates for WCW with the idea that he would eventually go back to WCW. But it turned out that Pillman worked Bischoff and he ended up getting more money from Vince McMahon. If this were a work, then this one would, in theory, lead to Cody and Brandi returning to AEW at some point but all signs point to this departure being legitimate. Cody and Brandi had been struggling this past year with fans turning on them around the time of the feud with Anthony Ogogo. Cody had enough of the negativity on social media and he decided to hand over his Twitter account to the community relations department. Fans were also very hard on Brandi and while she was supposed to be a babyface in her recent feud with Dan Lambert and Paige VanZant, there was a vocal part of the audience who still booed her even with Lambert trying to get fans to hate him.
Unhappiness Led To Cody Rhodes AEW Departure