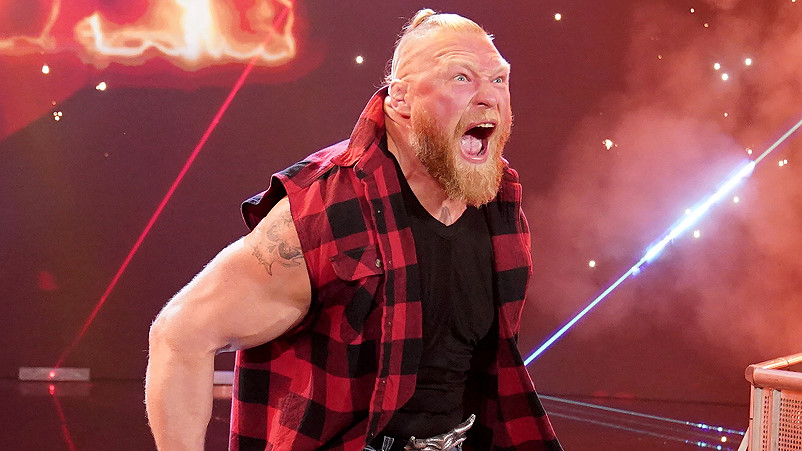 Brock Lesnar made a statement of intent with his recent win at Royal Rumble.
Having been a late entrant to the event, Lesnar made light work of things, as he quickly brushed aside five WWE superstars to win the Royal Rumble clash for the second time in his career.
And in taking the honours at the Royal Rumble, Lesnar also set new ground by breaking two records. One of the records he broke, was the longest time that had span between winning the showpiece match twice (19 years), while he also needed just 2 minutes and 32 seconds to wrap up the match.
Lesnar eclipsed the record holder Edge, who had previously spent the least amount of time in the ring in 2010, when he won his match in 7 minutes and 37 seconds.
And now, Lesnar has selected his opponent for WrestleMania 38 in April, and he is expected to take on Roman Reigns at The Show of Shows.
Reacting to news of a Lesnar v Reigns clash, WWE bigwig Paul Heyman said: "First of all, I'll say this selfishly, you haven't seen the best of Roman Reigns yet.
"Roman Reigns a year from now will be far greater than Roman Reigns today, Roman Reigns will be better than Roman Reigns last Friday and Roman Reigns next Friday will be able to look back at this Friday's appearance and say 'Ah, I can do that so much better'."
With lots of big shows coming up over the next few months, including WrestleMania 38, WWE is always in the spotlight, and you can always expect plenty of drama, and excitement. WWE is widely followed all over the world, including Australia, where fans will stay up to all the hours to catch their favourite stars battling in the ring. Indeed, from a betting perspective, you can expect to find plenty of markets and odds listed from the best betting sites in Australia, such as bet365, where you can find live streams for some of the biggest wrestling events, as well as specials and futures, such as how many WWE belts a certain fighter will win. And with some sites, you may be able to claim certain bonuses to spice up your wagers.
For Lesnar, a potential clash with Reigns will whet the appetite of the fans.
Lesnar is by no means finished, and he still has a lot to offer in the WWE arena.
Of course, all eyes will be on WrestleMania 38, and you can expect fireworks when he faces off with Reigns. To a certain extent, Reigns feels like he may have a point to prove, and he will be desperate to silence his critics.
But Lesnar has the ammunition, and judging by his recent display at Royal Rumble, he has some big moves, and he will be undaunted about taking on Reigns. This has all the ingredients to be an epic clash, and we can't wait to see how this one unfolds if this match comes to fruition.