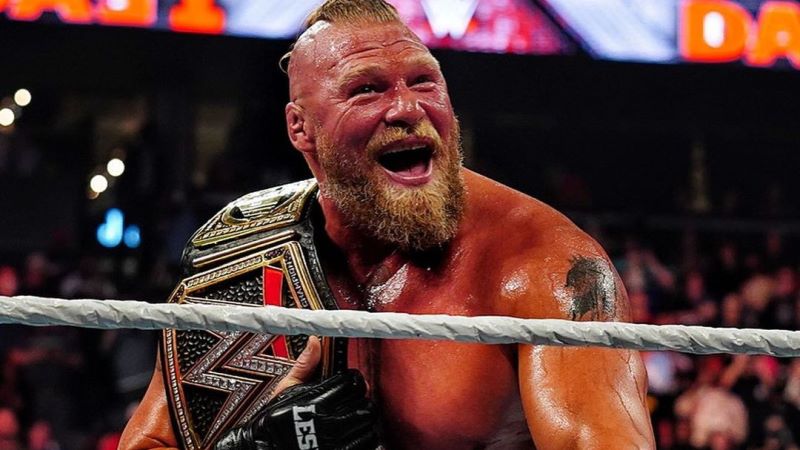 Brock Lesnar Wins WWE Championship – As noted earlier, Lesnar was added to the WWE Title match at WWE Day 1 to make it a Fatal 5 Way, after Roman Regins tested positive for Covid-19 and was unable to compete for the scheduled Universal Title Match.
If the news wasn't shocking enough, Brock Lesnar came out as the new WWE Champion from the match. This is Lesnar's 6th reign with the WWE Title. Big E held the strap for 110 days after defeating Lashley for it on the September 13 edition of RAW by cashing in his Money In the Bank contract.
Earlier in the night, during a backstage interview, Lesnar says that Brock does what he wants to do because he is a free agent thanks to his advocate Paul Heyman.  He is going to go to the ring and become the WWE Champion.  He says that isn't a prediction, but it is a spoiler.
During the big main event, everyone went to attack Lesnar but he fought back and he hit several people with German suplexes. Big E knocked Lesnar out of the ring but Lashley picked up Big E and drove him into the ring post. Lashley then speared Lensar through the barricade. Lesnar also took a splash from Owens on the floor. Rollins and Owens worked together to hit Lesnar with steel steps and thus, keeping Lesnar out of the match. Big E picked up and slammed through the announcer's table.
Back in the ring, Big E had to fight off both Rollins and Owens. Rollins tried to finish off E with the stomp but Lensar ran in and gave the F5 to all of the men in the ring but Lashley speared Lesnar and almost pinned him. Lashley put Lesnar in the Hurt Lock but Big E attacked Lashley. E hit the Big Ending on Lashley but Lesnar hit the F5.
Lashley stared down Lesnar as he walked towards the backstage area as Brock celebrates in the ring with his new WWE Title.
Click here for full WWE Day 1 results.
seth FREAKIN rollins#WWEDay1 @WWERollins pic.twitter.com/4y5sNurqxU

— WWE (@WWE) January 2, 2022
Will @FightOwensFight walk out of #WWEDay1 with the #WWETitle? pic.twitter.com/BVvw7neG9r

— WWE (@WWE) January 2, 2022
Will The #AllMighty reign begin again TONIGHT at #WWEDay1? pic.twitter.com/wAXlmpEYzr

— WWE (@WWE) January 2, 2022
.@WWEBigE is READY.#WWEDay1 #WWETitle pic.twitter.com/MMMgGgD2V7

— WWE (@WWE) January 2, 2022
THE BEAST is HERE#WWEDay1 #WWETitle @BrockLesnar pic.twitter.com/vcuSs2dsFt

— WWE (@WWE) January 2, 2022
Here we go!!!#WWEDay1 #WWEChampionship @BrockLesnar pic.twitter.com/iVMtkPt4pT

— WWE (@WWE) January 2, 2022
Whose ring is it?!?!#WWEDay1 @WWEBigE @BrockLesnar pic.twitter.com/iKkmQk1F59

— WWE (@WWE) January 2, 2022
Through the barricade! #WWEDay1 @fightbobby @BrockLesnar pic.twitter.com/7aiqgY3pNx

— WWE (@WWE) January 2, 2022
🐸💦!!!#WWEDay1 @FightOwensFight pic.twitter.com/j1QyrAw61U

— WWE (@WWE) January 2, 2022
This is absolute chaos, and it's all perfectly legal!#WWEDay1 #WWEChampionship @WWEBigE pic.twitter.com/ufUx53im7Z

— WWE (@WWE) January 2, 2022
SPEAR! ⚡️#WWEDay1 @fightbobby @BrockLesnar pic.twitter.com/bXv6g1WcG0

— WWE (@WWE) January 2, 2022
An absolutely CHAOTIC start to this #WWEChampionship #Fatal5Way Match!

Will it @WWEBigE @fightbobby @WWERollins @FightOwensFight or @BrockLesnar who leaves #WWEDay1 with the title?! pic.twitter.com/FYhCaqQyCu

— WWE (@WWE) January 2, 2022
#TheBeast is back on top!#WWEDay1 @BrockLesnar pic.twitter.com/Qt9vyFDl2B

— WWE (@WWE) January 2, 2022
Brock Lesnar Wins WWE Championship