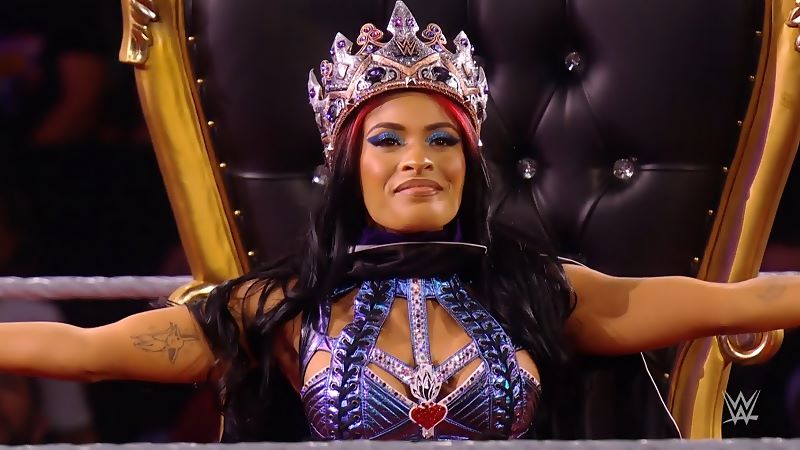 On this week's "Out of Character" podcast, Queen Zelina talked about her days as a manager, winning the first-ever Queens Crown tournament, TikTok and more. Here are some highlights:
Zelina said Triple H has been a big encouragement to her in WWE:
"We call him Papa H because he's been there for everything, like every part of our career, even on the main roster. Anytime we had a question, professionally, personally, he was always there for us. I think he always gave me that confidence that I needed, like that extra little boost that I needed. He would say things like, 'There is no one like you right now, not even on the main roster. You can do this.' It was just little things I needed. I feel like it helped me propel to the next level."
Zelina said she was ready to leave wrestling in 2017 until The Rock called her:
"I told Dwayne, I remember texting him. I said, 'Dude, I'm about ready to give up on everything in wrestling. I don't want to have anything to do with wrestling anymore. This is the umpteenth time WWE has said no to me. I'm over this. I don't want to do this anymore. He said, 'Just give me a few days. I have something I'm working on.' I said, 'Ok.' It just so happened to be TakeOver. The way that this played out was the weirdest thing. I'm watching Andrade's match and William Regal called me. He's like, 'Do you speak Spanish?' I said, 'Yes, why?' He's like, 'Actually no, it doesn't matter. I'll call you back', and he hung up. I let it go like, whatever. Then like an hour later, Dwayne called me and said, 'Hey, I have this opportunity for you.' I said, 'This wouldn't have anything to do with William Regal calling me would it?' He said, 'No actually, but that's really cool, but anyway, Paige has this documentary. It's about a family. Do you remember when she came back and beat AJ for the title?' I'm like, 'Yes, I remember all these things. I know what you're talking about.' He said, 'I want you to be my Diva's Champion and you don't even have to audition for the part. I know you can do it.' I remember I couldn't form words. I was trying to form words and then crying. I was so thankful and couldn't wait to attack this. Later on that night, like two in the morning, I was like, 'Why hasn't William Regal called me? That's so weird. What was that about then?' It was so weird. We did the movie. Right after that, he called me back again and he said, 'So I think this is actually going to work.' It gave me an opportunity because I had done tryouts since 2010, and it's the same thing. You go in, do a bunch of drills, work out, promos, and all these things, but they don't actually get to see you in front of a crowd and how you handle that. I think the time I got to do the AJ promo, the match, and how I handled all that, it made them go like, 'Ok, she can do this', and it was full speed ahead after that."
Zelina said she talked to Booker T for ideas on being Queen of the Ring:
"One of the things Booker and I were talking about is, 'If you're looking at wrestling, you're looking at the wrong thing.  You need to watch movies, moments, and real people because that's where the real emotion comes from."  I didn't want to do anything too similar to him because no one will ever be King Booker and Queen Sharmell.  They're untouchable in my eyes.  I remember talking to Vince about an accent and I don't even think he knew that I can actually kind of do an accent.  I've been trying to make it sound worse and worse every time I do it.  It's an added layer which makes it more fun.  People keep tagging me saying, 'That's not how we do the accent, or that sounds a bit Australian all of a sudden.'  I'm like, 'Yea, that's the point.  I want you to not like it.  I'm the bad girl.  You're not supposed to like me.'
h/t to WrestlingNews.co for the transcription.