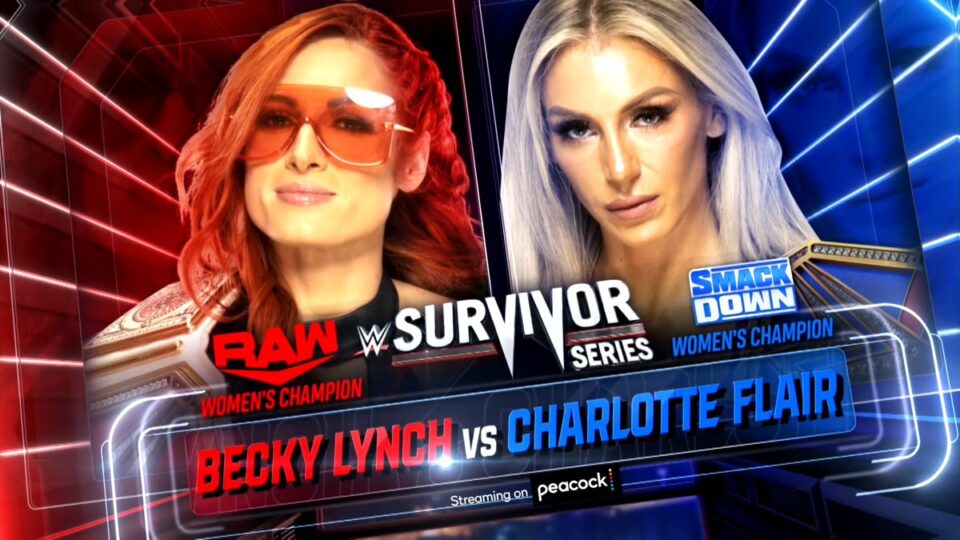 Becky Lynch Addresses Backstage Altercation With Charlotte Flair
Raw Women's Champion Becky Lynch will soon renew the defining rivalry of her WWE career when she goes up against SmackDown Women's Charlotte Flair at Sunday's Survivor Series pay-per-view.
Once again, WWE is running the Raw vs. SmackDown superstars format for the annual Survivor Series pay-per-view. There are four champion vs. champion match as well as the traditional men's and women's 5-on-5 elimination tag matches.
There are several compelling storylines surrounding the Flair-Lynch match. Among them: Just a month ago, the two got involved in a heated backstage confrontation following the Oct. 22 episode of SmackDown.
Flair was reportedly upset with the title exchanging segment (she handed Lynch the Raw Women's title in exchange for the SmackDown Women's Championship), and went off-script, which caused a scene backstage.
During an interview with Ariel Helwani on The MMA Hour (h/t WrestlingNews.co), Lynch confirmed that the confrontation did in fact happen.
"There was a plan in place that was supposed to go one way and if it went one way then everyone would have had a moment and it would have been great," Lynch explained. "I, in the back, said this isn't gonna happen and she's gonna do something else. And she did exactly what I had said she was gonna do.
"Sometimes things can happen out there and people can get carried away in a moment and you don't have time to process what happens but when I knew that she was gonna purposely disrespect me, I processed it a lot quicker. So I was able to hold it together until I got backstage. I did what I was supposed to do and then when I got backstage I lost it a little bit…Verbally. I had to go right out and do the dark match. I verbally lost it. I still had a match to go and do so I didn't have time to be scrapping in the back."
Lynch is a -400 favorite to defeat Flair in their Survivor Series bout. Bookies.com is offering a Betmgm bonus code for new customers who create a BetMGM account.
Roman Reigns "Doesn't Know If" The Rock Wants The Dream Match
Over the past year, countless rumors and reports have emerged regarding a potential dream match between Roman Reigns and his cousin, WWE legend and wrestler-turned-actor Dwayne "The Rock" Johnson.
In a recent interview with Andrew Freund, The Rock stated "There is no truth to" the rumors about a potential showdown with Reigns at WrestleMania. However, The People's Champion said a match is possible "down the road, we'll see."
Reigns was a guest on The Tonight Show Starring Jimmy Fallon on Wednesday night. The topic of a dream match with The Rock was brought up, but Reigns is unsure if his cousin is keen on it.
"I don't know if he wants it, but… that's kind of something that we do in our family, as far as sports entertainment, professional wrestling, WWE," Reigns told Fallon, via WrestlingInc.com. "This is our platform, this is our family business. I fought one of my cousins of The Usos, Jey Uso, about a year ago, and where better to kind of solve our problems than the squared circle, you know? In a WWE ring."
The Rock's last WWE match took place at WrestleMania 32, where he defeated Erick Rowan via pinfall in just six seconds.
Survivor Series 2021 Match Predictions
Roman Reigns (Universal Champion) vs. Big E (WWE Champion)
Neither superstar has lost a match cleanly during their respective championship reigns. In fact, you'd have to go all the way back to TLC 2019 to find Reigns' last pinfall loss.
Having already defeated marquee stars like Daniel Bryan, Edge, John Cena and Brock Lesnar during his current title run, it's very difficult to see a scenario where Reigns loses before WrestleMania 38, let alone Survivor Series. Expect him to defeat Big E cleanly.
Prediction: Reigns wins.
Becky Lynch (Raw Women's Champion) vs. Charlotte Flair (SmackDown Women's Champion)
Despite Charlotte's status as a perennial main eventer, she has taken her fair share of clean losses during her (many) title reigns.
WWE has mostly tried to protect Becky Lynch from pinfall defeats over these last three years. The Raw Women's Champion has all the momentum right now, and it'd be quite a surprise if she didn't conquer The Queen once again.
Prediction: Lynch wins
Shinsuke Nakamura (Intercontinental Champion) vs. Damian Priest (United States Champion)
Priest hasn't lost a singles match since joining the main roster. This match could really go either way, but it's not tough to envision a scenario where Priest retains his winning streak until WWE decides to ultimately take the title off of him.
Prediction: Priest Wins
RK-Bro (Raw Tag Team Champions) vs. The Usos (SmackDown Tag Team Champions)
It's very rare for either of these tag teams to take clean losses, but something has to give.
Orton and Riddle are accomplished enough as a duo that they can take a loss here. This is the perfect opportunity for The Bloodline to once again assert themselves as the dominant WWE faction.
Prediction: The Usos Win
5-on-5 Women's Elimination Tag Match: Team Raw (Rhea Ripley, Liv Morgan, Bianca Belair, Queen Zelina and Carmella) vs. Team SmackDown (Shayna Baszler, Natalya, Shotzi, Sasha Banks and TBA)
This is a toss-up of a match that could really go either way. But considering how much WWE is pushing practically all of Team Raw — namely Belair, Morgan and Vega — it makes the most sense for the red brand to win this match.
This is an ideal stage for WWE to continue pushing the women on Raw who are carrying significant momentum.
Prediction: Team Raw Wins
5-on-5 Men's Elimination Tag Match: Team Raw (Kevin Owens, Bobby Lashley, Austin Theory, Finn Balor and Seth Rollins vs. Team SmackDown (Drew McIntyre, King Woods, Happy Corbin, Jeff Hardy and TBA)
Raw has dominated SmackDown since the brand supremacy format was implemented in 2017. On one hand, you could guess that SmackDown is due to win here. On the other hand, it's hard to envision a 3-3 split on the card.
These predictions have Raw winning three of the previously five mentioned matches. Nobody wants a tie here, and WWE creative knows it. Let's go with Team Raw emerging victorious here.
Prediction: Team Raw Wins