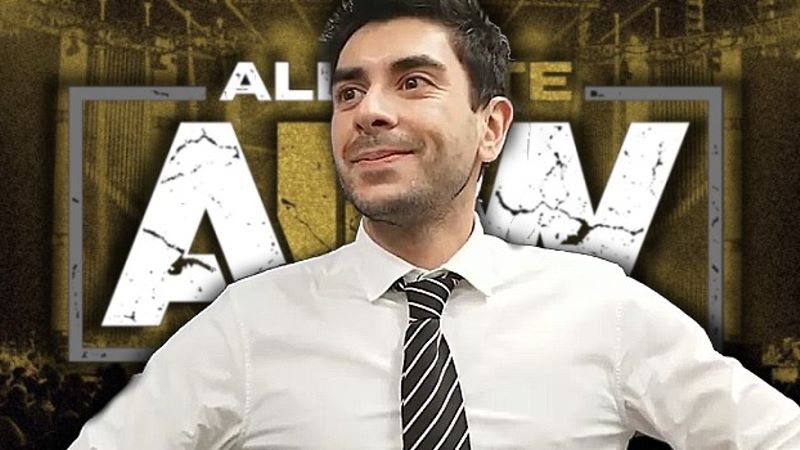 Tony Khan Addresses Leaked AEW Notes – Tony Khan has commented on the photo circulating of his AEW notes from a Jacksonville Jaguars NFL game, containing what was speculated to be the card for Full Gear.
Speaking on Busted Open Radio, Khan stated that his notes were just personal ideas, noting that the matches written down weren't necessarily intended for Full Gear.
Amazed and amused by the buzz his notebook caused, Khan said:
"This weekend when I was at the Jags game at halftime, I was doodling on my notebook, and I saw that a lot of people had taken notice some of the notes in my notebook, which is pretty amazing, because when you're walking around with small notes you never think that photographers are going to capture writing you've written down.

"I'm glad it wasn't anything more personal. But it's funny. People run with assumptions on the internet these days, and I've seen all these people jumping to conclusions like 'oh that must be the full Full Gear card.'

"And it's true, I announced on Barstool that Kenny vs. Hangman is the main event we've all been waiting for for Full Gear. It's going to be a huge PPV event, and Kenny vs. Hangman is absolutely huge. But I don't know. I was just kind of messing around with different ideas, playing around with stuff.

"It's like scratching around and it's all written in pencil and it's been erased. There may be things there that you do see. But that people were able to zoom in on that, I was surprised by it, but I also wasn't thrown by it or confused by it. Its gotten a lot of buzz. But there's some differences there, so I was just very amused by that viral story."
Full Gear is scheduled November 13. Khan previously confirmed that Hangman Page will challenge Kenny Omega for the AEW World Championship at the event.
The finals of the AEW World Championship Eliminator tournament will also be contested at the pay-per-view.