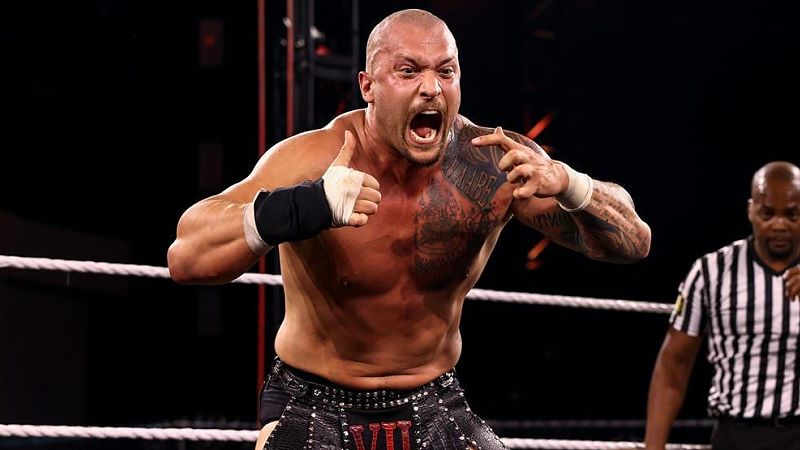 Karrion Kross explains the evolution of his on-air persona in NXT and RAW.
Karrion Kross recently appeared on the Table Talk podcast and was asked about who came up with the mask he's been wearing on WWE RAW as part of his entrance attire. Kross' new look has drawn a mixed reaction in some circles, but he explained how the mask was pitched as an evolution of his original NXT gimmick and believed it was the result of a creative group pitch.
"I'm not entirely sure at this point, because I received a briefing about — I think it was about a creative team conversation. I guess it was a series of people coming up with attempting to expand on the original concept that was presented during NXT. So I guess it was a team of people [that came up with the mask concept]," Kross explained, "but the direction that I think they were attempting to go in was a gladiator."
Kross said it wasn't a huge departure from what he originally envisioned either, as he explained how he conjured up a vision of ancient Rome and gladiators fighting in the Coliseum.
"I introduced the lower body gear at NXT when I competed against Finn Balor to get the title back. My original concept with that was that this feels like what the Coliseum days would be like. Were in a circular area with people all around it [at the Capitol Wrestling Center] and this is what the Coliseum would be at that time. And with the character presentation of Karrion Kross and the development of that character, this wasn't just a regular match people were getting into. This guy could light you up with a shot that you're going to carry with you for the rest of your life. You're going into this match, win or lose, you might not be coming out the same way," he explained, "and I was really attempting to inject that sort of energy into it. I think what they wanted to do when I was coming up [to RAW] was to play off of that and so that's where we're at with that."
Kross was also asked what he thinks about the new look for NXT 2.0, as that is a drastic change from the brand he was part of. Kross said he enjoys the aesthetics of the show and says it's a good opportunity for new talent to be seen on the show.
"It's pretty awesome. I think just aesthetically watching, with the amount of different colors and everything being brighter, the visual aesthetic actually makes the program feel like it has a bit of more energy to it. That was my first big takeaway. I'm a huge film nerd, so I'm not just watching what they're showing me, I'm looking at everything — the shots, the transitions, I'm looking at cuts, the music, how they're introducing ideas and concepts. So far I think it's awesome, and I'm very happy to be seeing some of my buddies in the PC getting some air time because they've been chomping at the bit and I think there's a pretty bright future, pun intended, for everybody there."